Russia deployed more troops and fighter jets to Belarus on Jan. 26 as part of a major military exercise between the two allied nations—while more than 20 Russian warships departed their naval bases for drills in the Black Sea.
The Russian Ministry of Defense said in a statement that it relocated crews of Su-35S multirole fighter aircraft of the Eastern Military District to Belarus as part of the "Allied Resolve-2022" joint exercises that will be held early next month.
Upon arrival at Belarusian airfields, the crews of the Su-35S advanced combat aircraft "will go on air defense combat alert as part of a check of the Union State's integrated air defense system," the ministry said.
"During the exercise, measures will be taken to strengthen the protection of the State Border to prevent the penetration of armed groups of militants, to block the channels for the delivery of weapons and ammunition, as well as to search, block, and destroy illegal armed formations," it stated.
Экипажи многоцелевых истребителей Су-35С Восточного военного округа, привлекаемые к проверке сил реагирования Союзного государства, продолжают перебазирование на белорусские аэродромы https://t.co/IrPfMZk0bO#Минобороны #АрмияРоссии #ВВО #СоюзнаяРешимость2022 pic.twitter.com/Fy5QZogIOf

— Минобороны России (@mod_russia) January 26, 2022
Meanwhile, more than 20 Russian combat ships and vessels entered the Barents Sea in the Arctic Ocean to practice a series of communications and safe maneuvering drills near a major Arctic shipping lane. The major naval drills will also involve exercises to provide air defense at sea, the Black Sea Fleet's press office stated on Jan. 26. Moscow announced the sweeping naval exercises last week.
"The drills of combined-arms task forces, naval strike and amphibious assault groups in the Black Sea involve frigates, guard ships, missile corvettes, and missile boats, amphibious assault ships, small anti-submarine warfare ships and also minesweepers," the fleet's press office said, according to Russia's state-owned news agency TASS.
Более 20 кораблей Черноморского флота вышли в море для участия в учении, которое будет проведено в акватории Чёрного моря https://t.co/e20MuauYht#Минобороны #АрмияРоссии #ЧФ #Учения pic.twitter.com/CbCfDFg9z6

— Минобороны России (@mod_russia) January 26, 2022
Russia's latest flurry of naval and airforce exercises comes one day after U.S. President Joe Biden said he would consider personal sanctions on Russian President Vladimir Putin if Russia were to invade Ukraine. It also comes as officials opened talks in Paris over the tensions on the Russia–Ukraine border.
"There will be enormous consequences if [Russian President Vladimir Putin] were to go in and invade, as he could, the entire country—or a lot less than as well—for Russia, not only in terms of economic consequences and political consequences, but there will be enormous consequences worldwide," Biden told reporters during a visit to a shop in Washington on Jan. 25.
"This would be the largest—if he were to move in with all those forces—it would be the largest invasion since World War II," he said. "It would change the world."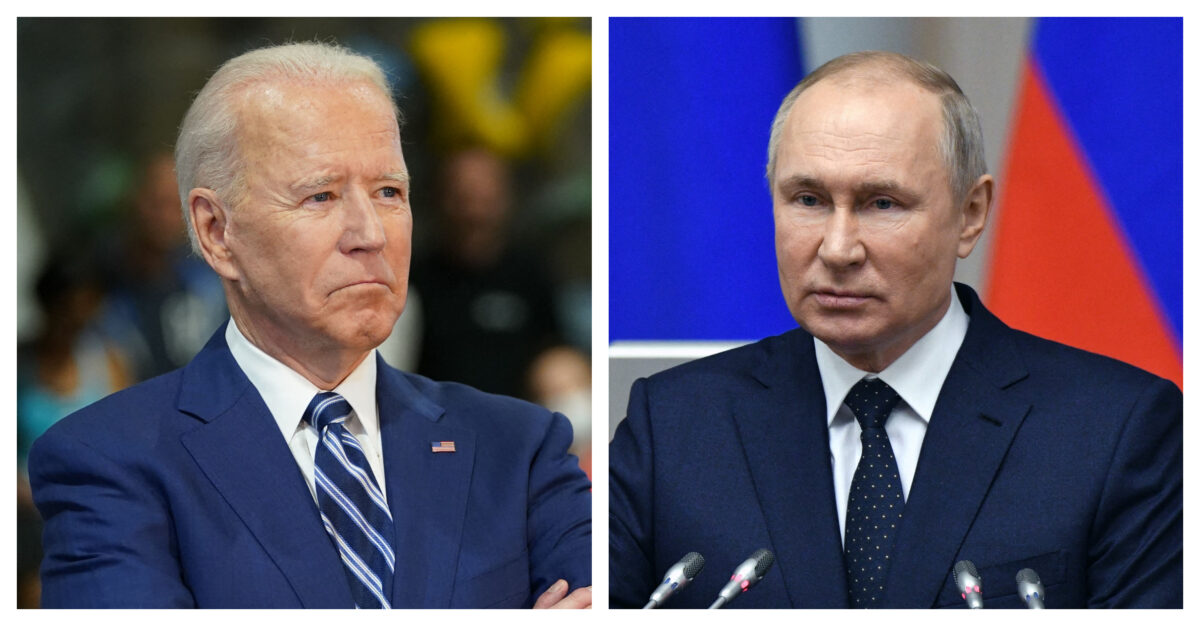 Russia has repeatedly insisted it doesn't plan to invade neighboring Ukraine, but it has issued a list of demands that includes NATO promising to not allow Ukraine to become a member state of the alliance.
On Jan. 25, Russia warned it would quickly take "retaliatory measures" if the United States and its allies reject its proposed security demands. Some demands have been labeled by NATO as "nonstarters."
"If the West continues its aggressive course, Moscow will take the necessary retaliatory measures," Russian Foreign Minister Sergey Lavrov said. "We won't allow our proposals to be drowned in endless discussions."
The Kremlin's point man on Ukraine was due to meet officials from France, Germany, and Ukraine for "Normandy format" talks in Paris, against the backdrop of a Russian military buildup near Ukraine that has sparked fears of an invasion.
The Normandy talks to end the war in eastern Ukraine between Kyiv and Russia-backed separatists have met for years without real progress, but the Jan. 26 talks may be seen as a positive sign of diplomacy taking place despite the soaring tensions.
Andriy Yermak, chief of staff to Ukrainian President Volodymyr Zelensky, said Ukraine has ruled out talking directly to the Russian-backed separatists.
Reuters contributed to this report.
From NTD News