Russian military forces evacuated more than 1,400 of its citizens from Kazakhstan over the weekend as political unrest continues to unfold across the central Asian republic, authorities announced on Jan. 10.
"The transport aviation planes delivered a total of 1,461 Russian citizens from the Republic of Kazakhstan to Russia," the Russian Ministry of Defense told a news conference, media outlet TASS reported.
The federal agency revealed that 1,422 Russians were flown to Moscow on Jan. 9, while 14 were flown to Yekaterinburg, Russia. A total of 25 tourists who opted to return from Kazakhstan were transported as well.
The evacuation order comes amid massive protests in Kazakhstan that descended into violence last week, marking the worst unrest the former Soviet nation has faced since gaining its independence 30 years ago.
Authorities declared on Jan. 10 that Kazakh police have detained nearly 8,000 people thus far in the unrest that has seen 164 people officially killed during the ongoing violence.
There are unconfirmed reports from Kazakhs on social media sites such as Twitter that the actual death toll is much higher, as government forces implement President Kassym-Jomart Tokayev's order to "shoot to kill, without warning."
Nationwide protests, which started on Jan. 2 in the city of Zhanaozen in Kazakhstan's Mangistau region, began in response to an increase in the price cap for propane gas to 120 tenge (27 cents), from 2021's price of 60 tenge (14 cents).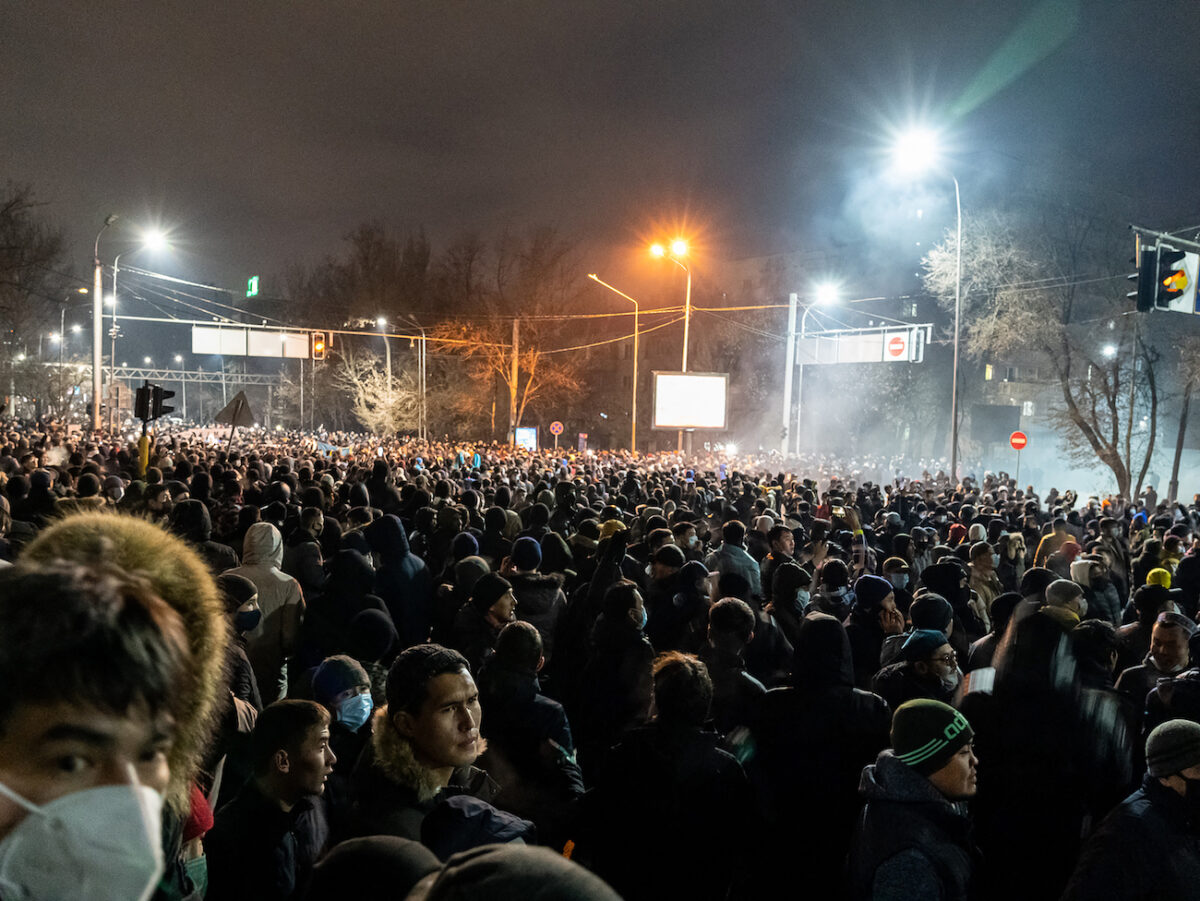 Kazakhstan is also facing a cash and food shortage after Kazakhtelecom, the government-owned telecommunication giant, began throttling internet access on Jan. 4, leaving residents unable to access their money after debit card terminals, which rely on the internet and dominate retail outlets across the country, were shut down.
Authorities have declared a state of emergency over the ongoing violence, and Tokayev has requested help from the Collective Security Treaty Organization (CSTO), a Russian-aligned bloc of former Soviet countries, for international support.
The CSTO has sent in peacekeeping troops from Tajikistan, Kyrgyzstan, Armenia, Belarus, and Russia, while the Russian Ministry of Defense has said that it's deploying more than 70 Il-76 and five An-124 aircraft of the "Russian contingent of the CSTO peacekeeping forces to Kazakhstan around the clock."
Victoria Kelly-Clark contributed to this report.
From NTD News