Rugby World Cup Qualifying Opportunity for Hong Kong
Rugby—Asia 5-Nations
May 22, 2014 6:17 am Last Updated: May 22, 2014 6:17 am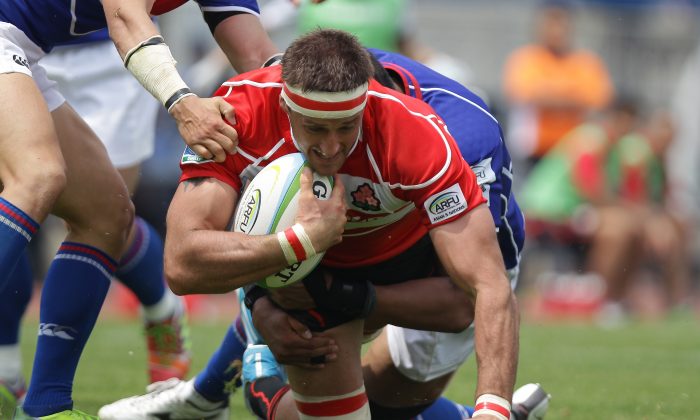 Japan won their Asian Rugby Football Union 5-Nations match against South Korea in Incheon, South Korea last weekend to set up a top of the table clash with Hong Kong this coming Saturday May 24.
Both teams are currently on 18 points after winning bonus-point victories in their three matches played so far in the competition, but Japan top the table on match points difference.
The final encounter of the campaign for Japan and Hong Kong will be played at National Olympic Stadium, Tokyo to decide the Asia 5-Nations series winners for 2014. There is a lot at stake in this match as the winning team to go forward directly to Pool-B of the 2015 Rugby World Cup in England starting Sept 16.
This is a great opportunity for Hong Kong to gain direct entry into Rugby Union's top competition. Hong Kong have come a long way in the last 12 months and are now winning matches by larger margins but this match against Japan will be a hugely difficult task. Japan are the reigning 5-Nations champions and have not lost a 5-Nations match since the competition's inception in 2009, and this match is on Japan's own turf.
Should Hong Kong lose to Japan—they have already qualified for the Asia runners-up position which allows them a second chance to qualify via the Repechage match against Uruguay, but this is also a difficult route.
Winners of the Repechage first round will still need to play a further match against the Europe-Africa Repechage qualifiers. The winners of this match will gain a place in Pool-A to meet Australia, England, Oceania (Qualifier). The Oceania (Qualifier) team will be decided in the match between the Cook Islands vs Fiji match on June 28.
The other Asia 5-Nations match to be played this coming Saturday is Philippine against South Korea in Laguna, Philippines.