Giuliani Stumps for Lhota Days Before Primary
September 8, 2013 7:15 pm Last Updated: October 1, 2013 10:06 am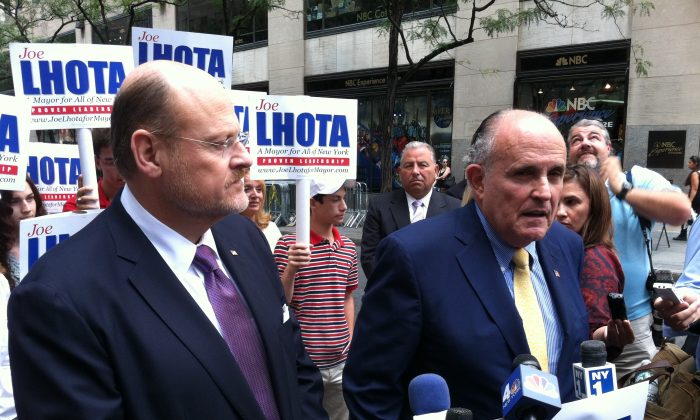 NEW YORK—On the last Sunday of his primary campaign, Republican candidate Joseph Lhota received some help for his get-out-the-vote activities from former two-term Republican mayor of New York City Rudolph Giuliani.
Lhota served in multiple roles of the Giuliani administration (1994–2001), including as the director of the Office of Management and Budget, as well as deputy mayor for operations.
Giuliani, who currently works in the private sector after an unsuccessful run for president in 2008, stood in Lhota's downtown headquarters, offering a rallying cry to supporters. Giuliani's message was clear: don't let a Democrat get into office and ruin the independence the city has enjoyed since he took office.
A little less than 500,000 of the city's 4.3 million registered voters are Republicans, however, since Giuliani took office in 1994, the city has not seen a Democrat at Gracie Mansion.
"New York has had 20 years of strong, independent mayoral control. We need that now," Giuliani said. "The others [Democratic candidates]—some of them nice people, some of them not such nice people—none of them comes close to having the ability to do this. Career politicians would bring us right back to where we were."
Giuliani cited the national headline-making crime statistics, which plagued New York City in the early 1990s, something he helped curb by enacting tough police practices, including the controversial practice of stop and frisk.
The former mayor said changing to a Democrat would send New York City back to those days, because every Democratic candidate wants to reform stop and frisk—an argument that has been popular with the general public. Lhota, and his rival, the billionaire John Catsimatidis, have vowed to keep the practice, but ensure it is done constitutionally.
Stop and frisk has driven a wedge between communities, primarily of African-American and Hispanic young men, and the NYPD. Bill de Blasio, who is the front-running Democratic candidate, has used the issue of stop and frisk as a centerpiece in his campaign, vowing to end racial profiling by the NYPD if elected.
Lhota has not only committed to continue stop and frisk, but also the NYPD program uncovered by several Associated Press articles in which surveillance was set up at mosques. Lhota said during the final televised debate Sunday he would continue the program, so long as it was within the law.
Having Giuliani remind people of the crime New York City was facing when he took office is a familiar tactic current Mayor Michael Bloomberg has used to defend stop and frisk. But adding Giuliani's voice could provide an alternative narrative to the one painted by the Democratic candidates, which has primarily driven the conversation in recent months.
Lhota will have to get past Catsimatidis on Tuesday before focusing on a Democratic rival. But it appears by having Giuliani begin speaking now, his campaign is already gearing up the anti-Democrat messaging.
"I think New York City has had independent professional government now for 20 years and Joe [Lhota] is the guy who can continue that kind of government," Giuliani said. "The others can't."