Amid oil price hikes, U.S. President Joe Biden will "almost certainly" seek help from China, whose ruling Communist Party has pursued political gains while exporting refined products, Sen. Marco Rubio (R-Fla.) says.
"Thanks to a combination of now-President Biden's horrific policies and a decades-long war against American-made energy, Americans find themselves begging foreign nations for oil and gasoline," Rubio wrote in an op-ed published in National Review on July 7.
Biden, who is facing mounting pressures as soaring prices at the pump have left American drivers frustrated, eased sanctions on Venezuela in May, allowing the U.S. oil company Chevron to negotiate with the country's state-backed oil company.
The president will travel to Saudi Arabia this week and is expected to meet Saudi Crown Prince Mohammed bin Salman, the oil-rich kingdom's de facto leader, who is believed to be behind the 2018 killing of journalist Jamal Khashoggi, according to U.S. intelligence officials.
"But what comes next will be even more embarrassing for the United States: President Biden will almost certainly ask the Chinese Communist Party to power up its refineries and ship refined petroleum products to America," Rubio wrote.
"And he will be willing to pay a high price for it, likely by removing hundreds, if not thousands, of tariffs that help American industry compete with cheap—and forced—Chinese labor."
Biden said on June 19 that he would speak with Chinese Communist Party (CCP) leader Xi Jinping "soon" and is in the process of deciding what to do with the tariffs on more than $300 worth of Chinese goods imposed by the Trump administration.
"It only takes a little foresight to see how refined petroleum products may become part of the bargain," Rubio wrote.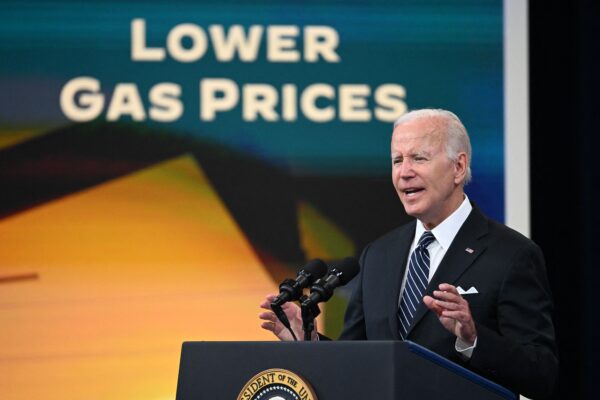 "Begging China for gasoline would be short-sighted, naïve, and disastrous for America. It would be a strategic coup for Xi, who wants nothing more than to signal China's supremacy over the United States.
"And it would sink any hope of ever escaping economic reliance on the genocidal regime in Beijing."
Fostering Domestic Production
Nationwide, regular gas averaged $4.678 on July 11, according to the American Automotive Association. The price declined 12 cents last week, but it's still $1.53 higher than a year ago.
To bring down oil price hikes, the president has issued a number of energy-related executive orders, including releasing crude reserves from the national strategic stockpile. The White House confirmed in March that it would release 1 million barrels per day of oil for six months starting in May, the largest-ever reduction from the nation's Strategic Petroleum Reserve (SPR).
As of July 1, inventories in the SPR stood at 497.9 million barrels, hitting its lowest level since April 1986, according to recent data from the Department of Energy.
But the Biden administration drew heavy backlash from Rubio and several other Republican lawmakers following reports of more than 5 million barrels of U.S. oil stockpiles being sold to Asia and Europe, including China.

Rubio, who introduced a bill to ban oil export to China last month, criticized the move as "unacceptable" and called on boosting domestic oil production.
"Instead of groveling to a Marxist regime determined to overtake our country, we should focus inward and send a signal that we welcome all American energy production, including oil and natural gas," he wrote.
"If President Biden needs more resources or authorities to keep current refineries online and fast-track new capacity, he should ask Congress for help. But he needs to ask us, not the Chinese Communist Party."
The White House didn't respond to a request for comment by press time.
Tom Ozimek and Andrew Moran contributed to the report.