Nine Russian warships have been tracked and monitored sailing close to British territorial waters, the UK government announced on Monday.
The Ministry of Defence (MOD) said that, over the last two weeks, eight British Royal Navy ships had watched "every move made by the Russians" as they sailed a variety of war vessels close to British waters.
The Russian vessels included a surfaced submarine, a destroyer, a corvette (small warship), and a patrol ship along with their supporting tugs and supply ships.
First Sea Lord, Admiral Tony Radakin, said in a statement that despite the CCP (Chinese Communist Party) virus crisis continuing to assail the country, Britain was still poised to respond to hostile foreign activity at sea.
"This is why the Royal Navy is at sea every day, protecting the UK and our interests. Even with the pressures of Covid, we remain at short notice to respond to threats both in home waters and around the world," he said.
"Despite the increase in Russian activity, both on the surface and underwater, we are always ready to respond."
Royal Navy Escort
During the operation, the Russian destroyer Vice-Admiral Kulakov was spotted by British patrol ship HMS Severn before the destroyer headed north, where it was monitored sailing off the west coast of Scotland, north west of the Outer Hebrides, by HMS Northumberland.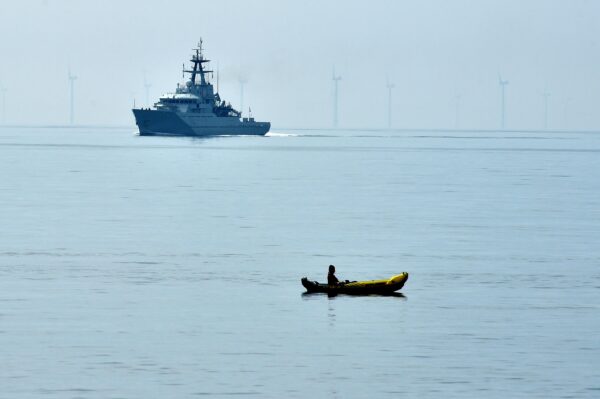 As it patrolled the Channel and the Dover Strait, the Severn also shadowed the Stary Oskol, a surfaced Russian submarine; the Boikiy, a corvette; the Vasily Bykov, a patrol ship; and several Russian support ships.
The same Russian vessels were also escorted by three Royal Navy warships as they sailed close to British waters in the Celtic Sea and off the south west coast of England.
At one point in the monitoring operation, the MOD said, while Russian vessels sheltered in bad weather in a bay off its northern coast, France gave allied support with ships and aircraft.
"In very challenging conditions with rough weather, Severn and several other British and allied ships, have spent 20 days ensuring that Russian transiting warships remain under our watchful eyes," Philip Harper, commanding officer of HMS Severn, said.
These latest incursions by Russian vessels follow a long line of similar incidents in recent years, including one in March when the Royal Navy shadowed seven Russian warships after detecting high levels of activity by Russian vessels off the British coastline.
They also follow NATO chief Jens Stoltenberg warning in an exclusive interview with The Telegraph in September that Russia's aggression beyond its own borders and its attempts to establish a new "sphere of influence" threatened "a new Cold War."
Soured UK–Russian Relations
Stoltenberg's remarks followed the poisoning in August of Russia's opposition leader Alexei Navalny with Novichok.
An earlier poisoning had already soured UK–Russian relations when Britain accused Russia of attempting to murder former Russian spy Sergei Skripal and his daughter Yulia with the same nerve agent in Salisbury, England, in 2018, which also poisoned a British policeman responding to the scene.
Relations with Russia also came under the spotlight in July when Britain, in a report by the Intelligence and Security Committee of Parliament (pdf), accused Russia of meddling in the 2014 Scottish independence referendum.
Tom Ozimek and Lily Zhou contributed to this report.