UK Foreign Secretary Liz Truss has vowed to continue deploying the Royal Navy to tackle illegal immigration in the English Channel if she becomes the next prime minister.
The Royal Navy was brought in to patrol the Channel in April, when Prime Minister Boris Johnson said the move would help ensure that "no boat makes it to the UK undetected."
The Daily Telegraph reported earlier this week that the Navy was planning to hand back control to the Border Force "unless there are ministerial actions."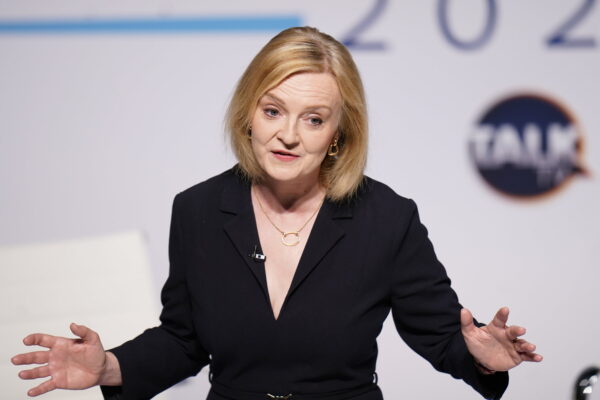 But Truss, who is currently the frontrunner in the race to replace Johnson as Conservative Party leader and UK prime minister, said she would "absolutely" maintain the military presence in the Channel.
"It is an absolute priority to make sure we deal with the issue of small boats and the appalling trade by people traffickers," she said on Aug. 16, ahead of the latest hustings in the Tory leadership race.
"And I will use every tool at my disposal, if I am selected as prime minister, to make that happen," she said in Elgin, Scotland.
'Ineffective' Response
More than 20,000 illegal immigrants have been detected crossing the English Channel in small boats to reach the UK since the beginning of 2022, according to government figures.
According to Home Office figures, the number of illegal crossings has soared in recent years, with 28,526 people detected in 2021, compared to 8,466 in 2020, 1,843 in 2019, and 299 in 2018.
Last month, two reports criticised the Home Office over its "ineffective" response to the challenge. One said the Border Force's approach to preventing the journeys was "ineffective and possibly counter-productive," while the other said the initial processing of those who arrived has been "ineffective and inefficient."
'Tour Guide'
The way the British authorities have been handling the small boats crossing the Channel has been widely criticised and ridiculed.
Almost all of the dinghies and rigid inflatable boats were intercepted by the navy, by the RNLI or other British law enforcement vessels, which then took the illegal immigrants ashore and handed them over to the immigration authorities.
At a meeting of the Defence Select Committee in the House of Commons on July 12, Labour MP John Spellar said that the Royal Navy was not stopping illegal immigrants entering Britain but was simply escorting them into Kent ports.
He suggested that the Royal Navy appeared to be acting as a "tour guide" for illegal immigrants.
Armed forces minister James Heappey denied the charge and insisted that he believed the Royal Navy had "gained control" of the English Channel.
Chris Summers, Lily Zhou, and PA Media contributed to this report.