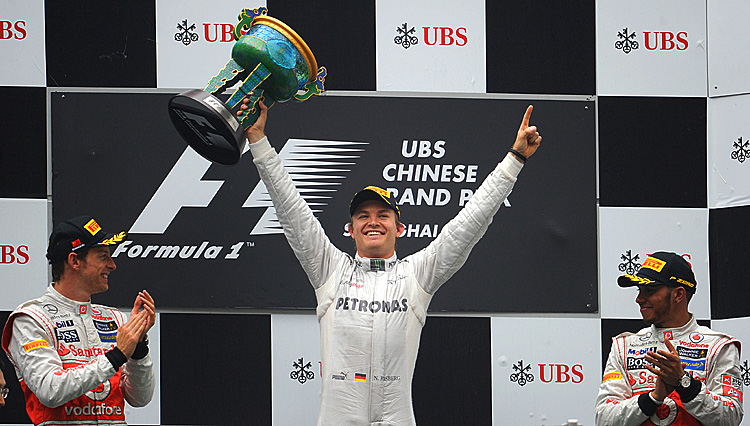 Nico Rosberg, in his 110th start, has finally won his first Formula One race, leading the field home by a margin of 20.6 second in the Chinese Grand Prix. Rosberg's win was the first for Mercedes in 57 years.
Rosberg started from the pole—another first for the Mercedes AMG driver—and stretched his tires and his lead on every stint. His only real challenger, McLaren's Jenson Button, lost his chance to a faulty wheel gun on lap 40. Rosberg spent the final 26 laps so far in front of the field he couldn't see them in his mirrors even on Shanghai's 1100-meter front straight.
Button still fought back to take second, passing another battler, Sebastian Vettel, four laps from the end. Vettel started 11th and worked his way up to second, but lost three places in the final four laps.
Lewis Hamilton caught Vettel on lap 55 to capture the last podium position, and Vettel's teammate Mark Webber passed the two-time world champion on the final lap.
Behind Rosberg the next eight cars were within 4.4 seconds when Button rejoined after his disastrous pit stop. All these cars were on every worsening tires, but none wanted to pit and give up track position, leading to the spectacle of almost a dozen cars on used-up rubber driving like they were fighting to get to the first corner on the first lap. There were more passes in the final fifteen laps than in any three grands prix from 2011.
Several drivers went off, including Ferrari's Fernando Alonso, and Red Bull's Mark Webber, but somehow there were no major collisions, and all the cars save Michael Schumacher, finished the race.
Schumacher's day was ended by a pit error on lap 13. The seven-time champion looked to be driving the best  race of his comeback career, running interference for his teammate Rosberg and saving his tires—Schumacher seemed certain to win a podium spot at least—barring something like a wheel nut which wouldn't tighten.
Lewis Hamilton's third-place finish gives the McLaren driver a two-point lead over his teammate in championship points, with Fernando Alonso and Mark Webber right behind.
Formula One heads to the MidEast next, for the Bahrain Grand Prix on April 22nd. Tickets and travel packages are available through the formula1.com website.