Ronda Rousey on ESPN 'The Magazine' 15th Anniversary Edition
April 30, 2013 9:04 pm Last Updated: July 18, 2015 5:20 pm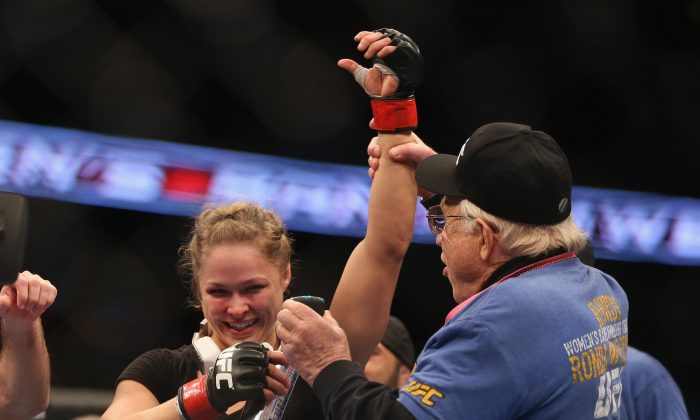 Ronda Rousey ESPN: Mixed martial artist and current UFC champion Ronda Rousey made it on one of the covers of ESPN "The Magazine" for its special 15th anniversary edition.
Rousey, according to MMA Weekly, was one of four athletes to land on the cover of the special edition, including Washington Redskins quarterback Robert Griffin III, Washington Nationals player Bryce Harper, and Blake Griffin of the Los Angeles Clippers.
MMA Weekly pointed out that by placing Rousey on the cover of the magazine, it advances the stature of mixed-martial arts and the UFC in the United States.
Rousey was featured on the cover of the magazine Body Issue in 2012.
In her last bout, Rousey beat challenger Liz Carmouche and is now slated to face Cat Zingano after "The Ultimate Fighter 18."
However, Rousey said she expects to face former adversary Miesha Tate in the future.
"I think because of the demand it's going to end up happening anyway. So many people want to see that fight again. A lot of people keep telling me that was their favorite fight. And just me and Miesha personally, I think we just like fighting each other because we don't like each other very much. It's bound to happen just because the demand is there," she told MMA Fighting this week.