UFC superstar Ronda Rousey won't be attending Conor McGregor's fight with Floyd Mayweather on Saturday night.
It's because she's getting married to UFC heavyweight fighter Travis Browne, it was reported Friday. The two got engaged in April.
UFC President Dana White told The Rich Eisen Show. that he won't attend her wedding due to the Mayweather-McGregor fight—which is estimated to be the most lucrative bout in history.
"Ronda Rousey gets married tomorrow," White said. "Tomorrow is her wedding. She's in a good place, she's happy and hasn't announced her retirement or anything like that, but she's focusing on this wedding."
Rousey hasn't competed in the sport since her loss to Amanda Nunes last December during UFC 207.
White said that he'd love to attend her wedding, but nothing will take his attention away from the impending mega-fight.
"Of all the days (for it to happen)," White said. "She said, 'I'm getting married. Will you come to the wedding?' I said, 'Absolutely.' The wedding's tomorrow."
Rousey previously said on "Kelly and Ryan" that the wedding will happen in Hawaii, where Browne is from.
White also told the show that Rousey, a former champion, that she hasn't retired.
On Friday, TMZ obtained audio of what McGregor, 29, told Mayweather, 41, during their most recent face-off.
"Boom. Head off the canvas … 'And the new, king of boxing,'" McGregor told Mayweather.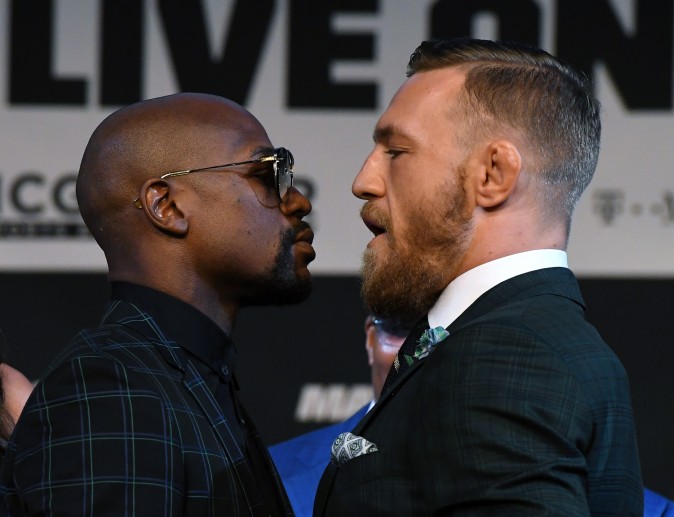 Mayweather doesn't budge and says back to his opponent, "You're a comedian."
Later, McGregor, as he's posing for the camera, adds: "This is Bruce Lee [expletive]."
Speaking to CNN, McGregor said that he's going to win—despite the odds being heavily in favor of his undefeated opponent.
"You know, I am a multiple-time, multiple-weight free fighting world champion," McGregor told CNN. "I come from a ruthless game, a ruthless, ruthless business. Not only do I come from it, I own it."
"People can say what they want … but boxing will look amazing with its new king."
Reports say that Mayweather could make as much as $400 million, and McGregor could make $127 million for the fight.
"I'm always thinking about fighting," McGregor told CNN. "It's just in me. I cannot stop thinking about it. Certain sequences, certain movements, certain ways to prepare. It's a 24/7 mindset. That mindset has got me to where I am today."