Romney's China Policy Draws Attack From State Press
August 29, 2012 4:22 pm Last Updated: October 1, 2015 12:29 pm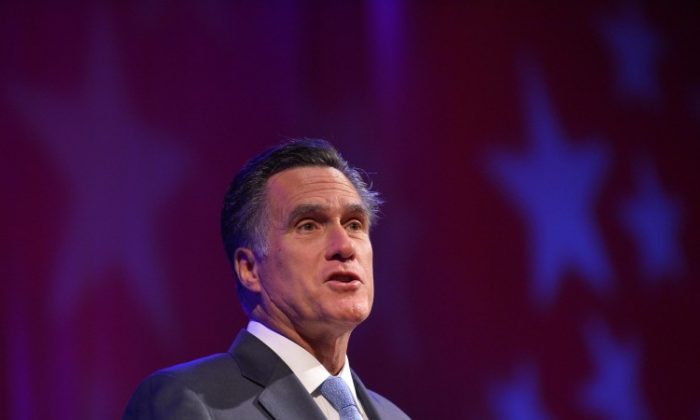 Mitt Romney is already infamous in China. The Chinese Communist Party's official media organizations since late last week have been raising the alarm about his stated policies toward human rights abuses in China and the need for democratic reforms.
"The Americans have been increasingly alert to competition from China. This has significant influence on Romney's decision to play the populist card. Romney's China policy is strongly advocating the new conservatism," said China Review News, a Beijing-friendly media based in Hong Kong.
Romney was officially made Republican presidential candidate at the party's National Convention on Aug. 28. Parts of his China platform, at least so far, appear tough.
"Romney has dressed himself up as the dragon slayer extending an iron fist toward China, while Barack Obama's China policy looks relatively mild and rational," the Review continued in an editorial republished in the nationalist mouthpiece Global Times on Aug. 24.
Romney's website outlines some of the basis of the approach. "Any serious U.S. policy toward China must confront the fact that China's regime continues to deny its people basic political freedoms and human rights," the site says.
"A nation that represses its own people cannot be a trusted partner in an international system based on economic and political freedom."
Romney has also promised that he would identify China as a "currency manipulator" on his first day of office if he is elected, a push back against the Chinese policy of pegging the value of the yuan to the dollar, in what experts say is an undervaluation, as a means of gaining an export advantage over the United States.
The Obama administration has also criticized China's economic policy, and has attempted to pressure the regime into allowing a currency value determined by the market, but it has never accused China of being a currency manipulator, which would lead to tariffs, and taxes on incoming Chinese goods.
"In the past, Democratic presidential candidates used to take tougher stands than Republican candidates, but in the current presidential election, the candidate of the business-friendly Republican Party goes in the opposite direction," China Review News said.
Liberation Daily, the Shanghai Communist Party newspaper, said that Tropical Storm Isaac "cost Romney the valuable opportunity to save his image," on Aug. 27, because the GOP events were cut short because of the storm, giving Romney less media attention.
People's Daily, the flagship newspaper of the CCP, also complained about Romney's approach. "[Romney] has already touched the bottom line of U.S. arms sales to Taiwan, publicly turned China's neighboring countries against China, and promoted the strengthening of military power against China," it said in a commentary.
Many comments on the Chinese Internet were not pleased with the tone set by Romney. Some expressed displeasure in a wry manner, referring to a litany of problems in Chinese society as a plea for sympathy. One user wrote: "Our homes are expensive, we eat poisoned food, and our roads are collapsing on us. Who said we were so great and powerful?"
The Epoch Times publishes in 35 countries and in 19 languages. Subscribe to our e-newsletter.