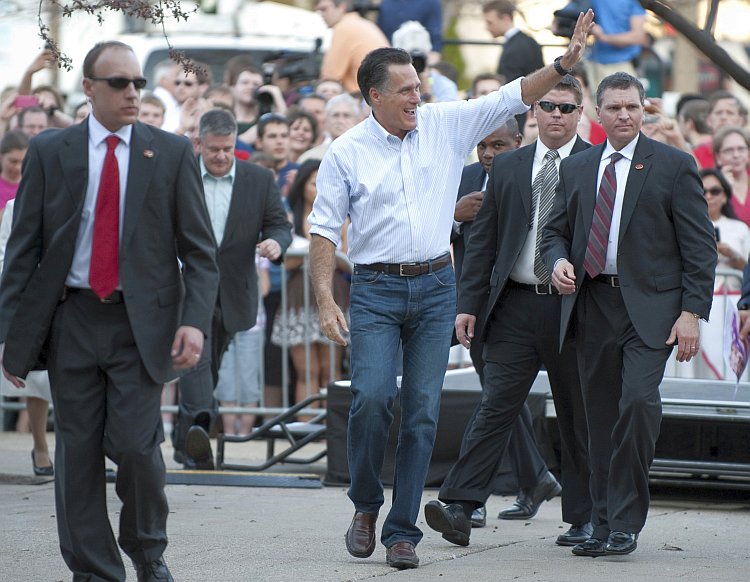 As Mitt Romney and Rick Santorum campaigned heavily across the northern state of Illinois in the lead up to a critical GOP primary Tuesday, pundits wondered whether former House speaker Newt Gingrich's continuance is hindering Santorum while helping Romney.
With 54 delegates at stake in the Land of Lincoln's March 20 primary, Romney is presently leading Santorum by eight points in Illinois, according to an average of four polls compiled by RealClearPolitics.com.
The former Massachusetts governor has 39.5 percent of the vote. Santorum has 31 percent of the vote, with Newt Gingrich at 13 percent, and analysts are noting that if the two were combined it would put Santorum well ahead of Romney, even if only two-thirds of Gingrich's largely conservative voters went to the former Pennsylvania senator.
Romney consistently appeals to moderate conservatives, independents, and more urban populations, but Gingrich and Santorum are resonating with the Republican base: the grass-root conservatives and evangelicals in rural, or less urban, centers.
Factoring in Gingrich supporters, Santorum would have beaten Romney in Ohio and perhaps Michigan. If Illinois is close, Gingrich will again split the vote—an advantage for Romney.
The Romney campaign was boosted by his win in Puerto Rico last Saturday, where he gained 20 delegates in the territory's winner-takes-all primary.
Romney has increasingly focused on the delegate count, and in that race he is well ahead. Combining the totals of his three rivals, they still do not have more delegates than Romney overall, with his 489 pledged delegates to Rick Santorum's 237, Newt Gingrich's 134, and Ron Paul's 69.
But political analyst Rhodes Cook warns against getting wrapped up in the delegate count, noting that with 40.5 percent of the popular vote, Mitt Romney is still short of gaining the support of the majority of Republican voters.
"Certainly, delegates are the coin of the realm when it comes to presidential nominating politics. But a strong primary vote can demonstrate the basic vote-getting appeal of the front-runner as well as his ability to rally the broad elements of his party, in fairly short order," Cook says on his blog.
According to Rhodes Cook, if Romney goes on to win the party nomination he will do so with the lowest share of the nationwide GOP primary vote since the 1970s, when the era of the primary-dominated process of presidential nominations began.
To date 3.4 million people have voted for Romney in the GOP race, way ahead of Rick Santorum, who has around 2.3 million. If Santorum's numbers are combined with Gingrich voters, which number 2.1 million, that would give Santorum a formidable lead even if only two-thirds, as predicted, of voters went to Santorum and the rest to Romney.
While Cook emphasizes that candidates can still win without gaining a majority, citing Sen. John McCain and Barack Obama in similar positions in the past, Romney, he said, would be wise to broaden his appeal.
Campaigning in Illinois
In the lead up to Illinois, Romney was certainly endeavoring to do just that, incorporating his wife Ann on the campaign stump to boost the women's vote, while still focusing on urban areas where the majority of the Illinois population lies.
On Monday he spoke to students at the University of Chicago, telling them he would not leave the legacy of a high deficit to them but would reduce the debt, provide jobs, and hand more decision making to the states.
He asked the students for their support, saying, "Lets get the job done and take back America."
Rick Santorum, meanwhile, went to Dixon, the hometown of iconic Republican President Ronald Reagan. He compared his battle against the establishment's belief in the inevitability of Mitt Romney to Reagan's unsuccessful 1976 presidential bid.
"It's almost inevitable, whoever's the next in line, that's who the Republicans tend to put forward. And Ronald Reagan said 'No, we don't need the next in line. We need something very different.'"
Although Santorum has pleaded to be given the opportunity to go 'head to head' with Romney as the single conservative candidate, he has drawn the line at attacking Gingrich, focusing instead on front-runner Romney.
"Let's be brutally honest there is one candidate in the race who can never make this race about freedom because he abandoned freedom when he was governor of Massachusetts," he said.
He noted that Romney had outspent him in Illinois, "5, to 7 to 10 to one," in negative advertising, describing Romney's campaign as one with "no vision, no hope, no promise of what America is to be."
"We can do much better than that," he said.
Gingrich Continues
Gingrich is not campaigning in Illinois, focusing instead on the Louisiana primary, March 24.
Rick Santorum is leading in the conservative Southern state with 25 percent to Romney's 21 percent, and Gingrich's 20 percent of the vote, according to a poll released Monday by local television station WWL-TV.
Cracks in Gingrich's campaign started to appear early March when one of his advisers leaked that Alabama and Mississippi were critical to Gingrich continuing. The former House speaker lost both those states to Santorum but has vowed to continue—and pundits believe he will.
"A man who says—and on the record—that 'I define my job as saving Western civilization' is not somebody who probably is going to be talked out of a race," Mark Shields, political analyst with PBS, said Friday.