Moderate GOP Sens. Mitt Romney (R-Utah) and Susan Collins (R-Maine) will vote in favor of calling up at least one additional witness in the impeachment trial of President Donald Trump.
"For those asking: As [Romney] has said, he wants to hear from Ambassador Bolton, and he will vote in favor of the motion today to consider witnesses," Romney spokeswoman Liz Johnson said in a statement on Friday morning.
She is referring to former national security advisor John Bolton, who left the administration last year. Earlier this week, the New York Times reported on a forthcoming book from Bolton, where he claimed that he was told by Trump about a linkage between military aid to Ukraine and politically advantageous investigations. Trump has categorically denied the claims in the report and noted that timing of the article, which was published before Trump's legal team presented their arguments in the trial, was suspicious.
Romney, a freshman senator, previously suggested to media outlets that he wanted to hear from Bolton in the trial before his spokeswoman confirmed his intentions.
And Collins, who is up for reelection in November, announced Thursday that she would vote in favor of witnesses.
"We have heard the cases argued and the questions answered. In keeping with the model used for the impeachment trial of President Clinton, at this point, Senators are able to make an informed judgment about what is in dispute and what is important to the underlying issues," she said in a late-night statement.
As a result, Collins explained that "hearing from certain witnesses would give each side the opportunity to more fully and fairly make their case, resolve any ambiguities, and provide additional clarity."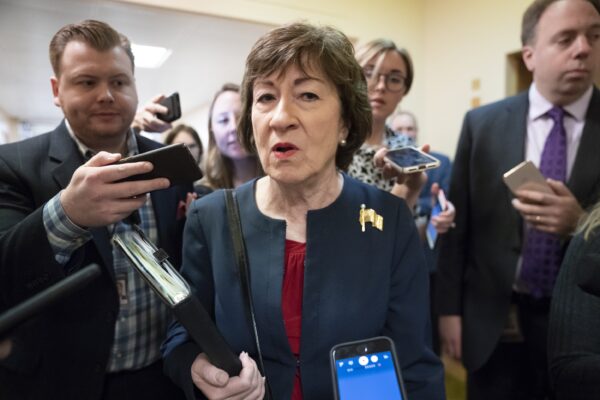 "Therefore, I will vote in support of the motion to allow witnesses and documents to be subpoenaed," her statement added.
But another possible swing-voter, Sen. Lamar Alexander (R-Tenn.), confirmed that he will not vote for witnesses. Alexander is retiring from office this year.
"It was inappropriate for the president to ask a foreign leader to investigate his political opponent and to withhold United States aid to encourage that investigation," Alexander wrote a series of Twitter posts on Thursday. "The Constitution does not give the Senate the power to remove the president from office and ban him from this year's ballot simply for actions that are inappropriate," Alexander wrote.
The other GOP senator who may vote to compel witnesses, Sen. Lisa Murkowski (R-Alaska), has not signaled how she will vote. "I'm going to go back to my office, I'm going to put some eye drops so that I can keep reading, and I've been forming a lot of thoughts and so that's going to be my job now at almost 11 o'clock," she told reporters on Thursday.
But Alexander's decision is a devastating blow to the House impeachment managers prosecuting Trump, essentially ensuring that witnesses will not be called. Senate Majority Leader Mitch McConnell (R-Ky.) is expected to move to vote on two articles of impeachment, possibly as soon as Friday afternoon.
Democrats have said they require four Republican senators to join them in their quest for witness testimony. Democratic House managers for days have argued that in light of the NY Times report, Bolton and other witnesses should be called, while some have said that a trial without any witnesses wouldn't be a trial at all.
The Senate is expected re-convene at 1 p.m. on Friday to hear the closing arguments from Trump's legal defense team and the House managers.
Republicans have a 53-vote majority in the Senate. Removing Trump would take 67-vote supermajority, meaning that about 20 Republicans would have to break ranks with their party to join Democrats.