Romeo and Juliet: A Love Story That Transcends Time
March 13, 2013 9:30 pm Last Updated: April 8, 2013 6:58 pm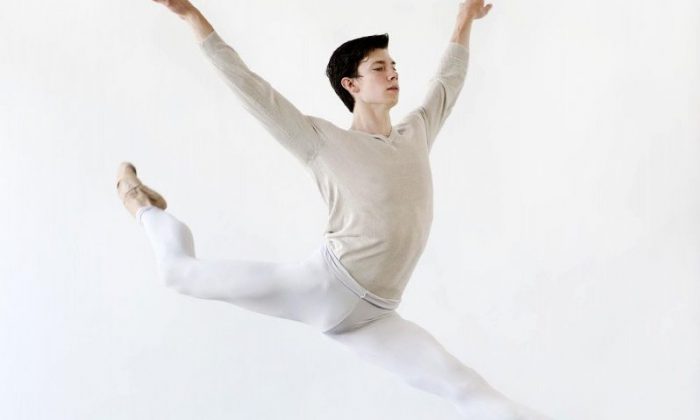 There's something about Romeo and Juliet that has made it one of the most enduring love stories of our time. From theatrical productions to operas, films, and ballets, Shakespeare's tragic play of love overcoming hate and prejudice continues to inspire and fascinate both artists and the public.
One of the latest such renditions is the National Ballet of Canada's lavish production of Romeo and Juliet by world-renowned choreographer Alexei Ratmansky, artist in residence at the American Ballet Theatre and former artistic director of the Bolshoi Ballet of Russia.
Making its debut in November 2011 on the occasion of the company's 60th anniversary, the production was welcomed with sold-out shows and critical acclaim.
Company member Brendan Saye and second soloist Chelsy Meiss were one of the five couples to play Romeo and Juliet in the original production and they are back for the revival this March. The young dance partners shared their thoughts on the enduring fascination with the story of Romeo and Juliet.
"It's kind of amazing. It's just like now. I think that's what keeps it alive. It doesn't matter how much our world changes, the fundamentals are always the same," said Meiss.
"There's always love, and first love, all that excitement, and all the drama that comes along with it. Sometimes your family doesn't approve and there's different classes, different races, different societies—it's all the same in the end."
Being Romeo and Juliet
For the Australian-born Meiss and the Vancouver-born Saye, playing the role of Romeo and Juliet was a dream come true. In fact it was the role that inspired Saye to become a dancer when he first watched the National Ballet perform an earlier rendition of Romeo and Juliet at the age of 10.
Their enthusiasm for their roles, as well as their ability to relate to the characters and to each other, helped them bring spontaneity, freshness, and vigour to the part, explains Saye.
"I think we have a very special partnership," he said. "We're good friends, and we're both at the same stage in our careers where we're blossoming, which is why I think this is such a suitable ballet for us."
Saye sees Romeo as romantic, passionate, and impetuous, traits he finds in himself. He also sees a parallel between Romeo's passionate love for Juliet and his own love of dance.
"I think Romeo definitely puts a lot on the line and sacrifices a lot for his love and I feel the same way—I love to dance and I definitely sacrificed a lot to get here," he said.
"I think only something you're really passionate about can cause you to give up other important parts of your life. You have to love it that much."
Meiss also found it easy to relate to Juliet. "I haven't had to search for a lot to become her—it felt like it was a natural progression," said the young dancer, who by the end of the 2011 performance felt like she had almost become the character.
"Being a young woman, there are so many things to relate to and connect with Juliet. I'm sure every girl has gone through some of the things in her life—falling madly in love and just realizing herself through that," she said.
"Through that chain of events, she realizes what she wants for herself in her life, even if that's different from what her family wants for her," explained Meiss.
"As much as [Juliet is] dainty and beautiful and feminine, she's kind of like a modern woman of her time. She's very courageous," she added.
Five ballet couples play Romeo and Juliet at various performances of the National Ballet's production. Saye talked about the unique nuances that each couple brings to the role.
"It's the same language of dance, the same choreography, but we might approach it differently—we might use different dynamics, we might interpret that moment differently in terms of our acting, we might do something more subtle, while another person might make a louder statement with their movement. It changes," he said.
 "Being a live performance, there's very few things that I feel are quite as vulnerable. It takes a lot of courage to put yourself out there. So I really think it does have to come from the heart. There has to be a personal ingredient in there."
"You have to be true to yourself," said Saye.
"That's why it's exciting to see different casts. It moves the audience in different ways at different times. I think it's a really beautiful thing," he added.
As the rookies of the Romeo and Juliet couples, Meiss said she is grateful that the more senior principal dancers are there to help them when they need it.
The other couples are: Guillaume Côté and Elena Lobsanova; Aleksandar Antonijevic and Greta Hodgkinson; McGee Maddox and Heather Ogden; and Naoya Ebe and Sonia Rodriguez.
The National Ballet of Canada presents Romeo and Juliet in Toronto from March 12-17 and in London, U.K., from April 17-21. For more information, visit national.ballet.ca. To watch "Romeos & Juliets," the CBC documentary on the making of the production, visit cbc.ca/romeosandjuliets.