DAYTONA BEACH, Fla.—With two hours left of 24, the IMSA WeatherTech Rolex 24 at Daytona is entering its decisive phase.
While any of the first 22 hours can create a loser, the final two or three stints usually determine the winner of this day-long endurance contest.
Teams need to strategize: when to pit, which drivers to use, whether to take ties for greater speed or double-stint and save track position. Should the team short-fill to gain track position and hope to hold it on a full final stop, or plan for a timed fill for the last stop? If a caution comes, should the car come in or stay out?
Any team with a car still running now has a chance to make the efforts of the previous 22 hours pay off—and an equal chance to make all that effort pointless.
The entire race before noon on Sunday is prelude. Now the race really begins.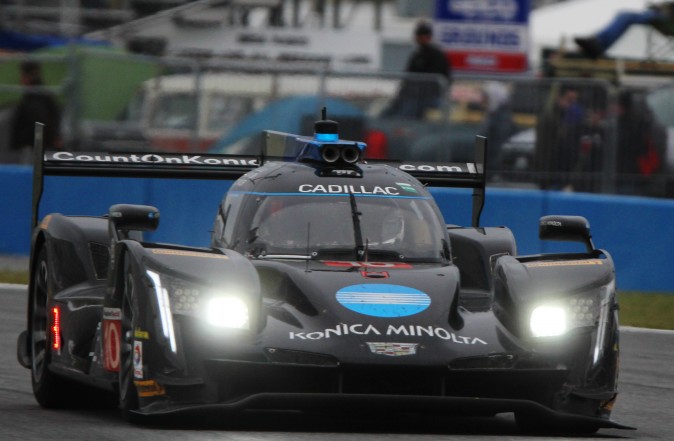 Wayne Taylor Racing Secure in the Lead
The #10 Wayne Taylor Racing Cadillac DPi V.R has led since 6:30 Saturday evening. According to Jordan Taylor, the team has worked with the car for longer than any otger Cadillac team, which is why they have the strongest of the Cadllacs, and havwe had no mechanical problems, while the other two Cadillacs—the #5 Mustang Sampling and the #31 Whelen Engineering—have lost time in the pits.
The #90 VisitFlorida Riley/Multimatic-Gibson ran strong in the early morning, but penalties and problems have left the car a lap down. The 2016 winner, ESM, is also a lap down. Either team could get the lap back with a caution period, and could mount a serious run for the win—but the WTR Cadillac has managed to hold them off so far.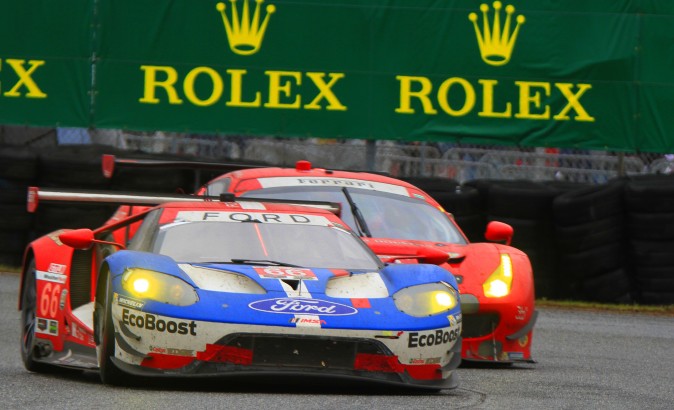 Ford Dominates GT Le Mans
The Ford-Ganassi team brought four cars packed with all-star driversto the Rolex—no one could doubt their intent, and 22 hours in, no one can question their success so far.
The #66 Ford GT has basically led from the green flag. The car has run flawlessly, the drivers and crew have made no major mistakes.
The #62 Risi Ferrari has taken a few turns at the front. The Corvettes have shown god speed, and always race with total dedication and professionalism. Still, the Ford GT looks like the safest bet for GTLM winner.