DAYTONA BEACH, Fla.—"Corvette" DPs now fill four of the top five spots at the Rolex 24 at Daytona, with Max Angelelli in the #10 Wayne Taylor Racing Dallara-Corvette leading Sebastian Bourdais in the #5 Action Express Coyote-Corvette. Thid is Kyle Larson driving the Ford EcoBoost-powered #02 Ganassi Riley. Brian Friselle in the #9 Action Express and Richard Westbrook in the #90 Spirit of Daytona Coyote-Corvettes round out the top five.
The WTR car and the #5 AEXP car have been swapping the lead, with the #02 Ganassi machine grabbing what it can. None of these teams are taking it easy or trying to make it to then end—the race is a flat-out sprint and no one is giving an inch to the competition.
Of note is the position of the #6 Muscle Milk Pickett Racing Oreca-Nissan–sixth overall, the highest-placed P2 car.
Also of note is the Mazda effort—both cars are still running after 15 hours. They aren't fast—46th and 58th overall, and the best lap either has run is 1:49.293, compared to a 1:39.180 by Sebastian Bourdais—but the fact that both cars have lasted this long on their first outing is a very positive sign.
The eleventh caution of the race came just before the 15-hour mark when the #01 ESM HPD ARX-03b-Honda packed it in entering the East Horseshoe.
Prototype Class Update: Ten minutes past the 15-hour mark, the #70 Mazda started malfunctioning and mechanics dragged it back to the garage.
The DeltaWing has had transmission trouble, and has headed out only to head back to the garage a few times. The car is 144 laps behind.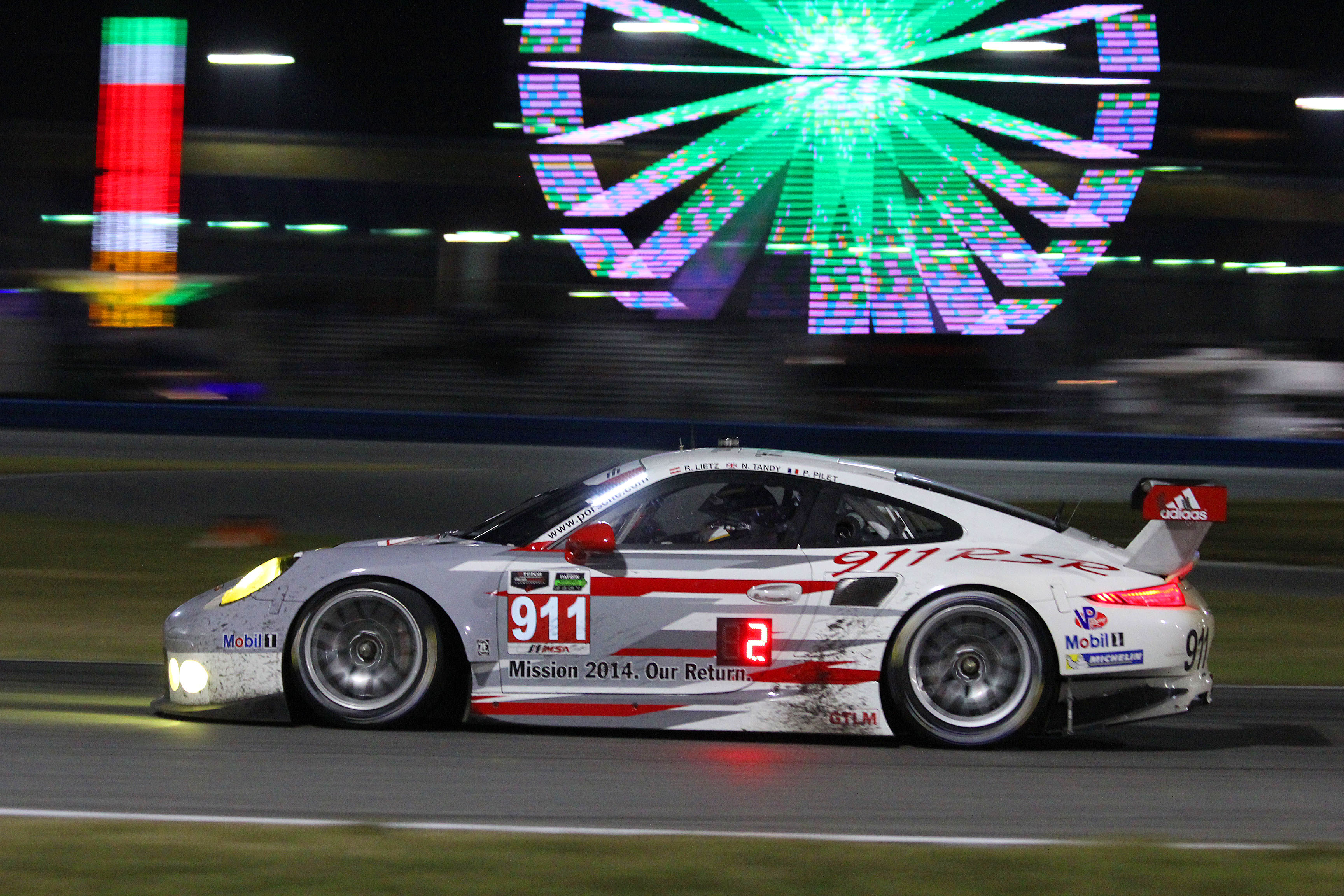 GT Le Mans
The Porsche North America 911 RSRs lead the GTLM class, but it is very close with Tom Milner in the #4 Corvette is less than two seconds behind. These three run eighth through tenth overall.
The #3 Corvette has expired with cooling issues; both Vipers have suffered mechanical or accident damage (or both.) The two BMWS are still running well, in 13th and 14th overall, laps back but still in contention for podium finishes depending on attrition.
SRT Vipers dominated the class through the first several hours; then Porsche and Corvette moved to the fore.
The two BMWs have moved into fourth and fifth in class despite not having the top speed of the competition
Pro-Am Classes
The 8Star Oreaca-Chevrolet leads the PC class but the #54 Core Autosport car is right behind. The #38 Performance Tech Oreca is a lap back but on the podium if it survives.
GTD is also a tight race. After 15 hours the #55 Level 5 Ferrari led the #63 Scuderia Corse Ferrari by a tenth of a second, with the #45 Flying Lizards Audi eight seconds behind.