On March 1, Paul Harris, a well-known international human rights expert and former chairman of the Hong Kong Bar Association, left Hong Kong with his family the day after being interviewed by the Nation Security Department of the Hong Kong Police for a "cautionary statement."
At 11 a.m. on March 1, Harris was accompanied by two men in suits to the Wanchai Police headquarters and questioned. He left after about two hours. According to sources, the meeting was related to the Hong Kong Human Rights Monitor, a non-governmental organization founded by Harris. It is reported that he was "cautioned to meet" by the National Security Department of the police on suspicion of violation the Hong Kong National Security Law. During the meeting, he was asked to explain his alleged violation of national security.
Some newspapers in Hong Kong reported on March 2, that after being interviewed by the police the day before, Harris boarded a Turkish Airlines flight that took off at 11 o'clock that night, first going to Turkey and then transferring to the UK.
Harris has always been concerned about human rights activities in Hong Kong and has publicly criticized the Hong Kong government many times. He was the first Chairman of the Hong Kong Human Rights Monitor (HKHRM), which was established in 1995 by Harris; Philip John Dykes, former Chairman of the Council of the Hong Kong Bar Association; and Chan Man-mun, former Chair Professor of Law at the University of Hong Kong. Its purpose is to observe the law, policies and actions of the Hong Kong government, and to defend and promote human rights.
During social movements such as the Umbrella Movement in 2014 and the Anti-Extradition Movement in 2019, HKHRM often sent members to record and observe the way Hong Kong police handled the demonstration participants.
Harris, who has the reputation of "human rights champion," is not only an expert on international human rights issues, but also a practicing barrister in Britain and a senior barrister in Hong Kong. He was elected Chairman of the Hong Kong Bar Association in January 2021.
After taking office, Harris made a lot of strong remarks that attracted the attention of society and the CCP official media. He once criticized the Hong Kong National Security Law for not conforming to the spirit of the Rule of Law, and bluntly agreed with the description of the Hong Kong National Security Law as a "disgrace" and "disgusting."
The Occupy Central founder Chan Kin-man was released from prison on March 14, 2020 after completing a 16-month sentence at Pik Uk Prison in Hong Kong. He now chooses to live in Taiwan.
In July last year, Chan Kin-man, a former Chinese University associate professor, posted on social media that he had accepted an invitation from National Chengchi University in Taipei to serve as a visiting professor for one year.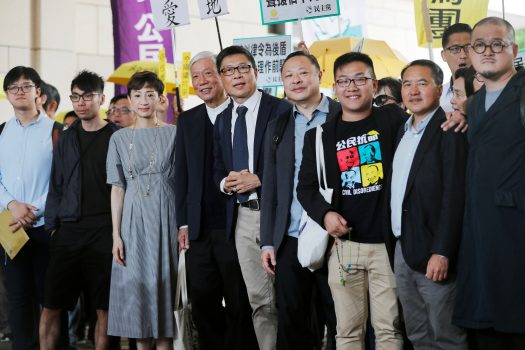 Kin-man said on Facebook on July 20 last year that in the coming days, besides teaching, he will retreat to write books and think about the traces of every road has traveled. The online program "Kin-man study room" and "Kin-man lecture hall" will be continued. He said, "I hope to see you in Hong Kong in one year."
Although Chan Kin-man was imprisoned for the "Occupy Central" case, after his release, he admitted that he was happy to have his freedom back. The time in prison was difficult, but he had no regrets at all. He believes that this was the price that must be paid when fighting for democracy.
In April 2019, Kin-man and two other Occupy Central founders, Tai Yiu-ting and Chu Yiu-ming, were charged with three counts of conspiracy to public nuisance and inciting others to commit public nuisance. Kin-man was sentenced to 16 months in prison.
After the Hong Kong National Security Law was officially implemented on July 1, 2020, Kin-man said in an interview with Initial Media, "from a small prison to a big prison," the threat to the freedom of life is worse than prison. Perhaps this is one reason Kin-man chose to leave Hong Kong.
Chan Kin-man returned to Hong Kong from the United States in 1993 . He was teaching in the Department of Sociology of the CUHK until he was imprisoned. For the past quarter century, he has been promoting the development of civil society in China and Hong Kong as a public intellectual.