The Rogers family dispute over control of one of Canada's telecom giants already saw the company's shares dip this week, as the rift between former chairman Edward Rogers and his mother and sisters descended into legal action.
At the heart of the dispute is a disagreement over who has legitimate control of the company's board. The Rogers family controls Canadian telecom and media giant Rogers Communications Inc. (RCI) through a trust that holds 97 percent of the voting shares.
Several members of the Rogers family including Edward, his sisters Martha and Melinda, and mother Loretta have sat on the board since company founder Ted Rogers died in 2008.
RCI's price per share threaded in the low $56-$57 range on Oct. 25 and 26, after it plunged more than six percent from its $60.02 a share on Oct. 22. There was a slight improvement at around $58 per share on Oct. 26, but business industry observers and analysts predicted difficulty ahead for the company.
Analysts also warned against creating confusion among shareholders as ousted chairman Edward Rogers claimed he was reelected as chair on Oct. 24, and backed by a new board of directors.
On Oct. 26, Edward filed a petition to have his newly constituted board declared legitimate, asking the B.C. Supreme Court for a declaration confirming the validity of his board. He also asked Rogers to adjust its registry to reflect the board he created.
Edward's mother Loretta Rogers, sisters Martha Rogers and Melinda Rogers-Hixon, and several current board members have disputed his claim.
"We remain as duly elected members of the Rogers Communications Inc. Board and represent the majority of the Board members of the company," the group said in a statement on Oct. 24.
"No other group of individuals has any authority to purport to act as the Board of Directors of Rogers Communications Inc."
Dispute Sparked By Attempted Removal of CEO
The conflict at RCI started in September after Edward's attempt to replace Natale with former chief financial officer Tony Staffieri, and remove nine other senior executives, was exposed.
Natale has been president and CEO of RCI since April 2017. Prior to that, he held several senior positions at Telus Corporation from 2003 to 2015. Staffieri has been with Rogers since 2012, having a previous appointment as vice president of finance at Bell Canada Enterprises in 2005.
Natale learned about the plan to oust him when Staffieri accidentally dialled the CEO's number while discussing the details with former long-time Rogers chief legal officer David Miller, which prompted the CEO to trigger an emergency board meeting on Sept. 26, according to a report from the Globe and Mail.
The Rogers family and the majority of the board backed Natale and his management team. Staffieri left the company three days later.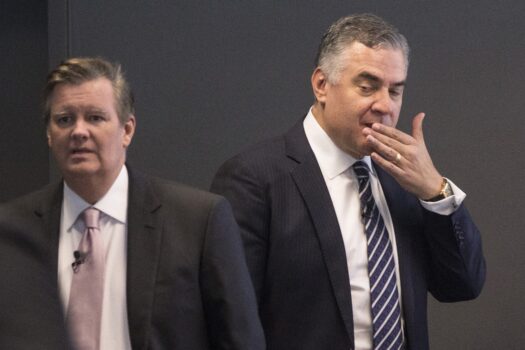 On Oct. 21, the board of directors voted and removed Edward as chairman—with three of the votes coming from Loretta, Melinda and Martha Rogers.
John MacDonald, who has served as member of the board since 2012 and also as chair of the corporate governance committee, assumed the role of chairman while Edward stepped down as company director.
But hours after the vote, Edward, who remains chair of Rogers Control Trust—the family trust which controls about 97.53 percent of the firm's Class A voting shares—announced he would remove five independent directors from the board, including MacDonald, with his own candidates through a written shareholder resolution.
"The Control Trust Chair is disappointed with recent events and commentary regarding the governance of RCI and has lost confidence in the Board of RCI as currently constituted. The Control Trust Chair believes that it would be in the best interests of RCI to reconstitute the Board," wrote the statement by Rogers Control Trust.
RCI responded the next day, arguing that Edward's plan to replace the independent directors through the written resolution "without convening a meeting of shareholders" is not warranted.
"The Company is not aware of this mechanism ever having been utilized in respect of a public company in Canada," RCI said in a statement.
It followed up with a second statement later that day, asserting that the written resolution from Rogers Control Trust to the shareholders is "invalid," and its board of directors, including the independent directors "remained unchanged."
When the firm learned on Oct. 23 that Edward planned to hold a "purported Board meeting with his proposed slate of directors" on Oct. 24, MacDonald responded, saying that the meeting does not comply with the laws of B.C. where the company is incorporated, and "anything that may arise from such a meeting is also invalid."
Martha, who is chair of Rogers' environmental, social and governance committee and advisory committee of the Rogers Control Trust, took to Twitter with a string of tweets saying she would defend her father's wishes.
"Ted put me on the board as a check and balance to ensure nothing this insane occurs. This is for you Dad," she wrote on Oct. 23.
Walied Soliman, a Norton Rose Fulbright Canada LLP lawyer representing Melinda, deputy chair of RCI board, called Edward's move "unconscionable" and "quite regrettable."
"The concept of a single shareholder being able to replace all the independent directors of one of the largest public companies in the country with the stroke of a pen one afternoon is unconscionable," he said in an interview with BNN Bloomberg.
"I don't think there is any shareholder, securities regulator, or director of a corporate statute across this country that would find this approach acceptable," he said. "I find it quite regrettable."
The family feud comes as Rogers is awaiting regulatory approval for its $26-billion takeover of Shaw Communications Inc. In a statement on Oct. 23, Natale assured shareholders that he and his team will remain focused on delivering the acquisition deal.
But Richard Powers, national academic director of the Rotman School of Management, doubted the stability RCI can bring to its shareholders unless a court rules or both sides come to a consensus.
"The longer this drags out, who makes the deals? Who signs the papers? Is it the hands of the new board or the old board?" Powers asked.
With files from The Canadian Press