Following the sentencing of Roger Stone on Thursday, a friend and spokesperson for the political operative hinted that he would appeal and ask President Donald Trump for a presidential pardon.
Stone was sentenced to 40 months in prison for lying to a congressional committee that was investigating Russian interference in the 2016 U.S. election. The conviction and sentencing drew criticism from Trump, for whom Stone had been an adviser.
"It falls on President Trump to use the power of a pardon as the final means of checks and balances to right this horrible wrong," said a statement from his spokesperson and friend, Kristin Davis, according to news outlets.
The charges stemmed from former special counsel Robert Mueller's investigation into Russian interference in the 2016 election, and prosecutors later said Stone collaborated with WikiLeaks to release controversial Democratic Party emails in 2016.
But, according to Davis's statement, the case featured "serious undisputed juror misconduct" and noted there were "anti-Trump, anti-Republican, and anti-Stone tweets." The statement said that if Judge Amy Berman Jackson, who was appointed by former President Barack Obama, does not recognize the alleged bias, then Stone will likely appeal.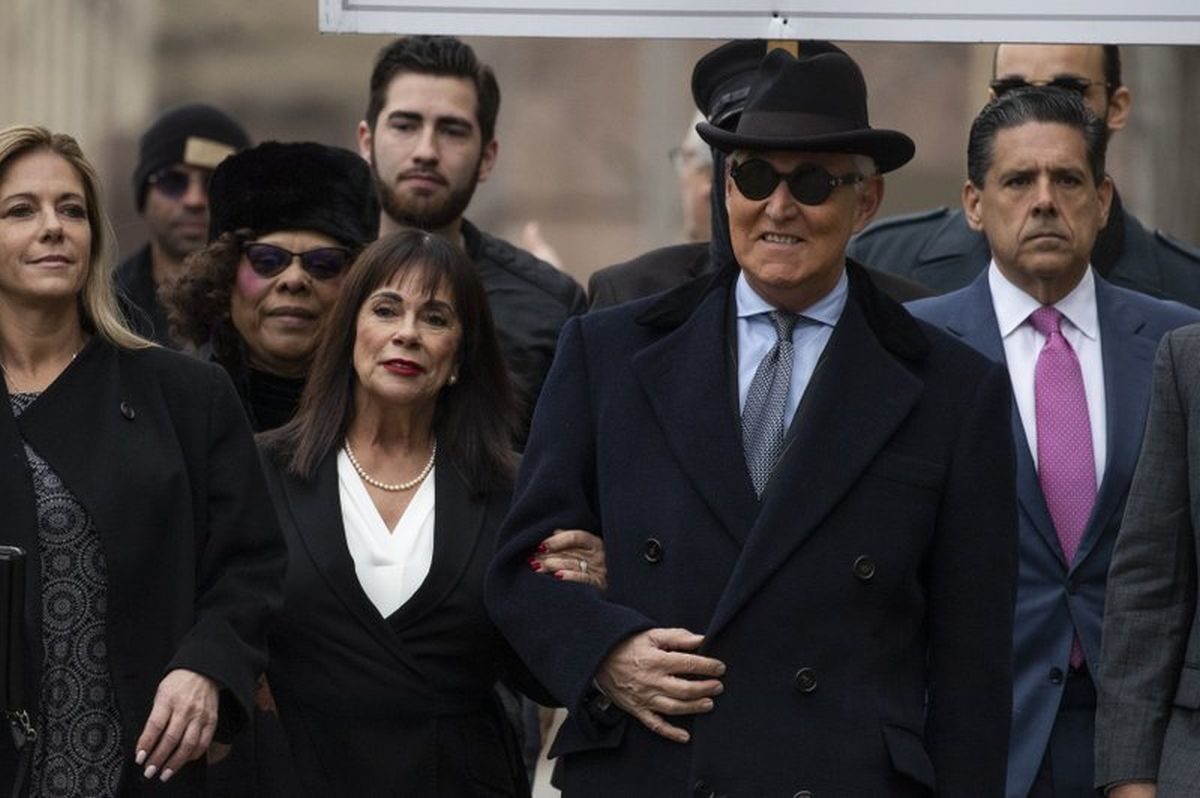 The statement could be referring to Twitter and Facebook posts made by jury forewoman Tomeka Hart, who showed disdain for Trump.
Trump hasn't said whether he would issue a pardon for Stone.
"Roger Stone continues to be gagged, stripping him of his First Amendment right and ability to make a living," Davis continues. "By moving forward with sentencing and continuing to silence Stone it seems very clear that the truth doesn't matter."
Stone's lawyer had asked that he get no prison time. The 67-year-old Stone, who has been a friend and adviser to Trump for decades, was convicted on Nov. 15 on all seven counts of lying to Congress, obstruction of justice, and witness tampering.
"He was not prosecuted, as some have complained, for standing up for the president. He was prosecuted for covering up for the president," Judge Jackson said. "The defendant engaged in threatening and intimidating conduct toward the court," Jackson said. "This is intolerable to the administration of justice."
Jackson was referring to messages between Stone and his ex-associate Randy Credico, during which Stone said a number of things including "Prepare to die" and "I'm going to take that dog away from you."
But defense attorney Seth Ginsberg said Stone's career as a self-described "dirty trickster" overshadowed other aspects of a spiritual man who has served as a mentor, loves animals, and is devoted to his family. "Mr. Stone is, in fact, not simply that public persona, but a human being," he said.
Ginsberg said in court that Stone should not receive a longer sentence because that threat wasn't "serious enough" to "trigger the guidelines," adding that he is known for "rough, hyperbolic language," and  Credico knew "it was just Stone being Stone."
When prosecutors made their sentencing recommendation earlier this month, Trump criticized them as "corrupt" and accused them of meting out a "miscarriage of justice" in Twitter posts.
Around the same time, Attorney General William Barr intervened, and the Justice Department overruled the recommendation of seven to nine years in prison. Four prosecutors then resigned from the case.
Reuters contributed to this report.