Robust Housing Market Crucial to Economic Recovery
Questions remain over sustainability of recent gains
July 31, 2013 6:00 am Last Updated: July 31, 2013 6:47 am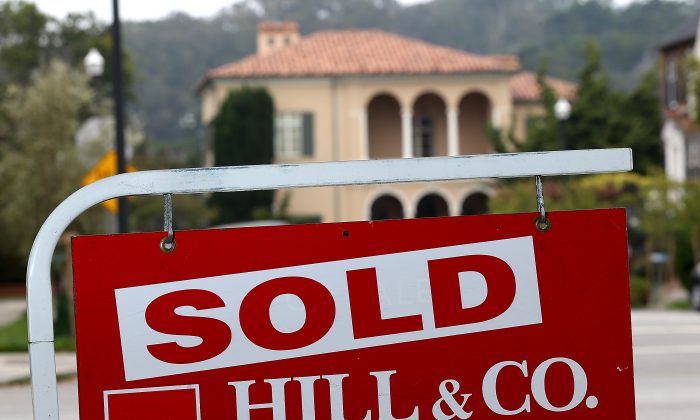 Economists and real estate experts link the health of the U.S. economy to a strong housing market recovery. They reason that the 2008 housing bubble caused the financial meltdown and subsequent global recession of 2009. Therefore, a recovery must be preceded by an improvement in the real estate market.
Some of the more gloomy housing market experts warn of a new housing bubble in the making, which could wreck the slow economic recovery. Others caution that a sharp increase in mortgage interest rates would upset the current economic upturn.
"Notoriously difficult to predict, bubbles can be defined as a condition where asset prices seem based on irrational … opinions or expectations about the future," states a recent report from CoreLogic, a data collection service.
CNN Money warns in a recent article that real estate market price increases could result in another housing bubble unless housing construction increases significantly.
Lawrence Yun, chief economist for the National Association of Realtors (NAR), told CNN that new housing construction has to increase by 50 percent to forestall a housing bubble.
"New housing construction in the US has increased substantially since the lows of the Great Recession, but remains near pre-recession lows," a recent article on the Sober Look website states.
Additionally, rising interest rates would be damaging, according to Peter Tchir, a market adviser at a New York research firm, in a recent Yahoo Finance article. Tchir rationalizes that low interest rates are the drivers in a recovery of the housing market.


Housing Affordability Central to Positive Attitudes
Despite pessimistic views regarding the housing market, CoreLogic remains positive, maintaining that there is no looming housing bubble, and the increase in interest rates would forestall any bubble.
CoreLogic bases its positive outlook on the Housing Affordability Index, which has shown a positive trend. The affordability index measures if a buyer's income covers the monthly principal and interest payment on the home being bought.
CoreLogic's upbeat outlook stems from the fact that "housing affordability can improve due to income growth, falling mortgage interest rates or falling home prices."
Given CoreLogic's assumptions, it is of value to review income and interest rate trends. According to the U.S. Bureau of Economic Analysis (BEA), the market signaled a moderate increase in income over the past several months. At the same time, mortgage interest rates were near record lows, hovering between 3 percent and 4 percent between January and May of this year.
CoreLogic bases its analysis on the 30-year fixed rate mortgage. The historical interest rate trend, published by Freddie Mac, indicates that the annual average for a 30-year fixed rate mortgage was 6.03 percent in 2008. The average rate was 5.04 percent in 2009, 4.69 percent in 2010, 4.45 percent in 2011, and 3.66 percent in 2012.
In May, personal income and disposable income increased by 0.5 percent, according to the BEA. In February, income increased by 1.2 percent, in March by 0.2 percent, and in April by 0.1 percent.
Data provided by the U.S. government indicates that incomes are increasing, albeit moderately, providing buyers with additional funds. At the same time, interest rates have been kept low, making housing more affordable.
Based on the above, CoreLogic believes that the affordability of homes will show a positive trend going forward. "Even with the most recent price gains and interest rate hikes, CoreLogic still observes high levels of affordability by historic standards."
Construction Companies Spooked
Despite CoreLogic's positive outlook and the improving affordability of housing, homebuilders haven't increased their construction activities significantly. NAR's wishful target for a 50 percent increase in housing construction seems to be still far off.
New housing starts in June were at a seasonally adjusted estimated annual rate of 836,000, which was 9.9 percent below the May estimate of 928,000 housing starts. However, the June housing starts show an improvement of 10.4 percent when compared to the 757,000 starts in June of last year, according to a joint announcement by the U.S. Department of Housing and Urban Development and the U.S. Census Bureau.
"Anecdotal evidence suggests that the sudden rise in interest rates has spooked some developers who decided to cool things down a bit—at least until there is more certainty around rates and economic growth," according to a recent Sober Look article.
Nevertheless, the Builders Confidence Index, a popular measure of homebuilder sentiment, rose to 57 from 51, a six-point increase in July over June. The index has increased monthly for the past three months, according to the National Association of Home Builders (NAHB). A reading above 50 indicates that the majority of builders view home sale conditions as good.
Home Sales Rising
Furthermore, monthly new house sales support the positive Builder's Confidence Index. New house sales rose by 12 percent between May and June, from 43,000 to 48,000 new houses sold, according to the U.S. Census Bureau.
In addition, monthly new residential sales rose 50 percent, from 32,000 to 48,000, during the first six months of this year. Also, new house sales picked up by 28 percent (from 190,000 to 244,000) when comparing the first half of 2012 to the first half of 2013.
Real estate experts expect a rise in new home sales while interest rates are still at historically low levels.
However, the Mortgage Bankers Association (MBA) said that for the week ending July 19, all mortgage applications decreased by 1.2 percent compared to the prior week. The MBA didn't separately account for new home mortgage applications.
Nevertheless, mortgage applications for new home purchases decreased by 15 percent in June, based on lender applications, according to the MBA's new Builder Application Survey.
Moreover, the average loan size for a new home decreased by $795 to $283,000 between May and June, a July MBA announcement states.
Home prices are rising, with the median price of a new single-family home up 7.4 percent in June year-over-year, from $232,600 to $249,700, according to the NAHB. Meanwhile, prices for existing homes rose at an even faster pace, with the median price up 13.2 percent in June year-over-year, according to the NAHB.
A separate measure of the housing market, the S&P/Case-Schiller index of 20 metropolitan areas, on Tuesday July 30 reported a 12.2 percent gain in home prices in May, compared to the previous year, the largest year-over-year gain since March 2006.
Robert Schiller, co-founder of the Case-Schiller index, commented in an interview on CNBC Tuesday that he sees these latest numbers as further indication that, "The cities that bubbled in the past are bubbling again."
Overall, experts agree that the housing market is improving, but remains far below levels from before the financial meltdown. But they disagree on whether this trend will continue in the face of slow wage growth and rising interest rates, or if perhaps it's just another housing bubble in the making.
When even experts differ in their expectations for the future, it is no wonder it is difficult for the public to believe in a strong housing market revival and with it the economic recovery.