Robert Downey Jr. Only Cares About Doing Entertaining Movies
September 30, 2014 3:50 pm Last Updated: September 30, 2014 3:54 pm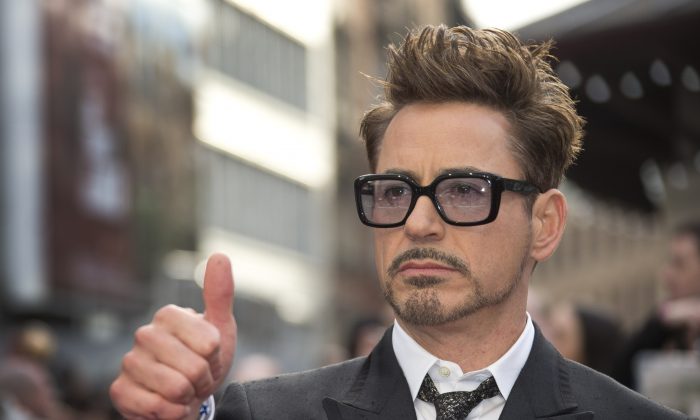 Robert Downey Jr. has had a lot of luck with his entertaining roles in huge blockbuster hits like "Iron Man" and "Sherlock Holmes" and said that it's actually the only thing he cares about as an actor and now as a producer.  
"All I care about is: is what I'm doing entertaining?" Downey Jr. said during a recent press conference for his latest drama "The Judge" in Hollywood.
Downey Jr. and his wife, Susan Downey were both producers for the drama, as this was the first title that they released as part of their production company Team Downey. Although when his wife and director David Dobkin got their hands on the script, Downey Jr. simply hoped the film wouldn't be lame, but after he read the script he immediately jumped on board and said that no one else will do it, other than him. 
Even though Downey Jr. is at the A List-star status, he says that working with other accomplished actors still makes him excited for doing each project. 
"There's nobody you would rather spend time on the set with than Billy Bob Thornton," Downey Jr. said. "He might do a Burt Reynolds impersonation, if you're lucky," he said. 
Lo' and behold, the next question that was asked, Thornton, who also attended the conference, answered using the Reynolds impersonation. 
"The Judge" is based on a story about a big city lawyer, Hank Palmer (Downey Jr.), who upon unforeseen circumstances needs to revisit his home town and confront his estranged father, Judge Joseph Palmer (Robert Duvall) who is suspected of murder. 
Although Downey Jr. plays the prodigy son in "The Judge," he's famously known for his most recent work in the Marvel comic adaptations of "Iron Man" and "The Avengers." For Downey Jr., however, every role he gets is a character study. 
 "It's just that sometimes there's more robots than others," he said.
"The Judge," a Warner Bros. Pictures production, will come out in theaters nationwide on October 10, 2014.