Road Suddenly Collapses in Hangzhou, China
March 20, 2007 12:00 am Last Updated: March 20, 2007 12:00 am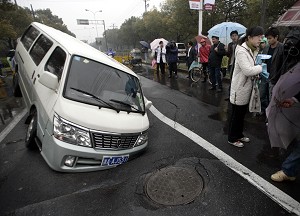 CHINA—On the afternoon of March 16, 2007, a sudden road collapse caused a mini-bus to be trapped in a two-meter deep hole while it was driving along Airport Road in Hangzhou city.
According to the driver, when the accident happened, the bus was not traveling very fast. The road suddenly collapsed and the head of the bus went straight into the hole. Fortunately nobody was hurt. The reason for the road collapse is still under investigation.
Recently, several similar road collapse incidents has happened in China's big cities, On March 8, a road collapse created a two square meters wide by one meter deep hole on Sanhuan Road near Guomao Bridge in Beijing and the left rear wheel of a bus was stuck in the hole.