A group of climate activists has refused to back down after a new injunction was issued against their traffic-disrupting protests.
Insulate Britain, which demands taxpayer-funded insulation for all British households, vowed to target the M25 motorway from Wednesday despite five injunctions banning them from obstructing traffic on all motorways and major roads across England, as well as 14 locations in London.
On Monday evening, National Highways secured a new interim injunction after the eco-activists started disrupting traffic again after taking a 10-day break.
The high-court injunction (pdf) prohibits protesters from obstructing traffic to, along, or from the entire Strategic Road Network (SRN) in England that are not covered in the three previous injunctions that National Highways had secured, including one covering M25.
Anyone disrupting traffic on or around the SRN for the purpose of protesting will face imprisonment, fine, or assets seizure.
Those who cause, assist, or encourage such protests will face the same punishment.
The interim injunction remains in effect until Dec. 31 unless a trial or a further order takes place before the date.
Duncan Smith, acting executive director of operations at National Highways, said the new injunction is "another step forward in helping to keep these reckless and dangerous protests away from our network and endangering peoples' lives."
According to a government statement on Tuesday, More than 100 activists have been served with court papers.
Smith said National Highways will "continue to serve court papers on those who have breached the previous injunctions."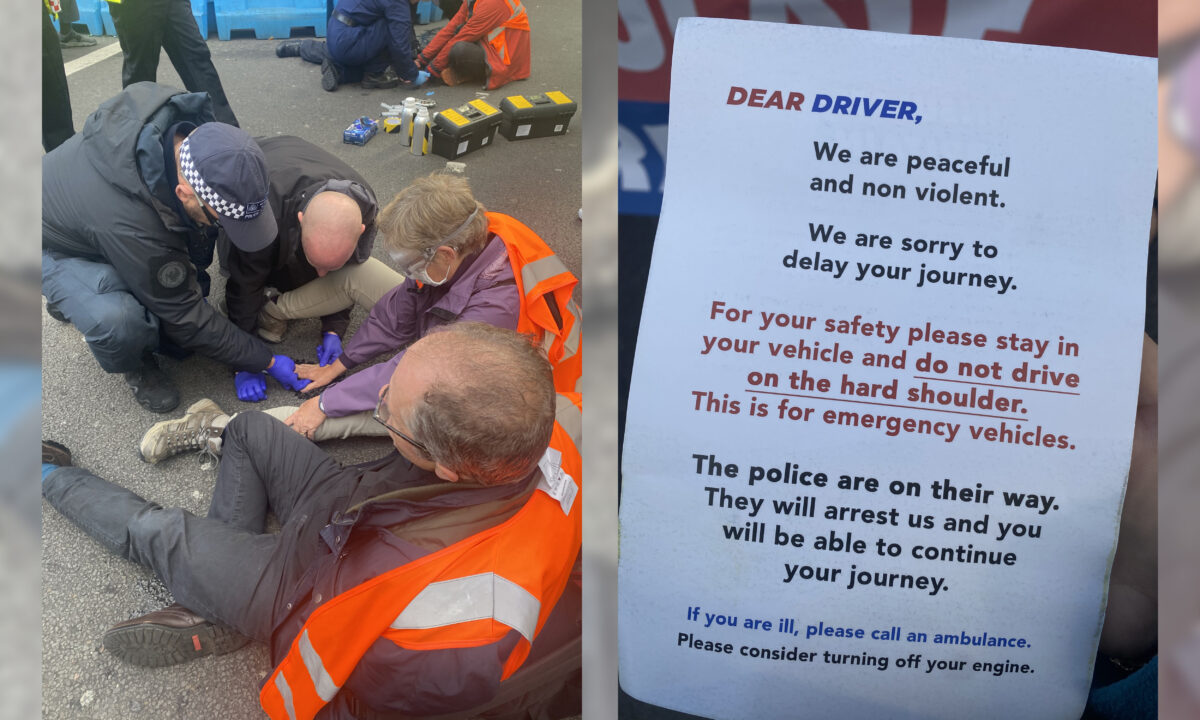 In response to the new injunction, Insulate Britain declared on Tuesday that M25 will become "a site of nonviolent civil resistance" from 7 a.m. on Wednesday.
The activists urged people to not use the M25 or reduce the speed to 20 miles per hour to "minimise the risk of accidents."
They also called on the Highway agency to "keep the public safe by enforcing this speed limit," and the police to refuse to arrest them.
The group said it "acknowledges the inconvenience and irritation [they] are causing to the public," and asked people to understand that "the days of disruption are necessary" to force the government to act.
The impasse between Insulate Britain and the government has lasted for six weeks since the activists first started blocking traffic on Sept. 13.
Protesters repeatedly returned to roads, halting traffic, in spite of being arrested multiple times.
They also burned injunctions outside the Royal Courts of Justice on Oct. 12.
In their 14th protest on Monday, 53 activists were arrested after they sat on the roads or super-glued themselves to the tarmac at three locations in central London.
Besides the court injunctions, the government is seeking to legislate against disruptive protests targeting critical national infrastructure through the Police, Crime, Sentencing, and Courts Bill, which is currently in the committee stage in the House of Lords.