SAN FERNANDO, Spain—Back in October, it was common knowledge that the final match of San Fernando C.D.'s season would be a funeral.
A sad, 90-minute procession remembering a relegation campaign—and potentially the demise of an 80-year-old football club.
On May 13, the Spanish club's 2017–18 season did indeed come to an end under a warm Andalusian sun.
The Isleña and its fans, however, were not mourning: They were celebrating comfortable survival in Segunda B—the third tier of Spanish football—just six months after the club hit rock bottom.
Having forfeited its season opener and gone winless in August and September, San Fernando sat anchored to the bottom of the league table; players hadn't been paid on time, and a toxic atmosphere hung over the Estadio Iberoamericano.
The situation was dire enough to warrant the club a rare appearance in MARCA, one of Spain's national sports papers, which labeled the club as "on the edge of the abyss."
José Herrera, the club's 38-year-old manager, had steered similarly leaking ships previously at other lower-league stops.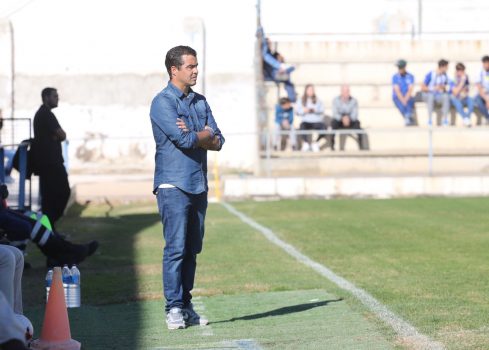 "Lots of clubs have economic difficulties. This year, the club almost disappeared because of debts and economic realities," sighed Herrera, survival secured and an extension signed, following a training session near the end of the season. "Luckily or unluckily, I've already been through similar experiences at other clubs. This is what football at this level is: Humble."
Early in the season, the native of Jerez de la Frontera battled to unite his band of underpaid, disgruntled players.
"It was difficult, complicated," said Herrera. "There were many hours of meetings, together as a group and one-on-one with players, [and] ultimately it went badly."
It hadn't been meant to unfold this way.
An ambitious set of directors set out a plan to professionalize the club's front office last summer; Herrera was hired, and San Fernando publicly set its sights on a promotion bid.
Economic realities, however, quickly unraveled that dream.
The club forfeited its opening match of the season against Villanovense due to administrative oversights, and failed to win in August or September.
By October, the club was adrift financially and competitively.
"The worst thing in football is walking into a locker room that's not stable," summarized Pedro Rios, a 36-year-old San Fernando midfielder who, in another life, played European football with the likes of Spanish La Liga sides Levante and Getafe. "Us veterans had already been through similar issues at other clubs, [so] we tried to make the best of the situation."
San Fernando's supporters entered the fray in October with a life-saving injection of manpower to help the club's administrative efforts.
"From that moment on, we had stability—everything came together," reflected Rios. "We had everything daily, which had been missing, [and] that stability was reflected in the results of our team."
Harsh Reality
Economic struggles are the reality for most lower-league clubs in Spain, and each year multiple outfits teeter on the brink of death.
Some suffer a snowball effect—tumbling down the pyramid—or collapse all at once and slide out of competitive football altogether.
At lower levels, a combination of thin crowds, relatively ballooning player wages, and constant pressure to compete forces directors and managers to make difficult decisions and take risks.
"The clubs have less funds, which makes life more difficult," said Rios, a veteran of many campaigns in Spain's first and second divisions. "They have less means to do the daily work necessary in football."
Related Coverage
The experienced midfielder believes the quality and style of play in Segunda B has shifted radically in recent years.
"I think Segunda B has adapted to the new style that's emerged the last few years amongst Spanish coaches," outlined Rios. "Before, it was a brusque, more direct brand of football. More stoppages, due to more fouls, and a lot of tackles—today, most clubs try to play proper football."
This has brought with it a desire for better technical players, often from higher leagues, who in turn demand more in wages and increase a club's overhead.
The driving force behind that desire? Eight million euros, the prize money that accompanies promotion to the second division. At this level, it is a figure large enough to drop even the most stoic of jaws.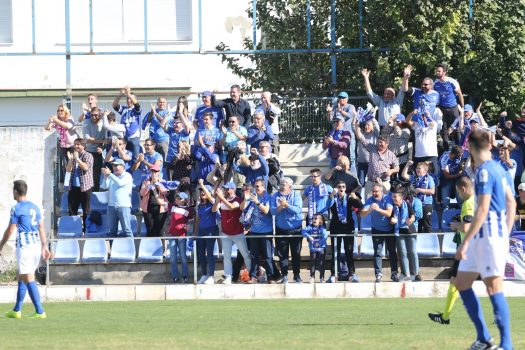 With a base of supporters and volunteers keeping the club running, San Fernando's results improved and as the calendar jumped to 2018, so too did the club into a more comfortable mid-table position.
Though an away defeat on the season's penultimate weekend ended the pipe dream of a promotion playoff spot, the club had staved off relegation in style and with room to spare.
Which brings us to the closing curtain of the 2017–18 season; a sunny Sunday evening, with San Fernando supporters tooting horns, setting off flares, and unfurling heartfelt tifo banners.
Following the match—a meaningless 1–1 draw against UCAM Murcia—the small press corps congregated in the club's conference room.
At the microphone, a beaming Herrera offered the standard platitudes on emotion, challenge, and perseverance.
"They had left us for dead," reflected the satisfied manager. "Some media said we were already relegated."
Then, in a country known for its shark-like press and vile coach–media relationships, the improbable happened.
As Herrera left the podium, every journalist in the room broke out in applause—just as the 2,000-plus in attendance had done at the final whistle.
From the jovial radio broadcaster to the acerbic beat writer, they recognized a job well done by all involved: Herrera, his charges, and the volunteers which helped the club survive.
Carlos Verde is a sports journalist based in Canada. His work has appeared on FIFA, the Canadian Football League, and North American Soccer League.