Rioters launched projectiles at police officers in Portland late Monday, striking one officer in the face, hours after authorities said they wouldn't charge a black activist who was detained during rioting over the weekend.
Unrest continued in Oregon's largest city in a nearly unbroken chain since May 28.
A group gathered around 8 p.m. and eventually marched to the Portland Police Bureau's North Precinct, where some shined strobe lights in the eyes of police officers and state troopers, while others launched eggs, water bottles, and other items at law enforcement.
Officers told the crowd just after 11 p.m. to leave the area or face arrest. While physically dispersing the rioters, some people interfered with officers, including one male who kicked a state trooper and two detectives.
During the clashes, rioters launched ball bearings, golf balls, rocks, and potatoes at the police. One officer was struck in the face.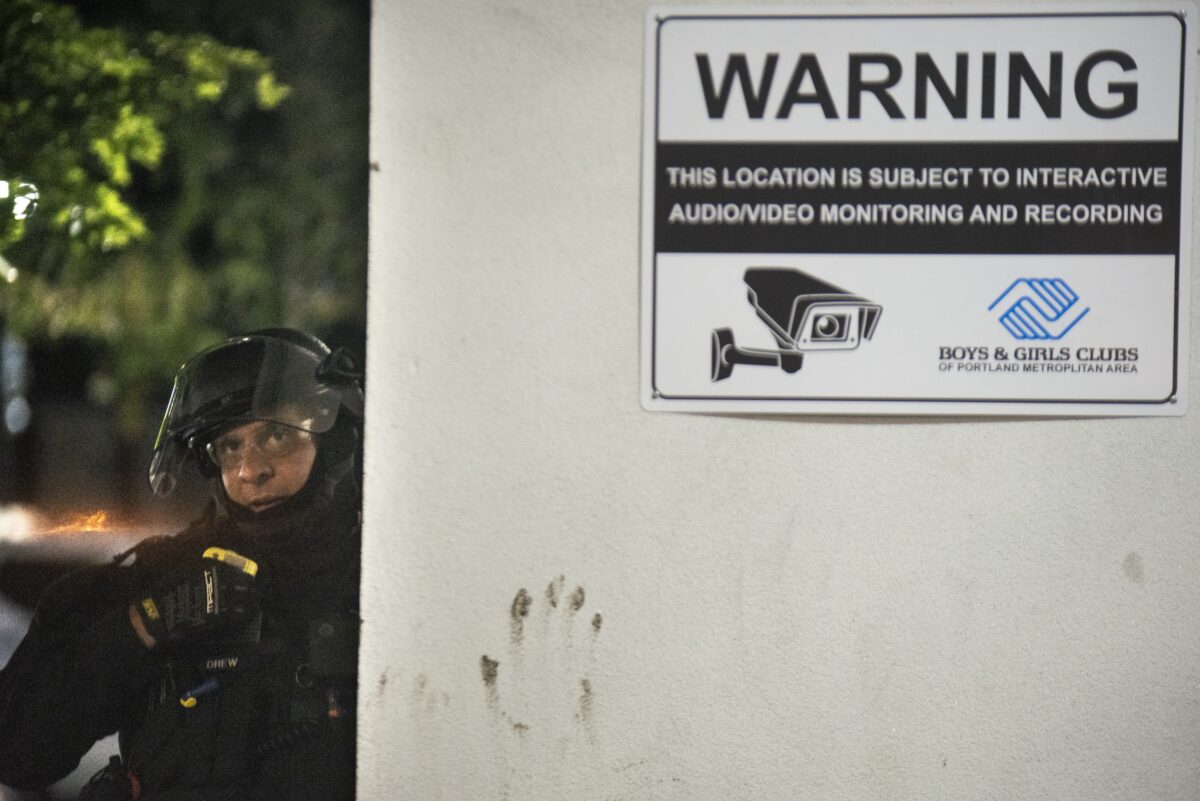 "The officer's face shield protected him from what would have likely been a very serious injury," the bureau said in an incident summary.
Another officer suffered a hyperextended elbow during a scuffle. She was treated and released from a hospital.
The crowd mostly dissipated by 2 a.m.
Nine people were arrested, including residents of Minneapolis, Minnesota, Vancouver, Washington, and Tehachapi, California. Charges included assaulting an officer, resisting arrest, and disorderly conduct.
One of the 16 arrested during rioting on Sunday night, Demetria Hester, won't face criminal charges.
Police said Hester interfered with an officer and engaged in disorderly conduct.
The Multnomah County District Attorney's Office told news outlets that prosecutors were declining to prosecute the case.


Hester joined other Black Lives Matter activists at a press conference on Monday, telling those assembled: "We are united, we are together, and we stand together as one. We need to heal and the only way as a community, as a new America, is to unite together, get reparations, and live comfortably."
Reparations refers to the idea of giving payments to ancestors of slaves.
Hester was assaulted by a man, Jeremy Christian, who described himself as a white supremacist, in 2017. Christian was later convicted of murder, attempted murder, and other charges.
Portland Mayor and Police Commissioner Ted Wheeler, a Democrat, forcefully condemned the rioters last week after they tried setting fire to a police precinct with people trapped inside. But city and state officials still have not quelled the continued violence, prompting Republican President Donald Trump to urge them to request National Guard support.
"The Mayor and Governor are putting people's lives at risk. They will be held responsible. The Guard is ready to act immediately," Trump wrote on Twitter on Monday.
The offices of Wheeler and Oregon Gov. Kate Brown, a Democrat, have not responded to requests for comment.
Correction: A previous version of this story misidentified Jeremy Christian. The Epoch Times regrets the error.