There was a time when as a member of the People's Armed Police (PAP) in China you could fire into crowds, beat citizens senseless, and get away with it all.
The Internet has changed that dynamic, adding a layer of grass-roots accountability in lieu of any state accountability, as evidenced in the recent riot in Shifang, Sichuan Province, southwestern China.
After young people organized a protest recently that grew to thousands strong, against plans for a copper and molybdenum refinery, PAP forces from surrounding areas descended on the town to enforce a harsh crackdown. The local government later rescinded the plan to build the refinery, in the face of national discontent.
Riot police in China are notoriously violent, and the Shifang case was no different. But it was unusual that in this case, individual PAP members were photographed, identified, and themselves became targets for harassment. Shopkeepers in Shifang also refused to accept their business.
Riot police themselves, were getting online and squabbling over whose district's cops were the aggressive ones, and who were the ones firing those tear gas canisters and flash grenades into the crowds.
The information available on these protests also interested people who have never paid much attention to the drumbeat of local protest and violent repression that characterizes China's countryside.
Isaac Mao, a well-known Chinese blogger, referred to the story of "a Chinese exchange student who never paid attention to politics, but was frantically searching for 'Shifang' into the night."
He added, "You never know which people, when, are going to jump on the democracy chariot."
By the evening of July 7 on Sina Weibo, a popular Twitter-like micro-blogging service in China, there were 6,439,791 posts referring to the incidents in Shifang.

Indiscriminate Violence
Much of that talk has centered on the violence of PAP foot soldiers.
The Epoch Times reached Mr. Xie from Shifang. In a telephone interview, he explained how he and his wife had been accompanying their daughter through the city. When they passed the protest, riot police threw a stun grenade at them. Xie described it as a blinding flash and deafening boom, temporarily stunning the three. The explosion badly burnt his wife's leg. The doctor had to cut away some flesh before bandaging it; she would have been crippled if the divot had been deeper, the doctor told Xie.
It appeared to Xie that PAP forces were targeting anyone.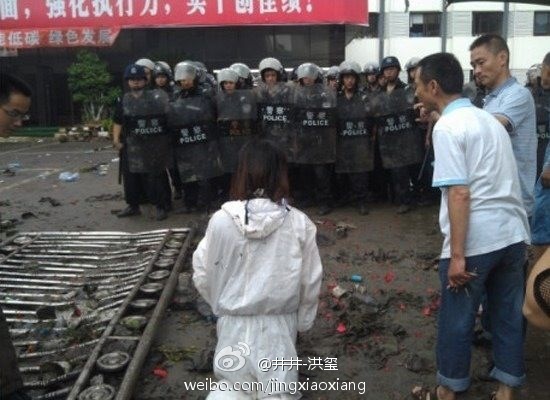 In another case, netizens alleged that a 14-year-old girl was beaten to death, uploading a picture showing a young body lying apparently lifeless on the road.
Writing on Weibo, one user said, "The 14-year-old kid laying there is already dead. Her father was so grieved that he drove his car into the city government office. He was then badly beaten." He added, "The mother put on white clothing and knelt in front of the shields of the riot police saying: 'The earthquake did not kill her, but she died under the police truncheons.'"

Human Flesh Search
Two of the particularly enthusiastic riot police had their photographs taken and were mocked, with calls to harass them in real life. Netizens called them the "two bears," and dug up their family backgrounds and names, posting them online.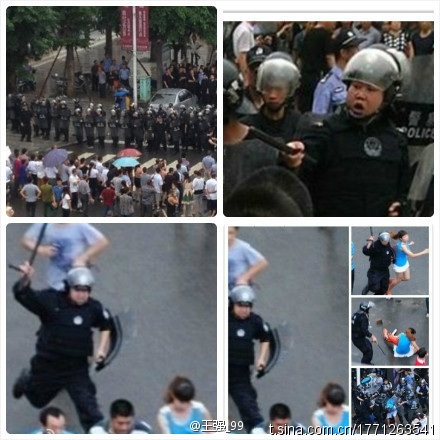 One of them, identified as Liu Bo, was photographed running after a young girl with his truncheon raised. That photo was cropped and a Photoshop campaign started, where netizens cropped the running Liu chasing a variety of famous people, at well-known locations around the world, with his baton. His father's work phone number was put online.
In Chinese Internet parlance, this background research and posting of individual information for the purpose of derision and humiliation is called a "human flesh search engine." It was initially pioneered by nationalist Chinese seeking reprisal against other Chinese who did not toe the Party line on issues such as Tibet. In this case, it was flipped on the enforcers of the regime's policies.
The other "bear," Zhang Bin, was photographed raising his middle finger to the camera. He was harshly denounced by netizens who asked "Is this man a Chinese?" 
Another wrote: "All Chinese people will remember you both."

Shirking Responsibility
Internet users identifying themselves as actual PAP members at one point engaged in a heated argument about which brigade—Shifang, Mianyang, or Chengdu—was responsible for the tear gas and stun grenades that had been fired into the crowd, attempting to blame the other groups for the violence.
"Chengdu police firing on people? We wouldn't even scold people. We just strictly carried out our orders," one user, identifying himself as a Chengdu PAP member, wrote. He accused the police from Mianyang of firing the tear gas and stun grenades. "We Chengdu police hardly did anything, we didn't fire one canister!"

Not Serving Your Kind
Attempts to avoid responsibility for violence against local residents in the context of a crackdown on a mass incident is highly unusual in China.

The resentment with which PAP members were treated in Shifang may go some way to explaining this apparent change of heart.
One Weibo user, who at the time he posted identified himself as a police officer from the Fucheng District of Mianyang (then later changed it), complained about the treatment by Shifang locals.
"Many colleagues went to buy food: they wouldn't sell; they wouldn't sell shoes, wouldn't sell water, wouldn't sell cigarettes. Ah, I feel so grieved by this! We're almost rats running across the street. I feel sorrowful thinking about these words 'People's Police.'"
In another case, a store-owner on Taobao, the Chinese version of eBay, posted a notice that he would refuse to send products to any official government address in Shifang.
"If you choose to be a part of this machine as your job, then you better be prepared to take responsibility for everything it does," one netizen, identifying himself as faculty at Peking University, wrote.
The writer added a stern warning to Chinese who work in the Communist Party's security forces: "Hitler's Third Reich also had some people of high character and morals, but they, along with that chariot of war they bound themselves to, also faced Judgment Day."

Ariel Tian and John An contributed to this report.
Click www.ept.ms/ccp-crisis to read about the most recent developments in the ongoing crisis within the Chinese communist regime. In this special topic, we provide readers with the necessary context to understand the situation. Get the RSS feed. Get the new interactive Timeline of Events. Who are the Major Players?

The Epoch Times publishes in 35 countries and in 19 languages. Subscribe to our e-newsletter.