Hong Kong Rights group have issued a joint statement on Friday expressing "grave concerns" over the safety of expats in the UK.
It comes as a number of Hongkongers were allegedly attacked and as social media messages were posted recruiting Chinese "patriots" to attack Hongkongers and offering rewards for doxing activists.
The statement, signed by dozens of Hong Kong, Chinese ethnic minority, and east Asian rights groups, said a bounty was put on two prominent exiled Hong Kong advocates, offering £10,000 ($13,232.5) to anyone who could offer their UK addresses.
It also mentioned other messages on the Chinese-owned instant messaging app WeChat "seeking to create vigilante groups to attack any Hong Kong groups supporting Hong Kong independence."
"These tactics of intimidation not only threaten the safety and security of Hongkongers (and supporters of Hongkongers' struggles), they infringe on Hongkongers' fundamental right to freedom of expression," the statement reads.
In screenshots shared with The Epoch Times, an ID named Gaobulale posted a message in a UK anti-Hong Kong Independence WeChat group, which included 285 members at the time, offering £5,000 ($6,616) to anyone with information on Simon Cheng, followed by a group photo in which Cheng was circled.
It's unclear when the messages were posted, but the photo was originally posted on Cheng's "Hongkongers in Britain" Facebook page on Nov. 11.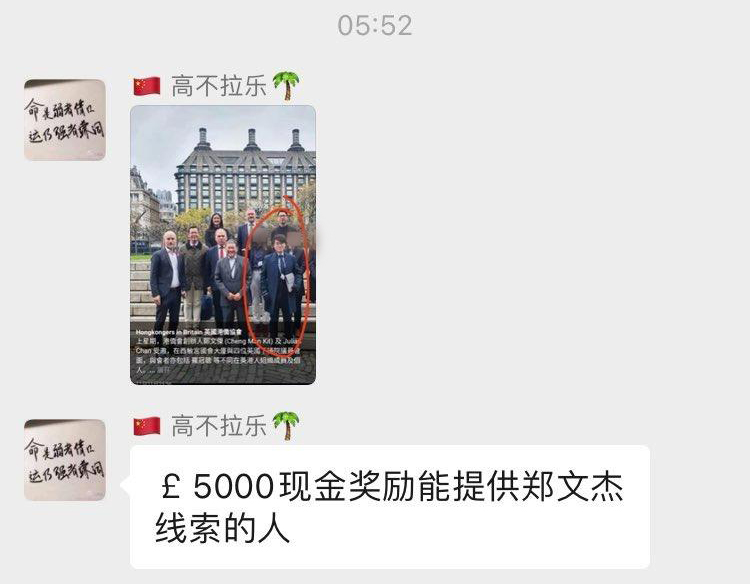 Cheng founded Hongkongers in Britain in July 2020 to support Hongkongers in or coming to the UK.
The former employee of the British Consulate Hong Kong made headlines around the world in August 2019 when he disappeared during a business trip to China and was accused of soliciting prostitution by the Chinese authorities.
After arriving in the UK in early 2020, Cheng told The Epoch Times he had been taken by police on his way back to Hong Kong, tortured in detention for information regarding the pro-democracy movement in Hong Kong, and forced to film a confession.
The ID that offered the reward for doxing Cheng later sent another message, saying the reward was doubled thanks to an anonymous sponsor, and it's offered to whoever can provide the home address or work address of Cheng or Nathan Law, a former Hong Kong pro-democracy lawmaker who now lives in the UK.
The same photo, which also includes Law, was posted again after the message.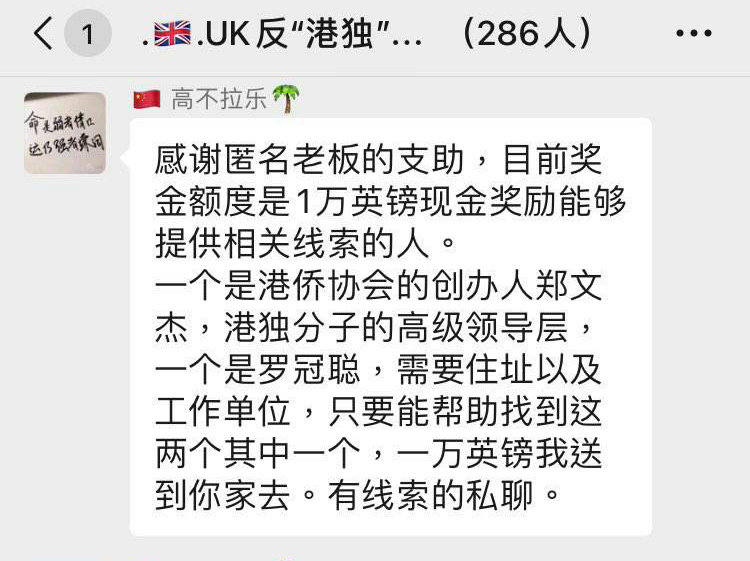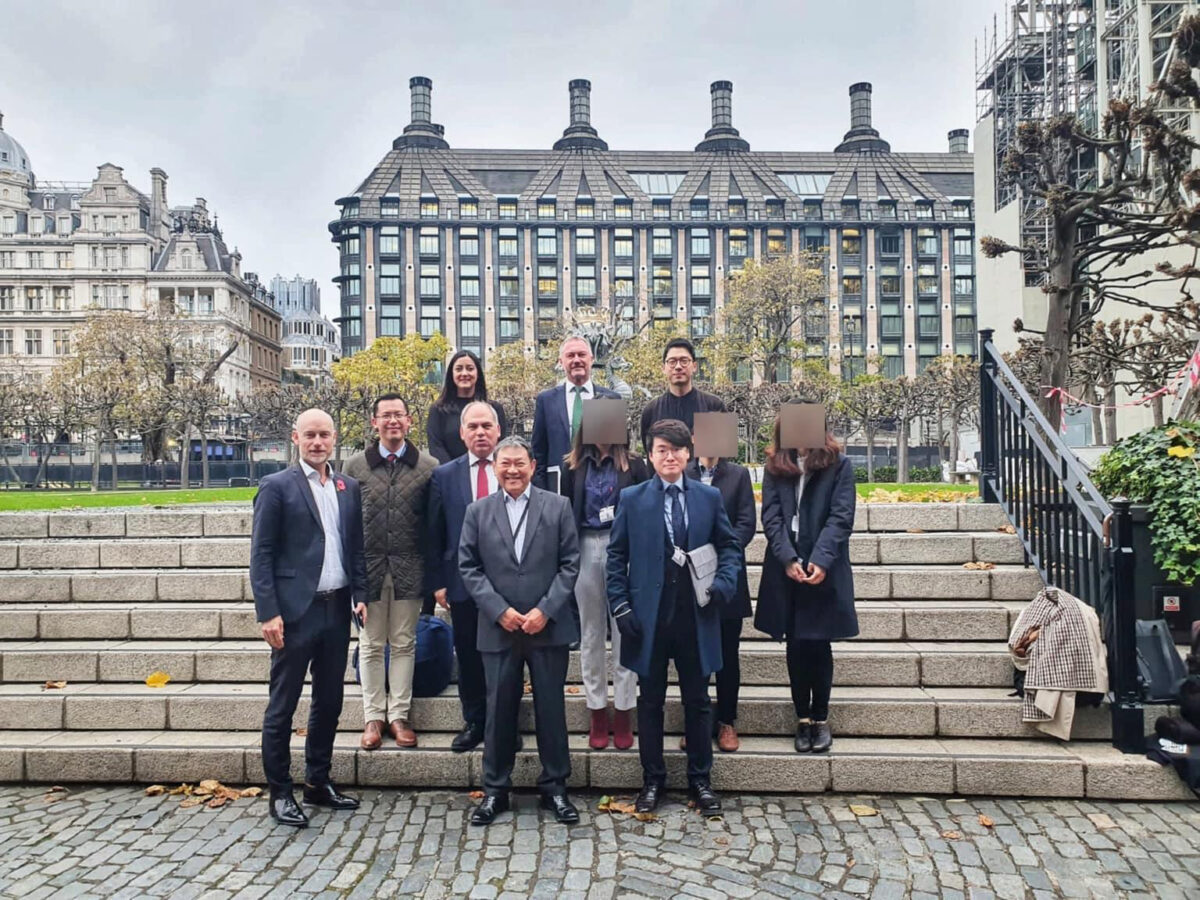 Cheng told The Epoch Times the police had scheduled to meet him to discuss the incident.
Cheng said he has been "well mentally prepared" for such threats, as a letter he had received a year ago already told him it's only "a matter of time" until Chinese agents will find him.
Every time "they exposed [their] nature of being violent and using this kind of violent and Barbarian behavior to threaten all other dissidents, it just serves to expose the true nature of the [Chinese communist] regime," he said, adding that it's worth taking the risk if he could contribute to a better society and help people understand "freedom and democracy is hard-earned" and should be cherished.
U.S. broadcaster Voice of America quoted Law as saying the bounty "won't have effect" on him, and he believes British law enforcement will deal with any threat accordingly.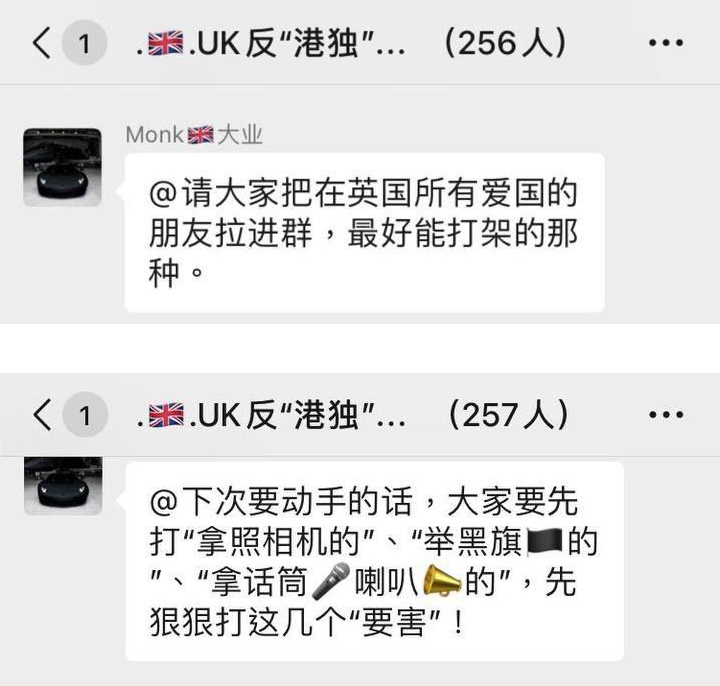 Other screenshots showed an ID called Monk Daye (great undertaking or great karma) asking group members to invite all "patriotic friends in the UK" into the group, adding "preferably those who can fight."
Asked why fighters are needed, the ID said it's sometimes unavoidable to get in a fight with the "Hong Kong poisons"—a homophone for "Hong Kong Independence (advocates)."
Daye told the group to first target those who hold cameras, microphones, speakers, and black flags next time a scuffle breaks out.
"First beat these 'vital parts' hard!" the message reads.
Daye also suggested wearing a piece of red cloth on the wrists to avoid friendly fire.
Another ID encouraged people not to be afraid, because "Fighting is something so, so minor in the UK that the police won't arrest you."
The messages emerged as a number of Hongkongers were injured after a scuffle broke out on Nov. 27 after a rally "Stop Anti-Asian Hate, No to a New Cold War."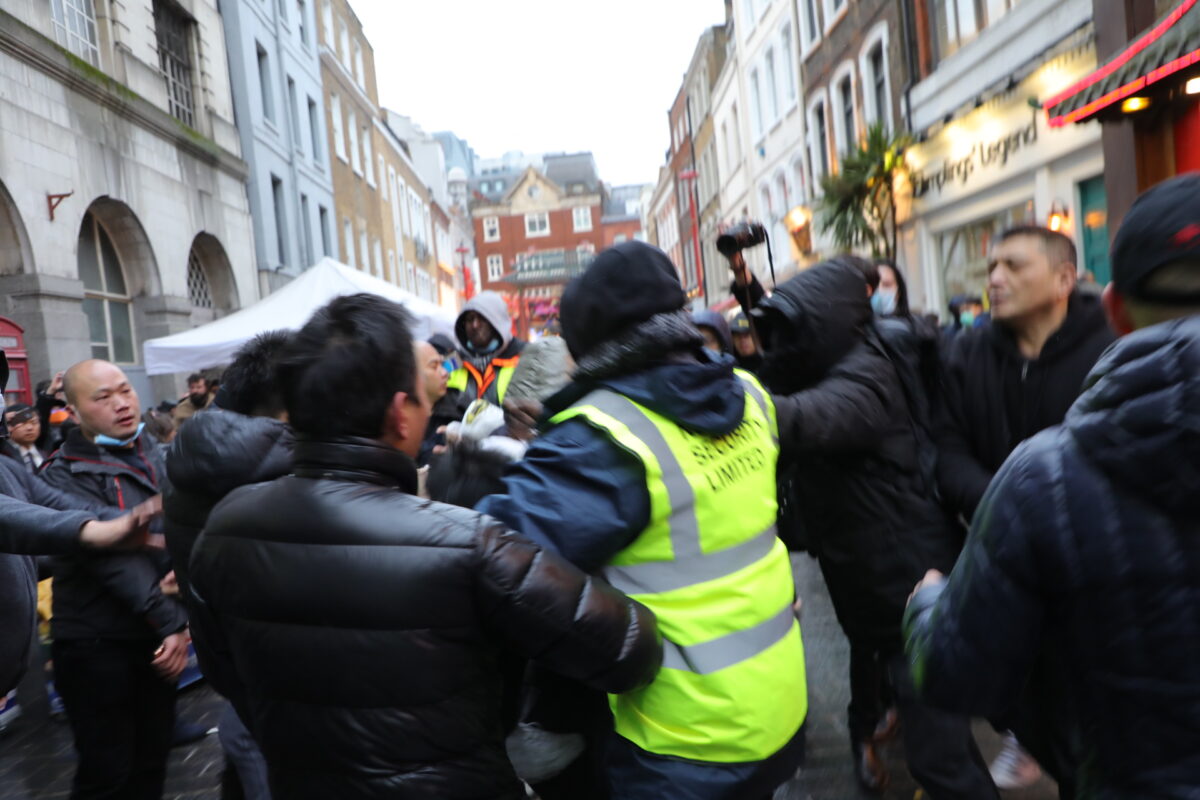 Some 50 Hongkongers staged a counter-protest at the same time and the same place. According to Hong Kong rights groups, one of the speakers of the rally, Wan Chung Bobby Chan, who founded the rally's co-organiser Min Quan Legal Centre, waved a Chinese flag and took photos of Hongkongers with a group of people during a 2019 concert in London by pro-democracy singer Denise Ho. Others in the group called Hong Kong protesters "cockroaches," held posters reading "Everyone is responsible for exterminating pests," and threw eggs on Hongkongers.
Witnesses previously told The Epoch Times that he saw people harassing and chasing away Hongkongers dressed in black before the rally started. He also saw people attacking Hongkongers with blunt objects.
Photos shared with The Epoch Times show bruises on people's faces, ears, and foreheads.
In the joint statement published on Friday, Hong Kong rights groups said they are "concerned that calls for unity against anti-Asian racism—including that invoked by the 'Stop Racism, No to New Cold War' rally organisers—have been used to silence legitimate criticisms of the Chinese Communist Party (CCP) and its repressive regime, which have committed grave atrocities and human rights violations against Uyghur Muslims and other minoritised [sic] groups in Xinjiang, as well as against Tibetans and Hongkongers, falun gong practitioners, among others."
"Surely this, too, is racism, even though it does not take place in the UK. This racial violence of course has global ramifications, including resulting in displacement and forced migration, with impacts on ESEA [East and Southeast Asia] diaspora communities," the statement reads.
Another Hongkong student told The Epoch Times he was attacked by a group of people from mainland China, who were shouting abuses, in a separate incident in Leicester on Oct. 30.
In June, 2020, Finn Lau, another prominent Hong Kong activist in the UK, was severely injured after three people attacked him near his London home—two months after he was told there was a bounty worth one million (currency unspecified) on his life.
Lau told The Epoch Times the attackers may have thought he was dead as he lost consciousness at the time.