A shocking video has surfaced showing people on a beach in Indonesia cruelly riding on the back of a giant leatherback turtle, which is visibly in distress from carrying the weight of as many as three people at one time.
The clip was reportedly filmed on Asukweri beach on July 5, according to Newsflare, and shows adults and children climbing on top of the turtle, going for rides, and posing for photos.
In one part of the footage, a man sits on the turtle's back holding a child, while a second man sits on the distressed animal, resting his feet on its head. A witness cited in the Newsflare report said area residents captured the turtle when it came onto the beach to lay eggs.
The Daily Mail posted the story on its Facebook page, where it drew numerous strong comments.
"Disgraceful," wrote one commenter. "If this is how people treat endangered animals then they deserve to be rounded up and thrown in jail."
"So many people taking photos of things like this and doing absolutely nothing at the time," another person wrote. "Makes my blood boil."
"Ridiculously cruel," wrote another commenter. "This is why we have to have struck [sic] laws to protect wildlife!"
The leatherback turtle is the world's largest species of turtle and is noted as "vulnerable" on the International Union for Conservation of Nature's Red List of Threatened Species (IUCN.) The World Wildlife Fund says that although the IUCN lists leatherback turtles as vulnerable, many subpopulations—including in the Pacific and Southwest Atlantic—are critically endangered.
Leatherback turtle populations have dropped significantly over the last hundred years largely due to intense egg collection and fisheries bycatch.
LADBible also posted the story on its social media pages, to fiery responses.
"Cruelty to all wildlife, mammals and other wonderful animals is definitely on the increase," was one of the comments shared. "Absolutely disgusting."
"This makes me sad and sick to my core," another person wrote. "How can there be so much ignorance still, when it comes to looking after what precious nature has blessed us with. So saddening."
"Why can't people leave our beautiful wildlife alone. They deserve respect as well. This is so sad."
The Daily Mail reported that Indonesian authorities have not yet issued a statement in response to the cruel treatment of the turtle.
Dentist Accused of Killing Over 1,000 Endangered Jaguars
This comes after authorities in Brazil broke up a gang of alleged poachers accused of killing thousands of endangered animals, including red brocket deer, collared peccary, and jaguars.
One of the poachers is allegedly a dentist who killed over 1,000 protected jaguars, according to two separate criminal complaints filed by the Federal Public Prosecutor's Office (MPF)—one for illegal hunting (pdf) and another for the use of a firearm without a permit (pdf).
The dentist, identified as Temistocles Barbosa Freire, was one of seven men arrested in the country's northwestern state of Acre following a sting operation involving wiretapping, monitoring cell phone communications, and collecting photo and video evidence of endangered animals being killed.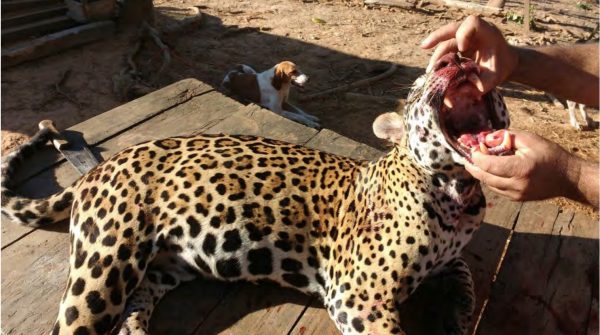 Freire was the longest-serving member of the gang, according to local reports. An image contained in the criminal complaints purportedly shows Freire carrying a dead jaguar on his back as hunting dogs surround him.
Other images in a social media post by journalist Altino Machado show various alleged poachers posing with freshly killed jaguars.
According to Oeco.org, an NGO, the remaining alleged members of the group are: Doria de Lucena Júnior (doctor), Sinézio Adriano de Oliveira (member of the judiciary), Gilvan Souza Nunes (farmer), Gisleno José Oliveira de Araújo Sá Alves de Oliveira (electrician), Sebastião Júnior de Oliveira Costa, Reginaldo Ribeiro da Silva, and Gersildo dos Santos Araújo. No professions were noted for the last three suspects.
The NGO added that in just three months of monitoring there were 11 incidents of poaching, involving the killing of eight jaguars, 13 capybaras, 10 hounds, and two deer.
If convicted, the poaching gang members could face punishment in the form of fines and prison sentences.