Richard Chai: Fall in Love with Proportions
September 18, 2013 6:00 am Last Updated: May 11, 2014 10:13 am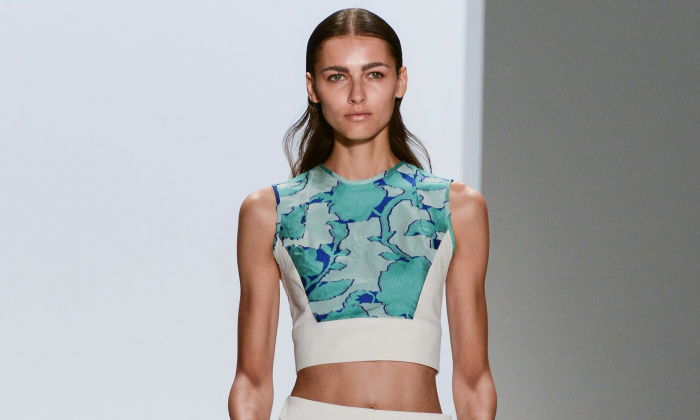 NEW YORK—The 90's is back… Slightly… Richard Chai's LOVE Collection was presented at New York's Fashion Week to a standing house, eager to share his LOVE.
The new collection is a play on textures and juxtaposition of patchwork-like graphics.
In the womenswear the most striking was the combination of crisp white pencil pants under a diaphanous Tiffany blue trailing dress and jacket with opalescent graphics. Another trend is the wide leg pant in soft fabric, paired with a cropped leather jacket. The silhouette is dynamic with strong body reference on the shoulders and waist, reminiscent of the 1940's Catherine Hepburn style who had a penchant for wearing a pant suit.
The men get their own version of the 1940's suit with extra-wide leg trouser and double breasted jacket, with sharp lapels.
But the new trend for the men is the leather jacket with all the bells and whistles – quilting, emphasized zips and studs, which keeps the focus on the shoulders while trousers are soft and flowy or even short!
"Some people might think the idea of skirts over pants and dresses over pants is a new idea, but I am a kid of the 90s," Chai told Epoch Times after the show. "For me it's contemplating—what is great outerwear; and, how do you wear a great leather jacket?"
Chai said his collaboration with Andrew Marc on the leather jackets is based on "motor sports and motorcycle jackets, and how to make it feel interesting. It's not so much the idea of wearing it one way. You can wear it over a dress, short dress, or over a tee shirt."