Conservative radio host Rich Valdes said he thinks some progressive Democratic members are trying to bring the party further left with their radical rhetoric, but President Donald Trump is not going to make it easy for them.
Valdes, the associate producer of the Mark Levin show and host of "This is America," said on July 23 that he thinks several freshman Democrats—Reps. Alexandria Ocasio-Cortez (D-N.Y.), Ilhan Omar (D-Minn.), Rashida Tlaib (D-Mich.), and Ayanna Pressley (D-Mass.), also known as the "squad"—have been pushing a progressive agenda on America but have met their match in Trump, who has recently started calling them out.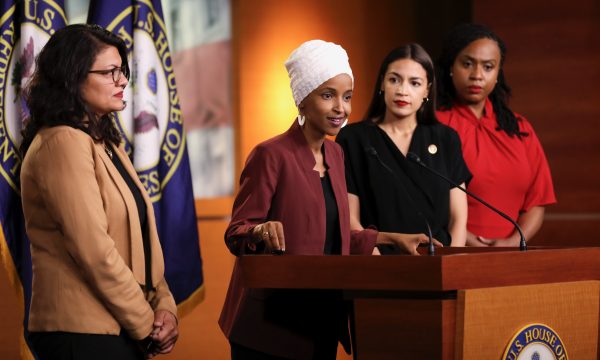 "This is their agenda. This is their goal. And you know to be objective as much as I can be, I think that they are not only succeeding but they're also succeeding in painting themselves as revolutionaries," Valdes told The Epoch Times. "But they've met their match with someone who was probably better at messaging than they are. And that's Trump."
"Trump has been on Twitter longer than they have. He knows it well and he's a busy guy. You know he knows what to say," he added. " He knows how to take a policy paper and shrink it into a tweet and make it very very very provocative to get attention and to get movement behind it."
"Some may not like his tactics when he says things that are very blunt but they work."
Trump ignited outrage after making a series of posts on Twitter accusing four freshman congresswomen of being anti-semitic and anti-American. He most notably called on "'progressive' Democrat Congresswomen" to "go back" to their countries to help fix the "totally broken and crime-infested places" before returning to the United States to "show us how it is done." Apart from Omar, who was born in Somalia, the other three far-left congresswomen were born in the United States.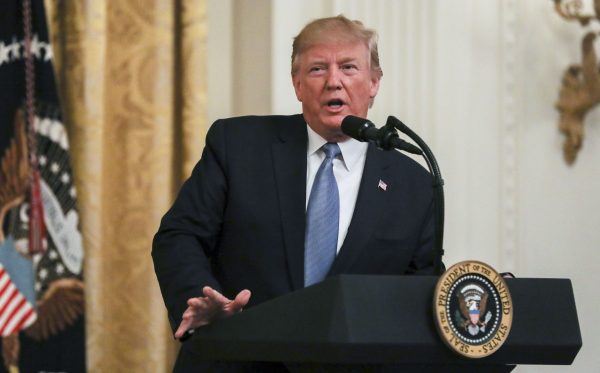 Valdes, who has plans to contest Ocasio-Cortez's seat in 2020, said he thinks Trump was right in calling out the progressive congresswomen for spreading, what the president claims, anti-semitic and anti-American rhetoric but also said he didn't think it was the best word choice.
"The moral of what he was saying obviously was if you don't like America you should leave and I stand by that and I think that's always been true in this country is we've always had that freedom and liberty to do that," he said. "I just think that while it's not a requirement that we love our country I do think that serving in Congress and serving in any public office for that matter is an act of patriotism," he added. "And I think with that being said, being a patriot entails loving your country [and] pledging allegiance to your country."
He said he believes that some of the radical policies pushed by progressives in the party are made in contrary to the founding principles of America.
Ocasio-Cortez's radical plan to tackle climate change, the Green New Deal, calls for a Soviet Union-style 10-year mobilization, which would take all gas-engine cars off the road and upgrade or replace every home and commercial building in the United States. It would also cost U.S. taxpayers up to $93 trillion over the course of the mobilization, in one estimate.
"You may see areas for improvement in your country and that's why you get into the political process to try and make these improvements, enhancements, these changes," Valdes said.
"However when the changes that you are recommending are contrary to this fundamental foundation or you know the founding principles of your nation in this situation—the United States, our Declaration of Independence, our Constitution, and you know 243 years of American history—when all when your policies fly in the face of all of that then I think we have a problem and so I think [when] President Trump says that they are un-American, I support that.
"I do believe that [Ocasio-Cortez] is not only anti-American but I do believe that she dislikes or at least has a severe disdain for this country. And her policies clearly indicate that she doesn't hide her disdain," he added.
Valdes said while some people are embracing the congresswomen's rhetoric, some Democrats have told him that they also agree with what Trump has said.
"While people are saying that we're divided I would say the country has never really embraced pseudo communism or socialism … So there's always been that separation and quite the contrary," he said. "I do believe that more like-minded people that are just pro-American people that come to me and they say 'hey listen I've been a Democrat my whole life I'm pro-choice. I don't support Republicans but I'm with Trump on this one. He's not wrong.'"
He said the reason for this is because these Democrats are realizing they are "not getting anywhere with the left."
"They haven't produced jobs, they haven't produced a healthy economy, and they really don't have much of a record to stand on. Other than saying we don't like Trump," he said.
Ivan Pentchoukov contributed to this report.