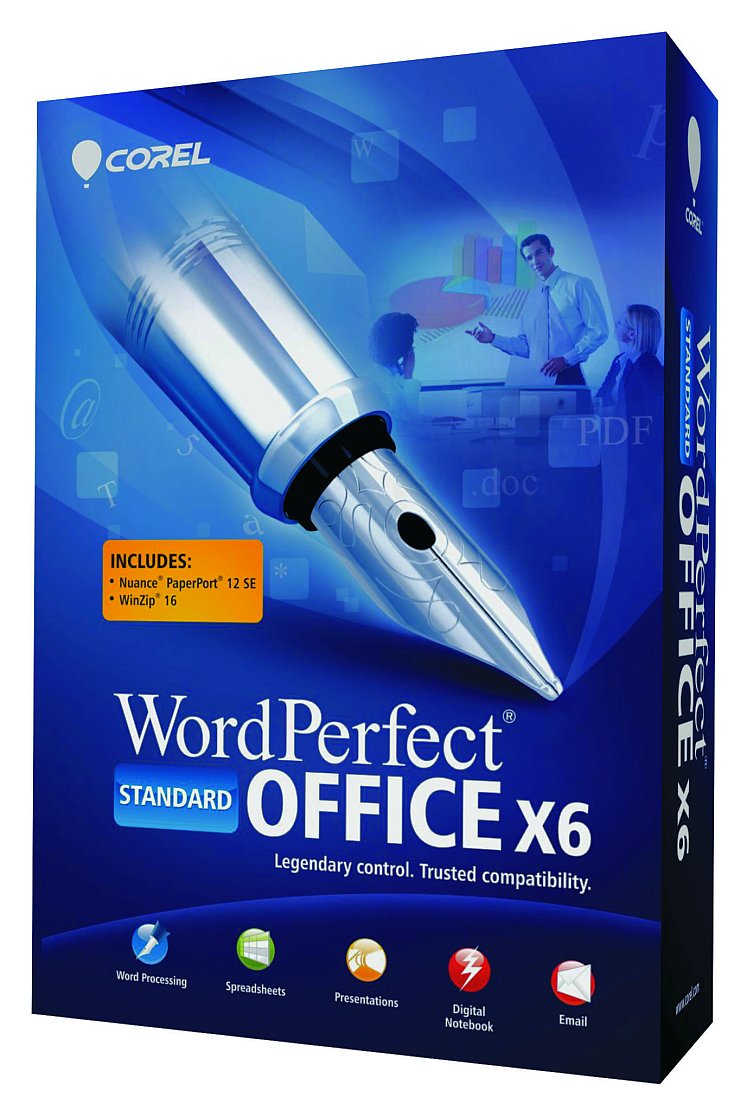 Corel always takes an interesting approach to the software market. Given that it competes directly with the likes of Adobe and Microsoft—with video, design, and office software—it tends to package its products with services and tools that far exceed the market value. And this is the charm that Corel brings with WordPerfect Office X6.
WordPerfect Office X6 is Corel's answer to Microsoft Office. The software bundle has the usual office suite tools: WordPerfect X6, which is the word processor; Quattro Pro X6, which is for spreadsheets; and Presentations X6, which, as the name suggests, creates presentations. But it goes beyond this with a few additional tools.
The latest version (X6 is the 16th version of WordPerfect Office) adds a new tool for digital publishing, made for creating eBooks and digital readers. This is surprisingly simple. It has spots for chapter names, and walks new users through the process of creating an eBook. It also has a guide on how to post to Amazon's eBook store, Mobi.
It also comes with VideoStudio Essentials, a simplified version of Corel's video editing software, VideoStudio Pro; Nuance PaperPort for scanning documents; and PDF Fusion for creating PDF files, and that can also open more than 100 different file types—including some you wouldn't expect from an office suite, such as AutoCAD files.
It also has Perfect Authority, which is mainly geared towards the legal market. This automates citations, meaning that users don't have to manually create specialized tables for this.
It also has a few new tricks up its sleeves. Users can now preview WordPerfect files, zoom in on them, use find features, print them, etc., without having to launch WordPerfect.
Users can also now open multiple copies of WordPerfect and use them across multiple monitors.
Now, broadly speaking, WordPerfect Office hasn't made a large dent in the grounds covered by Microsoft Office, but its users are more loyal than most—particularly in law and government. There are a few reasons for this.
First, Corel typically doesn't overdo its new features with each release. Instead, they focus on improving what's already there and offering most of the new features as accompanying software. While this may account for the somewhat outdated looking interface, it also keeps the core applications familiar to long-time users.
It also has some unique features that give it lasting appeal—one of the main ones being its formatting tools. You can view the code behind the text, and this is useful for a few reasons.
If you've ever copied in text from a Web browser to Microsoft Word, you've likely found that it looks nothing like the rest of the text on screen. In WordPerfect, you just click the "Reveal Codes" menu, and you can remove any rogue formatting and make everything look how you want it.
Law offices tend to also gravitate to WordPerfect for its Bates numbering wizard, which numbers pages in the 00123-style format.
When it comes to creating spreadsheets and presentations, Microsoft still wins the game with Excel and Powerpoint. But the equivalents in WordPerfect Office X6, Quattro Pro X6 and Presentations X6, should still meet the needs of most users.
There are several offerings of WordPerfect Office X6. The Home & Student edition sells for $99.99. The Standard edition, which adds the eBook publisher and Corel VideoStudio Essentials, sells for $249.99.
The Legal edition comes with Corel PerfectAuthority, Corel PDF Fusion, and a tool to organize citations, and sells for $379.99. And the Professional edition, which sells for $399.99, comes with the Paradox database, Corel PDF Fusion, and a software development kit that lets users build custom applications.
The Epoch Times publishes in 35 countries and in 19 languages. Subscribe to our e-newsletter.