The Orange County Sheriff's Department (OCSD) has revamped its qualifications course as it seeks to help deputies gain more real-world experience.
"We wanted our training to be more current and contemporary by putting in place variables that people may come in contact with while they're dealing with the public," said Sheriff Don Barnes.
"So all these variables are getting out of a car, moving, getting cover, and shooting when necessary, not because it's part of them having a score."
The department shared its latest tactics with reporters during a March 30 media day at the Sandra Hutchens Regional Law Enforcement Training Center.
Barnes demonstrated a drill for reporters and spoke with The Epoch Times about how the revamped course will help officers in real-life situations.
Training is only as good as the scenarios deputies are put in during training, Barnes said, noting that officers need to be able to rapidly evaluate the circumstances they're in. They must also consider their available options—including de-escalation and other verbal commands—and try to bring positive outcomes.

About two years ago, the department identified the need to update its qualifications course, called a static training, which consisted of officers standing in a stall and shooting three rounds at a black silhouette target from various distances away.
Deputy Doug Martin called the static training extremely "robotic" and said it wasn't adequate.
"There was no interaction with the deputies, there's no interaction with the officers, they could be doing something wrong, and they could be doing it wrong for 20 years and no one ever came to fix it," Martin said.
To fix the issue, Martin said the OCSD changed the type of target to be more realistic in both picture and size.
Now, instead of the target flipping around and officers shooting a silhouette, the target flips and there will be various photos—including a little girl holding a sippy cup, a man pointing a gun at the officers, and a woman in her car holding a cell phone—and officers must quickly make a decision about whether to fire.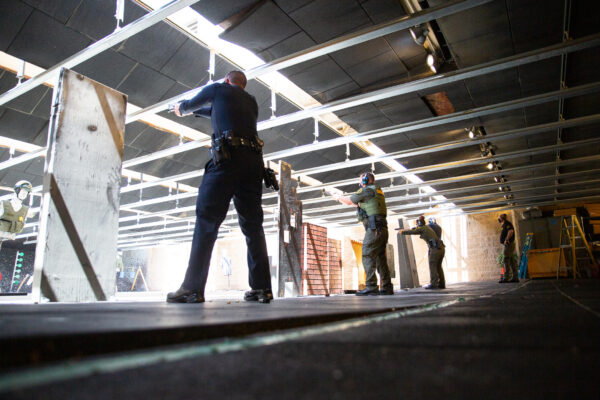 Besides changing around targets, officers now have a dynamic course for their quarterly qualifications, with facades that represent places to cover (such as a wall in the real world), mannequins dressed as civilians and other police officers, and various steel targets for different skill levels.
"We want to get to the fundamentals of marksmanship," Martin said.
"Very rarely do we get in shootings where there's no people around," he said, referring to the mannequins. "There's always people around and almost always other deputies or officers around. Well, [officers] need to get used to seeing that."
Martin said it's crucial to train officers to consider a situation before taking action.
Martin also said that after some personnel change, they have tried to change the attitude of the training exercises, where the "students" are not yelled at if they make mistakes. Instead, range masters work to improve any issues the deputies might face while working to better their marksmanship.
The revamped range also allows for a car to be driven onto the field, which deputies can use for practice as cover and other types of drills, since real-life situations often involve a nearby police cruiser.
"Well, this is reality. When you get out in the field, if you get involved in something, you're not going to be in a stall. You'll probably be standing by a car, and there are probably going to be other deputies and officers around you," Martin said. "So that's one of the big things we've changed here is just make it a little more realistic and make it more how you actually interact in the field."
During training, officers are taught de-escalation strategies, as well as to fire weapons only as a last resort and only in a professional manner.
The new range setup is not only for the OCSD. Other agencies, such as the Irvine Police Department, are able to access the range for qualifications testing as well.