A report from Reuters on Dec. 14 accuses pharmaceutical company Johnson & Johnson (J&J) of knowing about the presence of cancer-causing asbestos in its popular baby powder—for decades.
After the publication of the bombshell report, the company's stock dropped by more than 10 percent on Dec. 14. Shares went from $144.35 at 9:30 a.m. and dropped to about $132.80 as of 4 p.m. CNBC reported the firm lost about $39.8 billion in market value.
The report alleged that J&J didn't tell the U.S. Food and Drug Administration (FDA) about three lab tests by three different labs from 1972 until 1975 about asbestos being found its talcum powder. In one case, the levels of the carcinogenic substance were described as "rather high," said the Reuters report.
The company lambasted Reuters for its report on its website, saying it is "one-sided, false, and inflammatory."
"Simply put, the Reuters story is an absurd conspiracy theory, in that it apparently has spanned over 40 years, orchestrated among generations of global regulators, the world's foremost scientists and universities, leading independent labs, and J&J employees themselves," J&J said in a statement.
The company went on to say that its iconic baby powder is "safe and asbestos-free." It added that "studies of more than 100,000 men and women show that talc does not cause cancer or asbestos-related disease."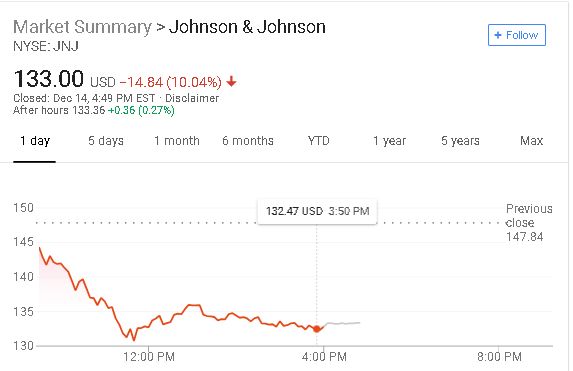 "Thousands of independent tests by regulators and the world's leading labs prove our baby powder has never contained asbestos," J&J wrote. "J&J attorneys provided Reuters with hundreds of documents and directly responded to dozens of questions in order to correct misinformation and falsehoods. Notwithstanding this, Reuters repeatedly refused to meet with our representatives to review the facts and refused to incorporate much of the material we provided them."
But Reuters claimed it examined internal reports, company memos, and other confidential documents from lawyers of some of the 11,700 plaintiffs who claimed J&J's baby power caused cancer from at least 1971 until the 2000s. Meanwhile, it said the firm's "raw talc and finished powders sometimes tested positive for small amounts of asbestos."
Of the thousands of lawsuits, J&J has won some of the cases, CNBC noted. However, in July of this year, J&J was ordered to pay some $4.7 billion in damages to 22 women who claimed its products caused them to develop ovarian cancer, according to the BBC.
"The article ignores that J&J has cooperated fully and openly with the U.S. FDA and other global regulators, providing them with all the information they requested over decades. We have also made our cosmetic talc mines and processed talc available to regulators for testing. Regulators have tested both, and they have always found our talc to be asbestos-free," the J&J statement also stated.
The U.S. Environmental Protection Agency (EPA) says asbestos, which was used for insulation and as a fire retardant, can cause lung disease if inhaled.
"Three of the major health effects associated with asbestos exposure are: lung cancer; mesothelioma, a rare form of cancer that is found in the thin lining of the lung, chest, and the abdomen and heart; and asbestosis, a serious progressive, long-term, non-cancer disease of the lungs," says the EPA on its website.
Despite J&J's statement, the damage was already done. As CNN noted, Friday was the company's worst day on the stock market since 2002. On July 19, 2002, shares of Johnson & Johnson dropped 16 percent after federal regulators investigated a former employee's allegations about false record-keeping at a factory that made an anemia drug that had been linked to serious side effects.