Returning Chinese Student Arrested for Political Poems
November 27, 2007 12:00 am Last Updated: November 27, 2007 12:00 am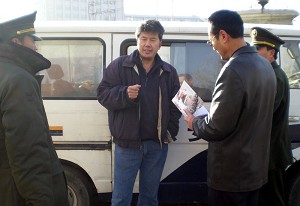 LOS ANGELES—A Chinese student studying in the U.S. was arrested in China on November 12 for possession of a poem collection about the June 4 Tiananmen Square Massacre.
The student, Wu Qiang, was on a trip to Jilin Province in North-eastern China to visit his parents. At Jilin airport he was questioned for a copy of Collection of June Fourth Poems found in his baggage. Soon after, the police tracked him down, coerced him further and proceeded with his arrest. His whereabouts are currently unknown.
Prior to his disappearance, Wu sent an email to the June Fourth Culture and Heritage Association (JFCHA) with the details of his arrest.
According to Jiang Pinchao, Executive Director of JFCHA, Wu's email was full of anxiety and distress. Attached to the email were three photos of himself being stopped and taken into a car by the police.
Wu entered China via Guangdong Province on November 11 en route to his hometown in Jilin. During a layover in Hong Kong, he purchased a copy of Collection of June Fourth Poems which was newly published in June 2007. At the Jilin Airport, the book was found and confiscated by airport security.
Wu said in his email that he thought that the airport incident was the end of it, but two days later, he was summoned by police for further interrogation.
According to the email, Wu was interrogated for over ten hours after he denied the unjust charge of "undermining social stability". Despite of his protest, the police arrested him with the charges of "possession and propagation of anti-government publications" and "violating social security laws."
At the end of his email, Wu exclaimed that he never thought such things would happen to him. "I heard many stories of the government oppressing dissidents," said Wu in his email. "But I thought those were only isolated cases targeting a few certain individuals. I thought such things would never happen to common people. But now I am suffering from such oppression myself." Wu urged people not to rely solely on China's internal reform, because "democracy can only be forged through the combined efforts of people both inside and outside the country."
As a participant in the June 4 Tiananmen Square Student Democratic Movement and the chief editor of Collection of June Fourth Poems, Jiang Pinchao calls to all organizations and individuals concerned about human rights and freedom in China, asking them to unite their efforts and help to free Wu.