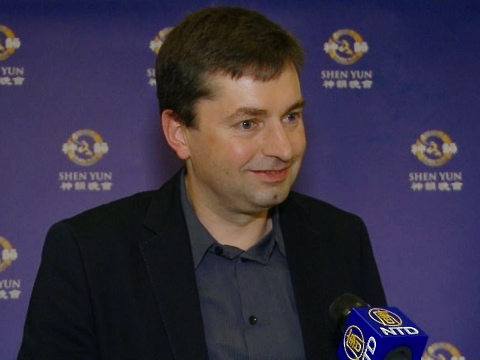 FRANKFURT—Mr. Wolff and Mr. Garcia, both retired goldsmith masters, and their wives, attended the Shen Yun Performing Arts International Company's performance in the Jahrhunderthalle on the evening of March 31.
"Outstanding!" Mr. Wolff said of the performance. "This is the first time we have seen such a show, and we have never seen such fantastic dancing."
A New York-based performance company, Shen Yun is dedicated to restoring and reviving traditional Chinese culture, according to the company's website. Using classical Chinese dance, original scores combining Western and Chinese classical instruments, and heart felt songs, Shen Yun takes the audience on a journey through China's 5,000-year-old culture from ancient times to the present-day.
"I must say that I was totally amazed by the music … my ears liked what they heard," said Mr. Wolff.
The other gentleman, Mr. Garcia said he enjoyed the colorful costumes, a feature of the Shen Yun performance that often strikes audience members, says the company's website. "These hundreds of gorgeous, hand-made garments span China's dynasties, regions, and ethnic groups."
"The costume colors were fabulous," he said.
Animated, hi-tech backdrops are another feature of Shen Yun that "transport the audience to another world," says the company.
"The backdrop—the set-up, what amazing ideas. Absolutely marvelous and almost overwhelming," he added.
Mrs. Wolff agreed and said, "To hear about the legends is very touching. That show makes one reflect on what one has seen."
Mr. Wolf added to his wife's comment: "Yet, there was a certain magnetism about the show. To document modern stories like that, implying, this is what the freedom loving China wants and not what the Chinese regime wants. This is very brave in my opinion. But, it is good to do it that way."
"Yes, one needs to be brave for that," agreed Mr. Garcia.
Mrs. Garcia found it helpful to read the program booklet. "Everyone can read what is going on, which is fantastic. One could find out what to expect next. And the way it was presented was excellent, one could retain what was being said," she commented.
"We read about the show by chance and came from Southern Germany, from Stuttgart, which is about 95 miles from Frankfurt," Mrs. Garcia said.
"We were lucky to stumble upon the advertisement. The trip to Frankfurt was worth its while," she said. "It was a successful evening."
Mr. Wolff said that they would return home and reflect on the performance, and Mrs. Garcia said she hoped that "the good will prevail."
Shen Yun Performing Arts, based in New York, has three touring companies that perform simultaneously around the world, with a mission to revive traditional Chinese culture. Shen Yun Performing Arts International Company will perform in Stockholm, Sweden, through to April 6 and then perform at The London Coliseum, April 12-15.
For more information visit ShenYunPerformingArts.org