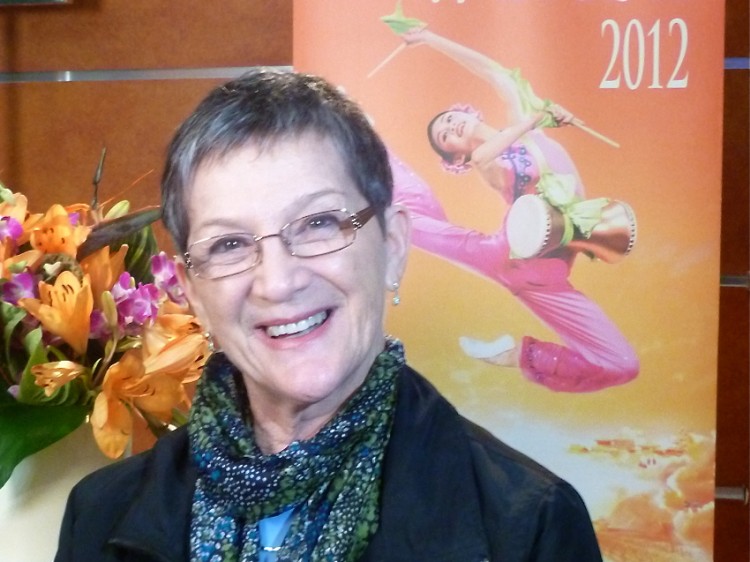 SYDNEY—Retired dance teacher Bella Swartzberg so much enjoyed the Shen Yun Performing Arts' presentation at Sydney's Capital Theatre on the afternoon of May 6, that she would have come again if it wasn't the last performance.
Ms. Swartzberg danced with the Johannesburg Festival Ballet Company. After teaching for many years she was appointed an examiner and is now also a member of the Australian Dance Adjudicators. She is a life member of the Royal Academy of Dance.
Ms. Swartzberg couldn't contain her praise, "It is absolutely amazing, the precision, and the costuming and pattern design, the boys with their elevation, simply stunning, and the girls, I love their beautiful arm-lines and their grace, absolutely delightful to watch," she said. "I'm really excited to have been here today," she added.
She also admired the inner beauty of the dancers, "I love the way they poise their head," she said. "They have so much expression on their faces, stunning," she added.
In order to restore and revive Chinese traditional culture, a group of overseas Chinese artists established Shen Yun in New York in 2006. Today, Shen Yun has already grown to three performance groups travelling the world simultaneously, according to the company's website.
Ms Swartzberg was also impressed by the background. "The way they came through and danced—really beautiful," she said.
Members of Shen Yun Performing Arts bring an unusual depth to their work says the company's website. They take to heart an ancient Chinese belief: that to create true art, there must first be inner beauty.
Ms. Swartzberg found that the choice of music was in perfect harmony with the dance. "I find that the girls [are accompanied by] beautiful graceful music which suits their style of dance, and the men have strong music which suits their jumping and elevation," she said.
"They're so agile and supple, it's really beautiful. I'd recommend anyone to come and see it," she added.
The dance Joyful Little Monks particularly inspired Ms. Swartzberg. "There was a little girl sitting behind me, she was giggling so much, it was delightful," she said.
On a bright morning, apprentice monks gather to tidy up the temple with brooms, basins, and wash clothes. Eager to do well, they put their hearts into their work-with fun and humorous results, states the Shen Yun website.

Reporting by NTD Television and Ron Champagne.
Shen Yun Performing Arts New York Company is one of three companies simultaneously touring more than 100 cities on four continents.
For more information visit ShenYunPerformingArts.org
The Epoch Times is a proud proud sponsor of Shen Yun Performing Arts,
The Epoch Times publishes in 35 countries and in 19 languages. Subscribe to our e-newsletter.