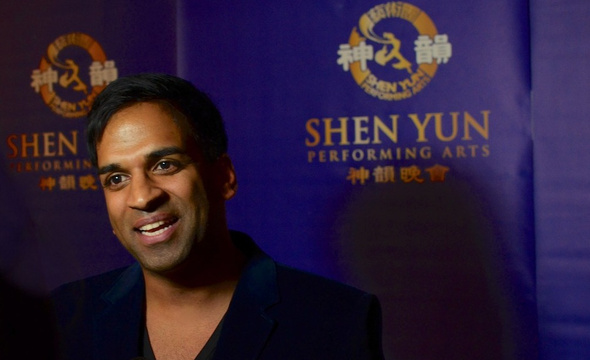 FRANKFURT—Mr. Philipp Keller, owner of a retail store, attended the Shen Yun Performing Arts International Company's performance in the Jahrhunderthalle on the evening of March 31.
"I was amazed with the show, and just have to say that I loved it," Mr. Keller said.
Shen Yun presents colorful and exhilarating performances of classical Chinese dance and music. A performance by Shen Yun is a presentation of traditional Chinese culture as it once was: a study in grace, wisdom, and the virtues distilled from the five millennia of Chinese civilization, according to the New York-based company's website.
"Not only the colorfulness, but I was able to get an impression of the traditional Chinese culture," Mr. Keller said.
"The artists appeared very compassionate. I felt as if we were one big family; that was wonderful!" he added.
One of the features that strikes audience members most, according to the company, is Shen Yun's colorful costumes. These hundreds of gorgeous, hand-made garments span China's dynasties, regions, and ethnic groups, something that Mr. Keller also appreciated.
"The colorfulness of the costumes, and everything was so harmonious. It was absolutely beautiful for the eyes to behold. We Europeans just lack something like this; there are colorful things here, but nothing like what I saw today," he said.
Mr. Keller said he was impressed not only with the harmony portrayed throughout the performance but also the positive messages that came from the ancient legends told through story-based dance.
"I will take with me the harmonious environment that I felt during these two hours. I felt great and it was very relaxing, which I enjoyed tremendously.
"I could let go of every day problems, be enveloped by the atmosphere of a totally different world, a world that, until today, I didn't know about."
Shen Yun Performing Arts, based in New York, has three touring companies that perform simultaneously around the world, with a mission to revive traditional Chinese culture. Shen Yun Performing Arts International Company will perform in Stockholm, Sweden, through to April 6 and then perform at The London Coliseum, April 12-15.
For more information visit ShenYunPerformingArts.org