LOS ANGELES—A group of restaurant and small business owners plan to make their voices heard by Los Angeles officials as protests continue against the health department's dining restrictions.
Dozens of restaurant owners and workers gathered Dec. 8 outside Los Angeles Mayor Eric Garcetti's home on S. Irving Blvd.
"I just want to put people back to work," Blue Dog Beer Tavern owner Paul Scrivano told The Epoch Times. "I want to see my employees go to France and send me the pictures like they used to do; that made me so proud that I could afford them a trip to Europe.
"Now, we have a lot of desperate employees that are making 20–30 percent of what they were making before."
Before the lockdowns in March, Scrivano employed 29 servers and cooks. Now, he has a staff of six. Last night, he said he distributed a $65 tip among four employees.
"They don't have any money. They're all underpaid now," he said. "This is more than just a paycheck. … People's spirits are getting broken."
Los Angeles charities are also suffering without restaurants operating at full capacity, Scrivano said.
"Last year when I drove to Skid Row, there were food collection points everywhere; restaurants, big vans were dropping off food to collection points."
But this year, he said, he only had 100 sandwiches to give, and there was only one food donation stand—a huge plummet compared to the previous years.
The ban on all dining services besides takeout and delivery took effect Nov. 25 and will last until at least Dec. 20.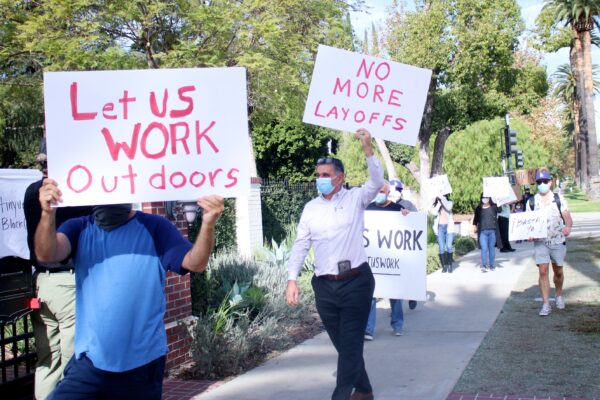 Scrivano said he will reopen on Dec. 20 whether the restrictions are lifted or not.
The group plans protest outside of Los Angeles Supervisor Sheila Kuehl's home every night, according to a flyer. Kuehl voted to enforce stricter restrictions on restaurants, then dined out at a neighborhood restaurant a day before the ban went into effect, upsetting restaurant owners.
Protester Alex Kouba, who owns an advertising company, told The Epoch Times "enough is enough when it comes to small businesses enduring the brunt and being the scapegoat for the entire COVID crisis."
He said it's unfair small businesses have to close while retail giants remain open.
"We're never gonna win their game. They keep moving the goalposts all the time," Kouba said. "At first, it was gonna be a two week shutdown to flatten the curve and then it became, you know, four weeks and now it's been nine months."
His company's revenue took an 80 percent blow and he's laid off about 10 employees, which was more than half of his staff.
Comedian and small business owner Dante Rusciolelli was on the scene, singing Christmas carols in front of the mayor's home.
He said he took issue with the Los Angeles Police Department's conduct toward protesters. Police arrested a man Dec. 6 for using a bullhorn within 200 feet of a residence, which is a county violation. The arrest turned into a brawl when multiple protesters began punching and kicking the officers, according to reports.
"When I found out that the police were beating people over a bullhorn, it made me go nuts, and so I looked up all the laws of how I could come to the mayor's house with a bullhorn and get the police attention and so what I figured out is I could sing Christmas songs all day long, and the neighbors can't do a thing about it," Rusciolleli told The Epoch Times.
"There's lots of businesses that could be open. I think more than half should be open. As a business owner I want things to open up. As long as everyone's safe that's the key."