The co-owner of a Virginia restaurant who had refused to serve former press secretary Sarah Sanders and her family because she worked for President Donald Trump said she believes businesses and servers should not have to hide their political opposition when they clock into work.
Stephanie Wilkinson, the co-owner of Red Hen in Virginia, made headlines last year when she asked Sanders to leave her restaurant because of the former press secretary's association with the Trump administration. Her restaurant subsequently received extensive backlash and a drop in Yelp ratings.
The restaurant co-owner has now penned an op-ed in the Washington Post responding in part to a recent incident in which the president's son, Eric Trump, was allegedly spat on by an employee of an upscale Chicago cocktail lounge.
"The once-ubiquitous idea that companies exist purely and solely to provide profit to shareholders is withering away like corn husks in the summer sun," Wilkinson said.
"The rules have shifted. It's no longer okay to serve sea bass from overfished waters or to allow smoking at the table. It's not okay to look away from the abusive chef in the kitchen or the handsy guest in the dining room. And it's not okay to ask employees, partners or management to clock out of their consciences when they clock into work," she added.
She then warned, "So when the day comes that the world feels returned to its normal axis, I expect we'll see fewer highly charged encounters making headlines. In the meantime, the new rules apply. If you're directly complicit in spreading hate or perpetuating suffering, maybe you should consider dining at home."
Along with Trump and Sanders, several other key members of the Trump administration were heckled when they were dining out last year. This includes Senate Majority Leader Mitch McConnell, former Secretary of Homeland Security Kirstjen Nielsen, White House adviser Stephen Miller, and former head of Environmental Protection Agency Scott Pruitt were harassed, in separate incidents.
In a more recent example in Chicago, Trump was visiting the popular cocktail lounge The Aviary on June 25 when a female employee, who has not been publicly identified, allegedly spat on him. She was quickly taken into custody by the U.S. Secret Service but released shortly afterward. Trump later decided not to press charges against the employee.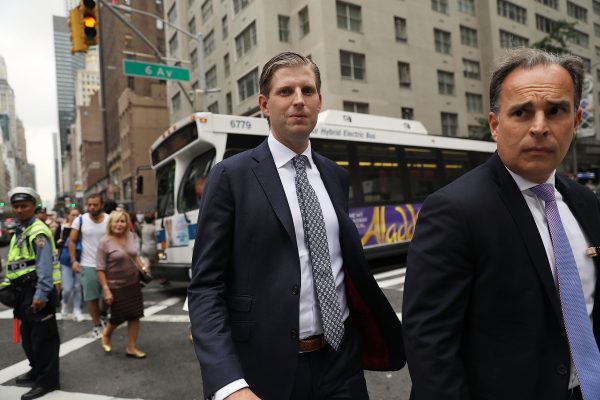 In an interview with Breitbart News, Eric labeled the incident as "purely a disgusting act by somebody who clearly has emotional problems." He implied that the incident was an example of Democrats showing frustration at the successes of his father's Republican administration.
"For a party that preaches tolerance, this once again demonstrates they have very little civility," he said. "When somebody is sick enough to resort to spitting on someone, it just emphasizes a sickness and desperation and the fact that we're winning."
Democratic Chicago Mayor Lori Lightfoot subsequently denounced the bar employee's behavior while calling for civility.
"Civility matters. We may not agree and, in my case, I don't agree with a lot of the things that President Trump stands for. Our values are different. But you cross the line when you assault someone. And you absolutely cross the line when you intentionally target someone for that kind of treatment. No one deserves that. No one," Lightfoot said.
"This is America. People have a right to have their views, no matter if we agree with them or not. But we can not countenance people who go out of their way to express themselves in such a repugnant fashion," she added.
She also called Eric Trump's decision to not press charges "gracious" and urged the restaurant to take "appropriate" actions against the employee.
Tom Ozimek and Bowen Xiao contributed to this report.