KISSIMMEE, Florida—Around Christmas each year, families from cold climates flock to the theme park capital of the globe, home to Walt Disney World, Universal, SeaWorld and many other attractions.
While they're escaping snow, Florida families with young children often pack up and drive 12 hours or more, hoping to catch a glimpse of the white stuff falling from the sky. Actually playing in it would be a dream come true for many.
But this year, Florida residents have been able to play in the snow close to home, even as temperatures nudge the 80s.
That's thanks to a creative Plan B at the 64-acre Gaylord Palms Resort and Convention Center in Kissimmee.
From 2003 until 2019, the luxurious, amenity-filled resort added a Christmastime attraction each year, featuring a walk-through display of elaborate ice sculptures.
The resort spent about $1 million each year to transform an insulated tent into a nine-degree wintry wonderland, created by Chinese artisans, according to a report in the Tampa Bay Times.
Ticketholders donned parkas supplied by the resort to walk among hand-carved sculptures depicting intricate images of Christmas, such as toy soldiers, carousel horses, the Polar Express train, and life-size Nativity figures. Cost to explore was, most recently, about $29 for adults and $15 for children.
But in 2020 and 2021, the sculptors couldn't travel to Florida, due to COVID-19 related travel restrictions, resort spokesman Gary Buchanan said.
So for 2020 visitors, the resort created an exhibit that featured classic Christmas movies, hoping the ice-carving experts from China would be able to resume their craft this year. But it wasn't to be.
But Plan B has given Florida families an unusually cool reason to visit in a season when the least-expensive nightly rate is about $322.
This year's attraction at the 1,718-room resort opened Nov. 19 and will remain so through Jan. 2, 2022.
The highlight is an indoor, high-speed, snow-tubing run called Snow Flow Mountain that sends participants screaming down a hill of ice built inside the resort.
And there's a Snow Factory that gives Sunshine State residents the rare chance to make and throw snowballs at targets.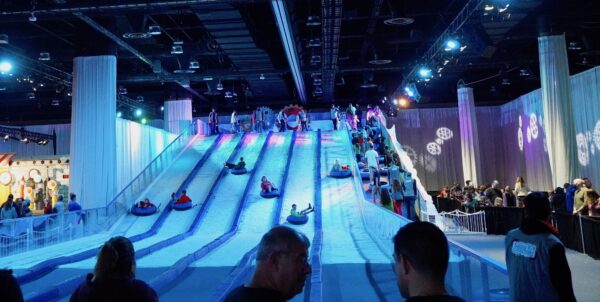 At the Snowball Build and Blast, small plastic tubs of snow slide down conveyor belts where participants can get right to work forming perfect snowballs. Then, at a nearby target wall, they get 90 seconds to lob snowballs through openings with point values. Cost is $12 person for access to the area.
"The idea is that you're trying to do the Buddy the Elf thing, throwing as fast as you can," Buchanan says, referring to the 2003 Will Ferrell movie Elf.
The chance to play in the snow attracts many Floridians to the resort, Buchanan said. "A lot of people who've never even thrown a snowball."
He didn't know how many of the resorts guests were Floridians, and Experience Kissimmee doesn't track visits by the state's residents, either.
But the area definitely is experiencing a healthy rebound in tourism, said Jennifer DiDomenico, a spokeswoman for Experience Kissimmee.
In November 2021, more than 1 million visitors traveled to the area, 11 percent more than pre-pandemic visitors in November 2019 and 74 percent more than visitors last November.
Though this month's numbers haven't been tallied, "December tends to be a lot better than November, so Kissimmee expects to see a very busy holiday season this year," DiDomenico said.
"From what we can see right now, many hotels are sold out for New Year's Eve, and vacation homes are about 90 percent booked between" Christmas Eve and Dec. 31, she said.
While those numbers thrill tourism industry officials, the only number that mattered to Chantal Kopko on Dec. 20 was the winning score in the Kopko Family snowball-throwing competition.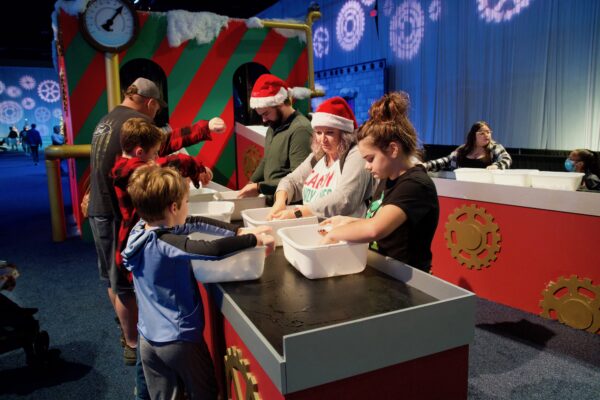 Lobbing carefully crafted snowballs at the target wall alongside her husband, son and daughter, Chantal Kopko dominated with a score of 900.
"That was awesome!" said her husband, Craig Kopko, with a grin, after depleting his supply of snowballs.
Cheyenne, 12, and Harper, 8, said the snowballs were fun, but the chance to slide on snow nearby was their main focus. 
The Kopkos, who live in nearby Orlando, have in the past made the trek north braving many hours in the car in the hopes of catching a glimpse of snow in the mountains of North Georgia or the Carolinas.
When they made the 882-mile trip a few years ago, there was no snowfall, but they managed to find a hill with a dusting of snow left on the ground.
A visit to Gaylord Palms in their home state proved a more reliable and convenient way to experience winter fun.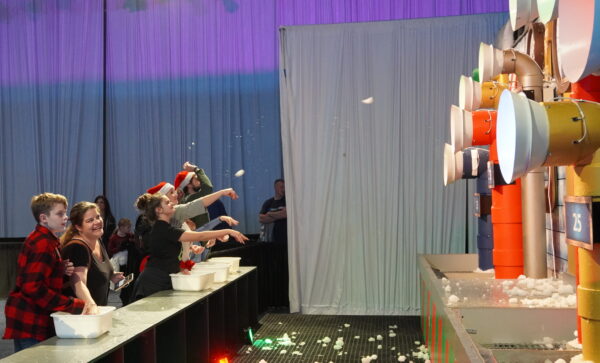 It's chilly in the Snow Factory area of the Alpine Village, and the centerpiece is the icy slope with six side-by-side 200-foot runs. Guests pay $23 for unlimited access for the day. They wait their turn to lug adult or child size tubes up a ramp to the top.
The ride down takes seconds, and often ends with a soft thud into a pillowed half-wall. It's hard to distinguish whether the shrieks from sliders are inspired by delight or fear.
Scary?
"A little bit," admitted Janine Santangelo of Jacksonville, Florida, who was staying for two nights with her husband, son, daughter, and parents. "It was faster than I thought."
Her husband, John, agreed that the ice made for a faster trip than on snow.
Twelve-year-old Josie preferred the resort's Mission: Save Christmas featuring Elf, "because it's so interactive."  That costs $33 for guests 12 and up, and $17 younger guests.
In this collaboration with Warner Bros. Themed Entertainment, guests follow Buddy the Elf's path from the North Pole to New York City, participating in activities that move the needle on the Clausometer showing they've spread enough Christmas cheer to power the Kringle 3000 and help Santa's misfiring sleigh fly again.
The Alpine Village also sports, among other things, one of the largest Christmas shops in Florida, an area for gingerbread house-decorating and the opportunity to chat with Santa or hear a story told by Mrs. Claus, and share cookies and milk.
Additional Christmastime activities at the resort include an indoor Christmas Tree Trail with more than 100 decorated trees, a show with acrobatics and high-flying stunts, a Naughty or Nice Escape Room, a kaleidoscopic light show in the resort's 4.5-acre atrium, and two musicals celebrating the birth and life of Jesus.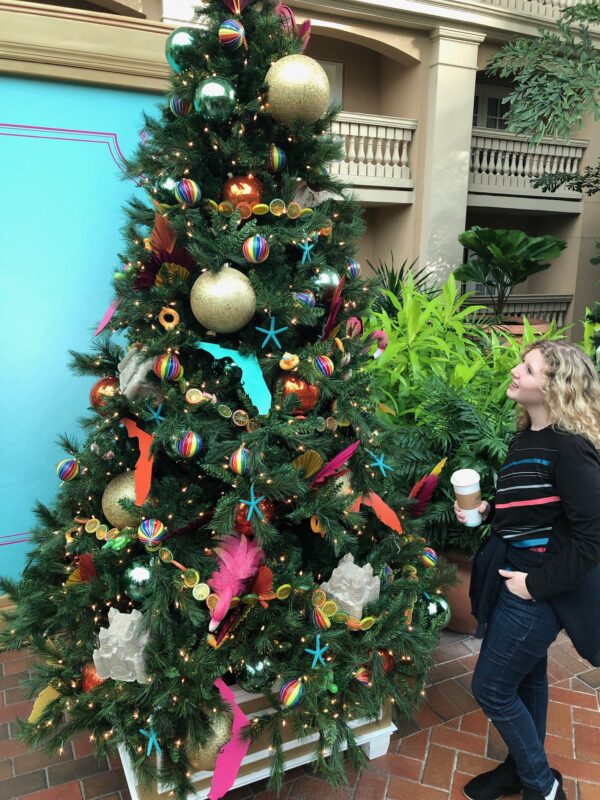 "There's so much kinetic energy going on, it's hard not to be in the Christmas spirit when you're here," says Buchanan, who's enjoying his first yuletide season working at the resort.
Just like in Santa's workshop, planning for the winter attraction takes all year, but the construction took just a month.
And while it may sound like creating snow-tubing runs in Florida would require a bit of elfin magic, indoor snowscapes are starting to pop up in the most unlikely places around the world.
Many of these snowy playgrounds are created by SnowMagic of East Stroudsburg, Pennsylvania.
The company didn't help build the attraction at Florida's Gaylord Palms, but it helps guarantee snow at U.S. slopes and indoor attractions in California, Texas, Georgia, Tennessee and Colorado. It has even has produced places to play in the snow in Vietnam, Mexico City, Bogota, South Africa, and Saudi Arabia.
The company is owned by a former NCAA All-American swimmer Albert Bronander, who's still using water to his advantage. His snow-making machines use only that ingredient to produce up to 200 tons of realistic, fluffy snow a day, regardless of temperature. That much snow equals about 12,800 cubic feet.
SnowMagic's machines freeze water to create tiny snow crystals that are almost indistinguishable to real snowflakes, says spokeswoman Ellen Chandler. The fluffy stuff is perfect for building snowmen, making snow angels, digging tunnels, building snow forts, and throwing snowballs.
The company even can create a way for snow enthusiasts in warm climates to snowboard and snow ski inside. SnowMagic has been producing "wintertainment" for 20 years.
The equipment rental cost to venues for use at multi-week events would be upwards of $100,000, Chandler said. "To make it make sense," she added, the venue would need to sell tickets of about $20 to 30,000 guests.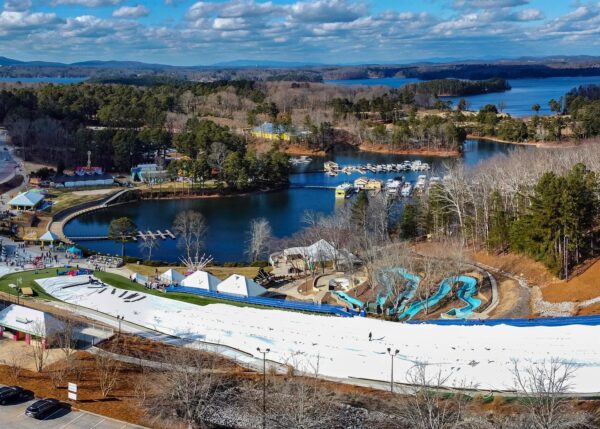 But some high-end corporate events and weddings choose to rent a smaller setup for a weekend.
"You're still talking tens of thousands of dollars," Chandler says. "But people are paying $2000 for a cake and $10,000 for a dress."
For about $20,000, you could have about "half a tennis court of snow," she said. "You're going to have a lot of snow. You're not going to just have a little pile on the patio."