Paris residents have long had to endure the stench of urine on their streets, but a new set of highly visible urinals is causing an uproar.
While the bright red "urinoirs" have been installed to combat the problem of public peeing, locals have complained about lack of privacy and their location in upscale neighborhoods.
One in particular, on the chic Ile Saint-Louis island in the middle of the River Seine—one of the city's most exclusive quarters—has provoked residents to write to the mayor to demand its removal.
"There's no need to put something so immodest and ugly in such an historic spot," said Paola Pellizzari, 68, owner of a Venetian art store.
"It's beside the most beautiful townhouse on the island, the Hotel de Lauzun, where Baudelaire lived," she told Reuters, referring to the 19th-century French poet.
She said that the urinal, which is installed about 22 yards from an elementary school, "incites exhibitionism."
But, according to their manufacturer, the Faltazi design agency, the devices are an "eco solution to public peeing," and contain straw that can be used as compost in public parks. The straw reduces the smell of urine and means the devices don't need to be connected to sewers.
A Blight on Neighborhoods
The problem, say locals, is that they are basically just boxes with openings in the front and no stalls of any kind around them, so locals fear they could blight their neighborhoods. In addition, they can be a little embarrassing to use.
Wouter, 43, who was visiting from Amsterdam, told Britain's Daily Telegraph he had used one of them, but felt uncomfortable.
"Public toilets are usually more hidden," he said. "At first, I thought it was a modern art installation because of the flower box on top."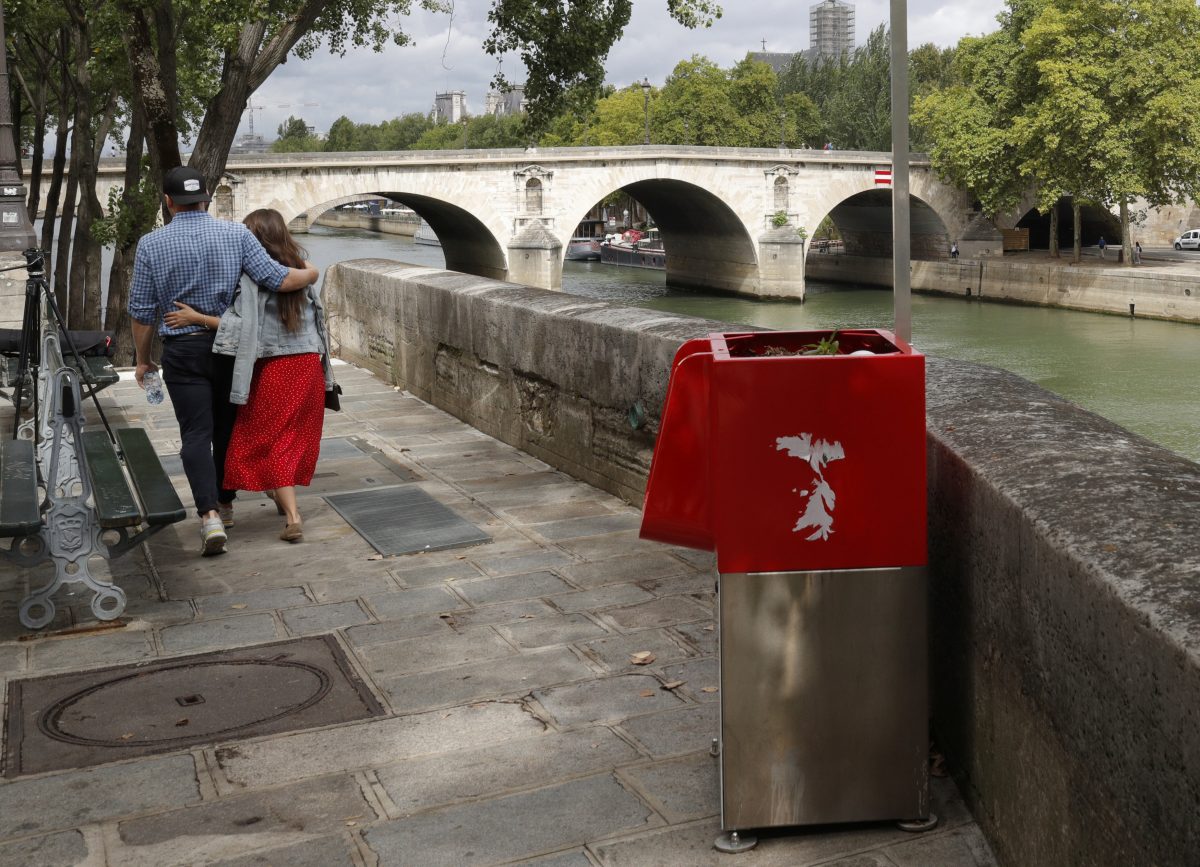 One of the boxes overlooks the Seine with tourist boats passing in front, not far from the Notre Dame Cathedral.
"It's horrible," the 50-year-old owner of a nearby art gallery, who declined to give his name, told Reuters.
"We're told we have to accept this but this is absolutely unacceptable. It's destroying the legacy of the island. Can't people behave?"
'A Serious Problem'
Mayor Ariel Weil said the boxes were rolled out in locations where public peeing is a problem.
"If we don't do anything, men are just going to pee in the streets," he said. "If it is really bothering people, we will find another location."
Paris has a long history of public urination, with so-called "pissoirs" common on the streets of the city in the mid-1800s. By the 1930s, there were around 1,200 of the green sheet-metal stalls, but by the 1960s, they were mostly phased out.
Victor Massip, who invented the controversial model in Ile Saint-Louis, said they're necessary.
"People urinating on the streets of France is a serious problem," he told the Daily Telegraph. "We knew there was a demand for a solution, so we've come up with one."