As the novel coronavirus continues to ravage parts of China, residents in Beijing—the Chinese regime's seat of power—share the fear that the worst is yet to come.
To date, authorities officially reported tens of thousands of infections nationwide, though experts say true numbers are likely to be much higher. More than 2,400 cases have popped up in 38 other countries, with local cases of transmission occurring in Italy, Iran, South Korea, Japan, and Singapore.
"This virus is just terrifying," a Beijing resident surnamed Chen said. He called the virus the "invisible enemy."
"You can't see it, and it can stay in hiding for a long time," he said. "Because we don't know where the enemies are, we also can't eliminate them out of sight."
As the outbreak worsens, the Chinese regime has postponed the Communist Party's two largest political conferences, originally scheduled for early March. The Party's top officials usually meet in Beijing to discuss policies and priorities for the coming year.
Chinese leader Xi Jinping has described efforts to contain the outbreak as an "all-out war."
"We have battled for so long, but we don't even know where the enemy is," Chen said.
Waiting It Out
Beijing has turned into a ghost town amid virus fears. Few commuters ride on buses and subways during rush hour, while many shops and restaurants remain shut.
Meanwhile, the egg-shaped theater venue, China National Center for the Performing Arts, on Sunday canceled all March events. Iconic tourist sites such as the Palace Museum have been closed since late January. At least 29 hutongs, narrow historical alleyways traditionally associated with Beijing neighborhoods, have installed doors or fences to restrict people's movements.

Communities across the city have set up checkpoints to check people's body temperatures. Vehicles cannot go through community compounds unless granted special permission. A local surnamed Liu told The Epoch Times only two of nine roads in his district were accessible.
Many people like Chen have simply chosen to avoid outdoor activities as much as possible.
Since late January, clusters of hospital-acquired infections have broken out in at least four Beijing hospitals, leading to mandatory quarantine of hundreds of patients and medical staff, according to local media reports.
For example, Fuxing Hospital shut down two buildings in early February. The facility tracked down 668 people who had close contact with the infected patients and medical staff.
On Feb. 19, health officials confirmed that a female employee at the Beijing-based e-commerce giant Dangdang.com was infected with the virus. She had worked for more than a week before she was diagnosed with the virus on Feb. 19, leading to the isolation of 66 co-workers at a quarantine center. More than 200 other employees also self-quarantined at home.
On rare occasions when Chen steps out the door, he keeps a mask on at all times, and sprays himself with disinfectant after returning home. Like many local residents, he buys groceries in large quantities in order to minimize his trips.
The advantage of being in a northern city like Beijing, Chen said, is the cold weather—the vegetables don't spoil as quickly.
He added that many residents "are just waiting it out through gritted teeth."
Calls for Transparency
Zhao, a resident in Zhaoyang district in Beijing, said he has heard of four to five infections in his community compound. Local authorities sealed off the neighborhood and surrounding areas since the second case appeared.
Though the city government provides a daily press briefing about the virus, residents sense that the government is not revealing the true scale of the outbreak.
On Feb. 3, China's Ministry of Foreign Affairs said at a press conference that it had "notified the U.S. of the epidemic" and their control measures 30 times since Jan. 3. But the Chinese public did not learn more details about the virus until weeks later. To Chen, this incident represented why the authorities cannot be trusted.
"How come Chinese people didn't hear anything about it?" he said. "Are you answering to Chinese people or Americans?"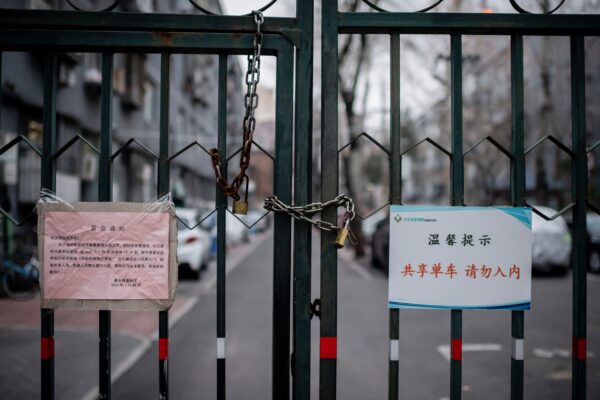 Chen was a student during the 1960s, when the Chinese regime launched the Great Leap Forward campaign, a five-year forced industrialization effort that led to one of the largest famines in human history. Despite the vast numbers of deaths, Chen's school promoted propaganda that everything was normal. He also recalled that authorities downplayed the SARS (severe acute respiratory syndrome) outbreak in 2002 to 2003.
He feels the handling of the current outbreak is similar, although citizens have made up for the absence of information through posting on social media. "Otherwise we would all be in the dark," he said.
"We know nothing besides hiding at home."
Zhao was similarly critical. "There's no transparency … not the slightest clue about what's going on," Zhao said, adding that he was not optimistic about the future, given current information about how the disease spreads.
Chinese authorities have acknowledged that the virus is capable of being spread through aerosols, or micro-sized droplets in the air, in a relatively closed environment. A Feb. 7 study by China's Center for Disease Control and Prevention also found that the virus was more contagious than related coronaviruses that cause SARS and MERS (Middle East respiratory syndrome).
Chen also lamented the death of a whistleblower doctor, Li Wenliang, who was reprimanded on Jan. 3 for spreading "rumors" online about a SARS-like outbreak. He later died of the virus, after contracting it from a patient.
Online censors, he said, make sure only what the Chinese regime wants to hear stays on the internet, with no questions asked.
"It created an impression that people are all praising them … They muffle your mouth and ears, and prevent you from knowing anything," he said.
"But if [the outbreak] goes out of hand, no one can escape."