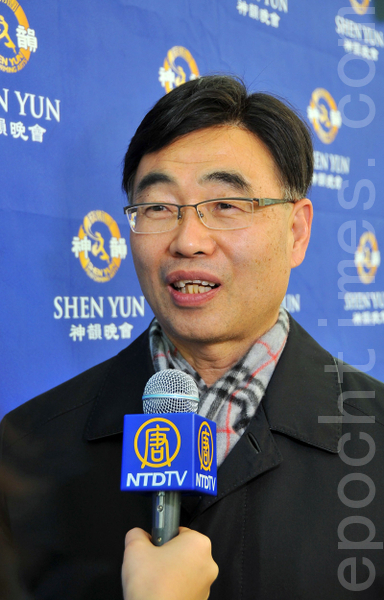 DAEJEON, South Korea—The Shen Yun Performing Arts New York Company's 2012 premiere at the Jeongsimhwa International Cultural Center in Daejeon was held on the afternoon of March 1. Mr. Ri Jae Rak, president of a club within the Korea Research Institute of Chemical Technology, praised Shen Yun, saying the performances had been so inspiring it felt like Shen Yun could purify the human world. 
"I feel a lot of dirty stuff that has long been rooted in the deep bottom of my heart has been completely cleansed," Mr. Ri said of his experience in seeing Shen Yun.
Shen Yun is dedicated to restoring China's 5,000 year traditional culture. According to the Shen Yun website a performance depicts a sweeping view of that culture from mortals to divine beings. 
"Principles such as benevolence and justice, propriety and wisdom, respect for the heavens, and divine retribution, all come to life, washing over the audience. Originating from Confucianism, Buddhism, and Taoism, these ideals are the essence of traditional Chinese culture," the Shen Yun website says.
Word of Shen Yun's high quality performances had traveled to Daejeon City's tight community and many professionals and celebrities came to watch the New York company's performance. Daejeon is considered to be Korea's Silicon Valley with many hi-tech companies situated there.
Mr. Ri Jae Rak spoke highly of Shen Yun saying, "It was a magnificent performance. All the actors' movements were extremely wonderful and their costumes were extremely beautiful."
He noted that while watching the show he experienced a type of soul resonance many times.
"In the show, traditional values were tactfully illustrated by way of arts, rather than through boring approaches, so they could touch the bottom of people's hearts naturally," he said.
Elaborating on the purifying effects of Shen Yun, Mr. Ri said, "I felt that the show's content was very rich and magnificent, which gave me a feeling of fulfillment. 
"I think Shen Yun is a show that can inspire people's confidence and stimulate people's thoughts. I believe that Shen Yun can play an important role in purifying human society." 
In the end, Mr. Ri said, "I will actively recommend Shen Yun to the people I know."
Reporting by Yuzhen Li & Joseph Wu
New York-based Shen Yun Performing Arts has three touring companies that perform simultaneously around the world. For more information, visit ShenYunPerformingArts.org 
Read the original Chinese article