After Democrats in the House of Representatives voted to impeach President Donald Trump, Republicans released statements denouncing what they called a "sham" vote, saying that Democrats' push for impeachment stems from their wish to overturn the results of the 2016 presidential election.
The Democrat-led House of Representatives formally charged Trump late Wednesday with two articles of impeachment (pdf)—abuse of power and obstruction of Congress. The abuse of power article was passed on a 230-197 vote and the obstruction article was passed 229-198. The vote of Wednesday night does not remove President Trump from office, but sends the articles to the Republican-controlled Senate for a trial next month. U.S. Senate Majority Leader Mitch McConnell is set to speak about the vote in the Senate on Thursday at 9:30 a.m.
All of the House Republicans opposed both articles. Two Democrats, Rep. Collin Peterson (D-Minn.) and Rep. Jeff Van Drew (D-N.J.) broke ranks with their party and joined the Republicans to vote no on both articles. Another Democrat, Rep. Jared Golden (D-Maine), joined in voting no on the second article of impeachment, the obstruction charge. Meanwhile, Rep. Tulsi Gabbard (D-Hawaii), a 2020 candidate, voted "present" on both articles.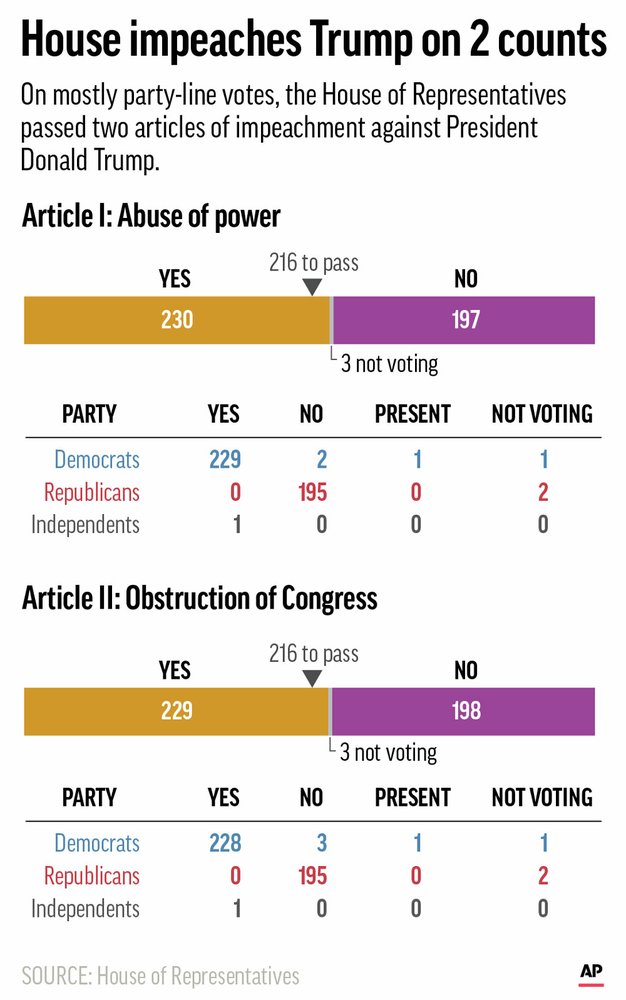 "The only BIPARTISAN vote today was AGAINST—not for—impeachment," House Minority Whip Steve Scalise (R-La.) wrote on Twitter. "Every single Republican & some Dems voted against this sham impeachment of @realDonaldTrump. For the first time in history, the impeachment of a President was completely partisan. What an embarrassment for Dems!"
Prior to the vote, Scalise said that Democrats' push for impeachment is "a political vendetta that didn't just start with the Zelensky call. It started long before that."
Sen. Deb Fischer (R-Neb.) issued a statement that expressed a similar message to Scalise's, saying: "[F]rom the day President Trump was elected, Democrats have wanted to impeach and remove him from office. Today's vote was the culmination of their efforts."
"This process was unfair, secretive, and highly partisan. House Democrats did not provide President Trump the basic fairness afforded to other presidents in past impeachment inquiries," she added. "As disappointed as I am in the way these proceedings were conducted in the House, I must now fulfill my constitutional duty as a juror in a Senate trial and I will assess all information as it becomes available to me."
Sen. John Barrasso (R-Wyo.), chairman of the Senate Republican Conference, said in a statement after the House vote that Democrats "have been obsessed with impeaching President Trump since day one." He called the entire impeachment process "political and partisan" and one that "is rapidly losing public support."
"Senate Republicans are ready to proceed to trial," Barrasso added. "We will then get back to work and focus on policy issues important to the American people. These include lowering out-of-pocket health care costs, securing our borders, fixing roads and bridges, and continuing a strong, healthy, and growing economy."
Sen. Jim Inhofe (R-Okla.), in a statement ahead of the House vote, called the House's action a "political sham" for which "the liberal national media has been complicit." Inhofe maintains that he has not seen evidence of wrongdoing by the president and says he so far sees no reason to convict the president.
"If House Democrats spent half as much time and money actually getting work done for the American people, they might have something to show for their time in the majority. But they do not," he added. "Thankfully, we have a president and Senate Republicans who continue to move the ball forward on things that truly matter in the long run: confirming 175 constitutional judges in lifetime appointments; creating over 7 million jobs with a booming economy; rebuilding our military with a newly established space force; securing our southern border; and restoring relationships with our allies like Israel so our enemies that finally fear and respect us again. It's truly remarkable what we have been able to accomplish with President Trump, and we're just getting started."
Other senators who issued public statements about the House impeachment vote include Thom Tillis (R-N.C.), Roger Wicker (R-Miss.), Bill Cassidy (R-La.), Ted Cruz (R-Texas), Rand Paul (R-Ky.), Josh Hawley (R-Mo.), John Hoeven (R-N.D.), and Rick Scott (R-Fla.).
Rep. Doug Collins (R-Ga.), the ranking member of the House Judiciary Committee, denounced the House vote as one that threatens Americans' freedom.
"Today's vote reveals Democrats' disregard for the Constitutional protections due to all citizens—including President @realDonaldTrump. That disregard threatens the liberties of every American," he wrote in a Twitter post, adding in another post that the Democrats "broke their own rules to declare a president guilty of crimes they couldn't prove and their articles didn't allege."
Where the law ends, tyranny begins. Democrats broke their own rules to declare a president guilty of crimes they couldn't prove and their articles didn't allege.

Tonight, Democrats shamed an institution they claim to love and failed a country they claim to serve. pic.twitter.com/Zb7IUeYOj0

— Rep. Doug Collins (@RepDougCollins) December 19, 2019
Rep. Steven Palazzo, (R-Miss.) signaled in a statement that he opposed the House vote as a "hyper-partisan decision" that serves as "a check off the liberal agenda heading into the 2020 election."
"Today's vote proves that Democrats don't trust Americans and reject our democratic process," he said, noting that voters in 2016 "spoke loud and clear that Donald Trump was the obvious choice to lead our nation."
"I am adamantly opposed to these articles of impeachment because they are nothing more than another attack against our president. The core argument of the Democrats collapsed, and they still decided to ram this partisan impeachment down the throats of the American people," he added.
Other senators who issued public statements about the House impeachment vote include GOP leader Rep. Kevin McCarthy (R-Calif.), Rep. Jim Jordan (R-Ohio), Rep. Lee Zeldin (R-N.Y.), Rep. Mark Meadows (R-N.C.), Rep. Mark Gaetz (R-Fla.), and Rep. Andy Biggs (R-Ariz.).
Trump, who held a rally in Battle Creek, Michigan, while the House passed the articles of impeachment, told the crowd after the vote, "We didn't lose one Republican vote."
"This is the first impeachment where there's no crime," he added. "They've cheapened the impeachment process. And now, anybody that becomes president, they can have a phone call and they get impeached. … If the press was fair, this never would have happened."
Democrats' push to impeach Trump revolves around his July phone call with Ukrainian President Volodymyr Zelensky, during which Trump asked his counterpart to "look into" allegations against former Vice President Joe Biden and his son Hunter Biden.
Democrats alleged that Trump misused his office by allegedly withholding nearly $400 million from Ukraine in exchange for investigations into the Bidens. They also say Trump's request to Zelensky was improper because Biden is running for the 2020 Democratic presidential nomination. However, Trump said it was his duty to investigate corruption in a country that was receiving military aid from the United States.
Trump noted that Joe Biden stated publicly last year that he threatened in 2016 to withhold $1 billion in aid to Ukraine unless the country fired its top prosecutor, Viktor Shokin. Shokin was reportedly investigating the Ukrainian natural gas company Burisma on which Hunter Biden, served as a board director while his father was in office. Shokin's replacement closed the probe after Shokin was fired.
But Democrats said that testimony from State Department and National Security Council officials suggest that Trump had exerted pressure on Ukraine to secure an investigation into the Bidens, construing a misuse of power. Trump and Zelenksy have both denied the allegations.
Jack Phillips and Zachary Stieber contributed to this report.