Republican reactions have been mixed to former President Donald Trump's call for supporters to stage protests over his rumored forthcoming arrest, with some urging peaceful demonstrations while others recommending none at all and warning of law enforcement entrapment.
Trump, who is under investigation by the Manhattan District Attorney's office for allegedly misclassifying a payment made by his former personal lawyer to adult film actress Stormy Daniels, issued a statement on Saturday saying he expects to be indicted on Tuesday and arrested.
Citing "illegal leaks" from the "corrupt & highly political" Manhattan DA's office, Trump suggested that it wouldn't be long before he's taken into custody.
"Protest, take our nation back!" Trump urged his supporters in a message posted on Truth Social.
Trump insisted that no crime has been proven and that the Manhattan DA's possible indictment in the case would be "based on an old & fully debunked (by numerous other prosecutors!) fairy tale."
"We must save America," Trump said in another message. "Protest, protest, protest."
The Manhattan District Attorney's Office declined to comment on Trump's statement.
While Republicans have roundly denounced the Manhattan DA's probe, reactions to Trump's calls for protests have been mixed.
'Don't Be a Knucklehead'
Florida Gov. Ron DeSantis was the latest Republican to weigh in on the matter, breaking a weekend of silence to accuse Manhattan District Attorney Alvin Bragg of "pursuing a political agenda and weaponizing" his office.
"I think that's fundamentally wrong," DeSantis told reporters on March 20 at Gulf Coast State College in Panama City, Florida, while calling the case against Trump a "manufactured circus."
DeSantis also noted that his office would not be involved in the case "in any way," suggesting he has no plans to help Trump fight extradition from Florida to New York should the former president be charged.
House Speaker Kevin McCarthy (R-Calif.) said Sunday he has assembled investigators to probe whether Bragg used grants from the Department of Justice (DOJ) to pursue the case against Trump.
Still, McCarthy was far from urging people to take to the streets to demonstrate on Trump's behalf.
"I don't think people should protest this … I think President Trump, if you talk to him, he doesn't believe that either," McCarthy said during a press conference.
McCarthy said that people were broadly misinterpreting Trump's calls for demonstrations, saying the former president was urging people to voice their views and "educate people what's going on" rather than take to the streets.
"He's not talking in a harmful way and no one should," McCarthy added, with his remark recalling the unrest when a crowd breached the U.S. Capitol on Jan. 6, 2021.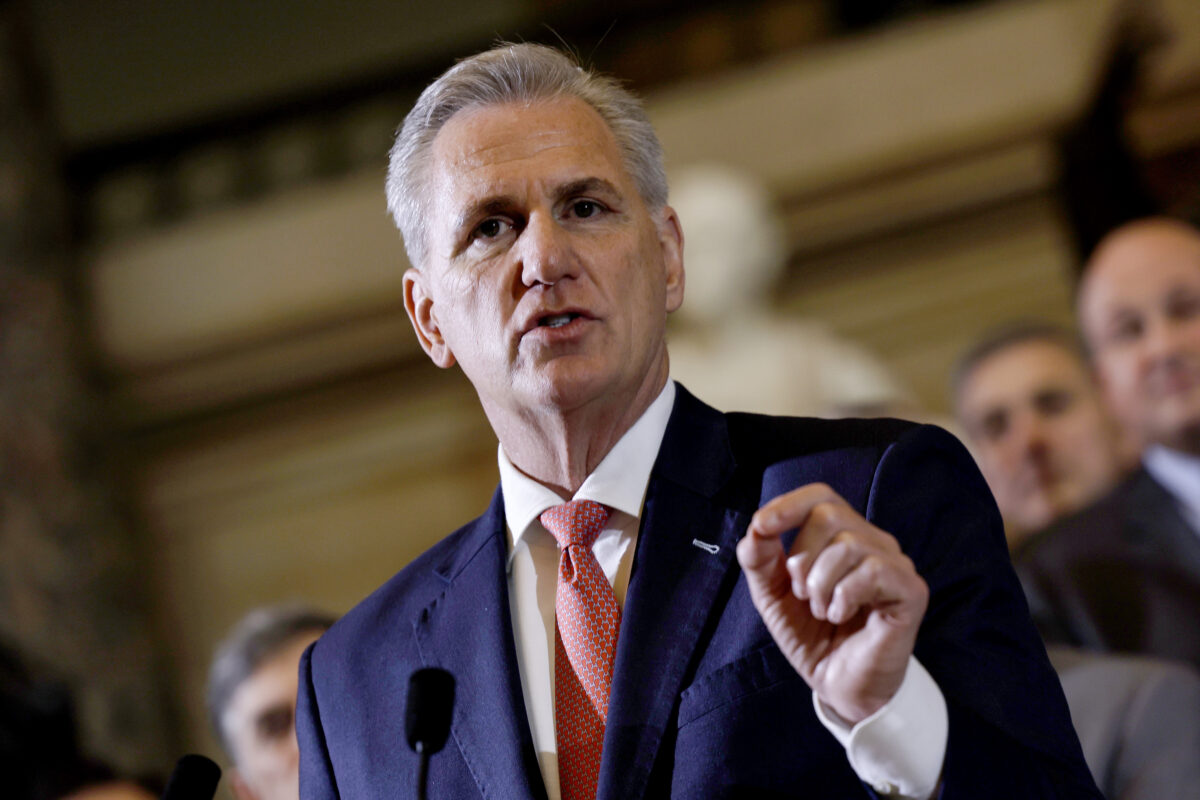 Asked for comment on McCarthy's remarks during an interview on Fox News, Sen. John Kennedy (R-La.) responded by saying that protests are a legitimate way for Americans to voice their views.
"In America, you're free to protest. You're not really free if you can't express yourself," Kennedy said. "But do it peacefully. Don't be a knucklehead and riot."
'Witch Hunt'
Ardent Trump supporter Rep. Marjorie Taylor Greene (R-Ga.) defended the former president's call for demonstrations.
"I don't think there's anything wrong with calling for protests. Americans have the right to assemble, the right to protest. And that's an important constitutional right," Greene told reporters on Sunday, adding that the former president "doesn't have to say peaceful for it to mean peaceful."
"Of course, he means peaceful," Greene said. "Of course, President Trump means peaceful protests."
Greene attacked the probe against Trump as "corrupt" and a "witch hunt."

New Hampshire's Republican Gov. Chris Sununu said in a Sunday appearance on CNN that some people are sure to heed Trump's call for protests over his possible arrest "but you want to make sure it's peaceful."
"We don't want history to repeat itself in overly negative ways," he said, suggesting that Republicans don't want to see a repeat of the kind of violence that took place on Jan. 6 and that distracted from legitimate questions about election integrity.
Still, even if the protests are peaceful, Sununu said he believes it's "going to be a bit of a political circus" and there's going to be "a lot of unknowns."
What is known, however, is that the New York Republican Club has organized what it describes as a "peaceful protest" set for 6 p.m. Monday at a to-be-announced location in New York City in opposition to the "heinous attack" on Trump.
Ali Alexander, who as an organizer of the "Stop the Steal" movement staged rallies to call attention to Trump's claims of a stolen election, warned the former president's supporters that if they protested in New York City, they would be "jailed or worse."
"If you protest in New York City, you will be in the single most hostile jurisdiction in the United States," he said on Twitter. "There is no law and order. You have no liberty or rights there. You will be jailed or worse."
Greene suggested in a Twitter post that there could be law enforcement efforts at entrapment at the New York protest,
"How many Feds/Fed assets are in place to turn protest against the political arrest of Pres Trump into violence?" she said, with the Georgia lawmaker previously suggesting that FBI informants had instigated the Jan. 6 riot.
A separate comment from Alexander came in response to a Twitter post by Raheem Kassam, editor-in-chief of The National Pulse, arguing that anyone telling Americans not to protest Trump's impending arrest were "bad faith actors or double agents trying to get people to roll over to the establishment."
Alexander said that in-person protests should forever "remain part of the human tradition."
"Still, do not travel to protest in New York City," he wrote. "Prudence is virtue."
A spokesperson for Trump did not immediately return a request for comment on Republican reactions to the protest call.