U.S. Senator Tim Scott (R-S.C.) unveiled his law enforcement reform bill Wednesday in response to the nation-wide protest against police brutality fueled by the killing of George Floyd. Scott acknowledged that his bill may not go as far as Democrats want, however, supporting it is the first step to negotiating the change people want to see.
The South Carolina senator denounced the idea that police reform has to mean choosing sides.
"The answer to the question of which side do you support, I support America, and if you support America you support, restoring the confidence that communities of color have in institutions of authority," Scott said during the press conference Wednesday morning.
"If you support America that means you know that the overwhelming number of officers in this nation, want to do their job, go home to their family, it is not a binary choice. This legislation encompasses that spirit, it speaks to the fact that we believe that the overwhelming number of officers in this nation are good people," Scott added.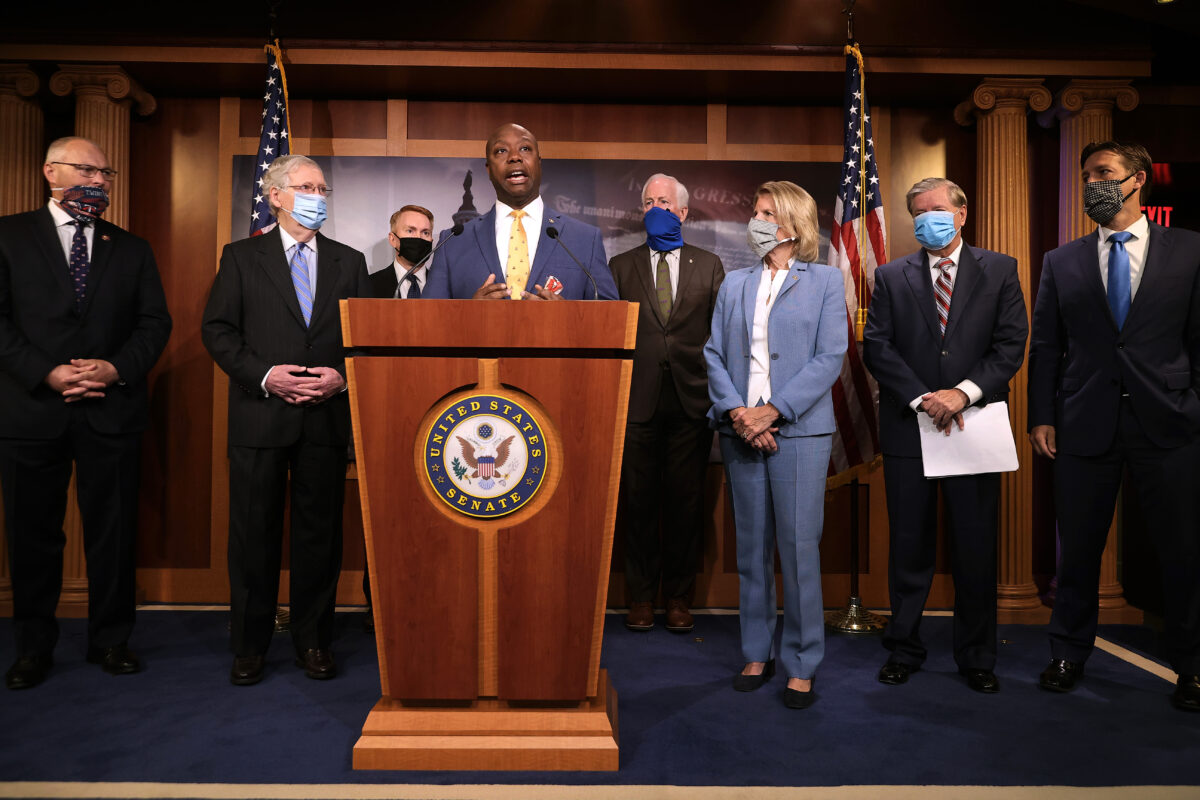 The 106-page legislation named the Just and Unifying Solutions to Invigorate Communities Everywhere (JUSTICE) Act is focused on long-term solutions for police accountability and transparency, while addressing short-term issues specific to rebuilding trust in minority communities.
The bill discourages the use of chokeholds by withholding grants from police departments who used this type of force. It requires 100 percent of police departments to submit data on their use of no-knock warrants and excessive/deadly use of force. It seeks to bolster, by increasing funding, training, and tactics, particularly in the area of de-escalation of force and the responsibility of officers to intervene.
House Speaker Nancy Pelosi told CNN that the Republican police reform plan is inadequate: "We don't need a study about chokeholds. We don't need a study about no-knock warrants … We need to take action that is real."
The Republican legislation would also ensure that when a police candidate was being hired to their new position, the department looking to hire could access prior disciplinary records and mandating the use of body cameras and the storage and use of data from that body camera footage.
Under the JUSTICE Act lynching would become a federal crime and create "two commissions to study and offer solutions to a broader range of challenges facing black men and boys, and the criminal justice system as a whole."
The bill will need at least 60 votes to proceed to full senate debate, which means all Republican and at least 7 Democrats voting in favor.
Sens. Scott and Leader Mitch McConnell (R-Ky.) said their goal is to get 100 percent buy-in on the bill so they can begin the debate.
"And our democratic friends if they want to make a law and not just try to make a point, I hope they'll join us, and getting on the bill, and trying to move forward in the way the Senate does move forward when it's trying to actually get an outcome," said McConnell.
So far, Democrats have only expressed criticism of the Republican police reform bill and they say their legislation, the Justice in Policing Act, led by Sen. Cory Booker (D-N.J.) and the Democrats Black Caucus, would enact real change to police brutality and what they see as systemic racism in law enforcement.
"This morning in the Senate, Republicans have put forward a separate proposal led by the Senator from South Carolina. We've only had the bill for a few hours in reviewing it. But what's clear is that the Senate Republican proposal on policing does not rise to the moment," said Senate Minority Leader Chuck Schumer (D-N.Y.).
Schumer criticized the JUSTICE Act for falling short on the issues of racial profiling, the militarization of local police departments, and reforms to qualified immunity, "or pattern and practice investigations."
On "qualified immunity and the ability to aggressively pursue the officers at a higher threshold that is hard. That's a poison pill from my perspective, is there a conversation that could be had around something different?" said Scott.
Sen. Scott said he knows the only way to make the change the public is asking for is to work in a bipartisan manner, that is why he open to discussing the bill with Democrats.
"I've had multiple conversations with Senator Booker … and I look forward to finding a middle ground where the motion to proceed will have, as has been articulated here already, a 100 votes to move forward so that we can actually have a robust debate about how to make the legislation better and serve the American people. And so, I hope that he's willing to cooperate on getting us there but certainly without any Democrat support that means that this is only a symbolic moment, and not a moment for us to make a law," said Scott.
McConnell told reporters Wednesday that the bill will be up for a vote as early as late next week.
Scott said his bill incorporates provisions from the Democrats' legislation.
"I would say that what we have done is a bipartisan piece of legislation taking the priorities in the House Bill, the words of the President and the executive order and the fantastic minds behind me and crafted into a piece of legislation," said Scott. There are changes "I believe the conference will not support but they will all support a conversation. I think we'll all support having meaningful dialogue, but whatever comes out of that dialogue will have to be in the best interest of the nation."