Senate Republicans harshly criticized President Joe Biden's economic policies. They made it clear that the key to addressing their concerns is to negotiate an increase of the debt ceiling with Speaker of the House Kevin McCarthy (R-Calif.).
At a press conference after the Senate Republicans' weekly policy lunch, minority leader Mitch McConnell (R-Ky.) said he and other GOP senators stand united with their House counterparts.
"A deal has to be cut between the president and the Speaker. We all stand behind Kevin and wish him well," McConnell said.
The Republican Senators also touched on the United States' relations with China concerning Taiwan and the recent controversy over the possible mishandling of classified documents by at least two presidents and other top officials.
Sen. John Thune (R-S.D.) said he hopes Biden will address the impact of his fiscal policies on Americans during his State of the Union address, scheduled for 9 p.m. on Tuesday, Feb. 7. Thune said Biden has much to answer for.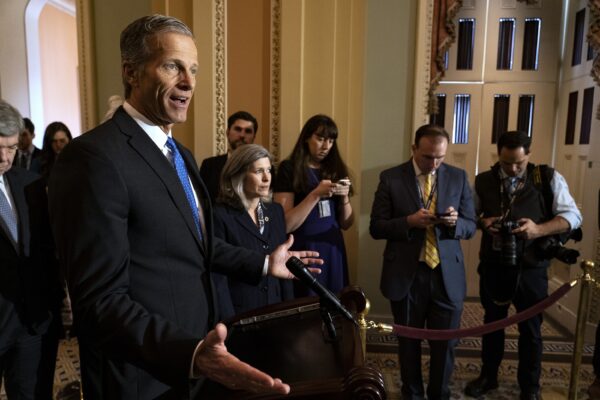 While the overall inflation rate is 13.5 percent, Thune and others said the biggest hit on consumers is food, energy, and housing. He said the average grocery bill had increased by 18.6 percent overall. Egg prices are up 60 percent, butter is up 30 percent, and lettuce costs 24 percent more than it did when Biden took office, Thune said.
"I hope the president will address that issue with what he intends to do to address this rampant inflation that has been so harmful to the pocketbooks of everyday Americans," Thune said.
Sen. John Barrasso (R-Wyo.) agreed. He said the main driver of inflation had been two years of irresponsible spending by the Democratic Party. With the national debt now at $31 trillion, interest alone comes to $400 billion. Barrasso said this is more than the entire military budget, including retirement pensions.
He pointed out that interest rates have been raised seven times in the past two years, adding to the already cumbersome financial burden for consumers.
"We have to quit spending money we do not have," Barrasso said.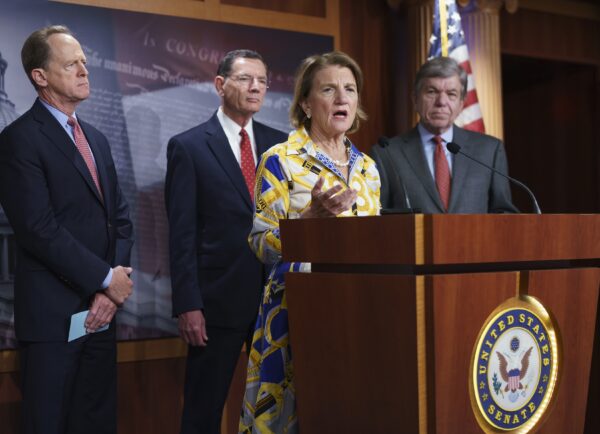 Sen. Shelley Moore Capito (R-W.Va.) said that the increased costs had driven many of her constituents to the breaking point. Capito called it the "middle-class squeeze." She said the increased costs wipe out any wage increases, and many families are left to make difficult choices.
"It's the mother of young children; she's up all night because she can't figure out how am I going to pay for food, how am I going to pay to heat the house?" Capito said.
Barrasso said, "the only way to get our failing economy back on track," is to tie any debt ceiling increase to spending reforms. Barrasso said it's been done eight times in the past and could be done again if the president would be willing to negotiate with the Speaker of the House.
Barrasso said 24 Republican Senators signed a letter to Biden demanding that any increase to the debt ceiling be tied to corresponding spending cuts.
"We've done this before, going back to 1985," Barrasso said. "Two-thirds of the American people absolutely believe we should tie reforms to spending to raising the debt ceiling."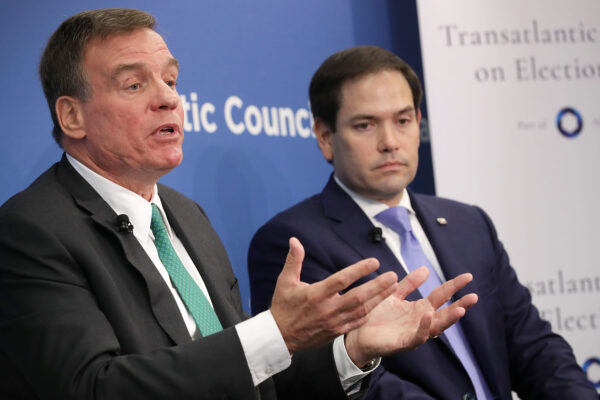 McConnell opened the press conference criticizing the administration's response to a request by the Senate Intelligence Committee for information on classified documents found at the residences of President Biden and former President Trump.
"I hoped the administration would come up with a better answer than 'No,'" McConnell said.
Senate Intelligence Committee Chairman Mark Warner (D-Va.) and Co-Chairman Sen. Marco Rubio (R-Fla.) had requested access to the documents found at the two homes. The Department of Justice refused the request, saying that releasing the documents could damage an ongoing investigation.
McConnell scoffed at the claim.
US Must Stand With Taiwan
"I think the bipartisan request by Chairman Warner and Vice Chairman Rubio is squarely within their oversight mission on the Intelligence Committee," McConnell said.
In response to a question about the tension between China and the United States over Taiwan, McConnell said the solution is for the United States to stand firm against Russia in Ukraine. He said Chinese leader Xi Jinping is watching the U.S. response to Russian aggression. So, America should stand firm. He said other leaders in the region agree.
"The Japanese Prime Minister said, if you want to push back against President Xi, beat [Russian President Vladimir] Putin in Ukraine," McConnell said.
According to McConnell, the United States should also be ready to provide Taiwan with military equipment and material support.
"We need to make sure [Taiwan is] adequately armed; they can pay for it, and we need to beat Putin in Ukraine," McConnell said.