Republican lawyer Harmeet Dhillon has thrown her hat in the ring for the position of chair of the Republican National Committee (RNC) as she seeks to oust incumbent Ronna McDaniel, who's seeking another term at the helm of the organization.
Dhillon announced on Monday night in an appearance on Fox News's "Tucker Carlson Tonight" program that she is gunning for the RNC's top job.
"I am going to run for RNC chair. And the reason is that, to play off of a famous catchphrase, Republicans are tired of losing, and I think that we really need to radically reshape our leadership in order to win. And we can't keep running elections like we did in the 90s and the 2000s," said Dhillon, who was a legal adviser to the Trump 2020 presidential campaign.
"We really have to modernize to compete with the Democrats dollar-for-dollar—in the ways they fundraise, the way they deliver their ballots to the ballot boxes. Our messaging needs to be fresh and positive and not just reactive to news cycles and what the Democrats are doing," she continued.
Dhillon, who also founded the Center for American Liberty, said she'd advocate for the Republican party's grassroots.
"I think that the party needs to realize that the party has become a populist party. The base of the party demands populist messages that speak to them and not Chamber of Commerce messages, not neocon messages, not warmonger messages," Dhillion said, adding that "I'm afraid that the base of our party is not getting what it needs from our leadership."
It comes after McDaniel signaled her intention to seek to lead the party for a fourth term.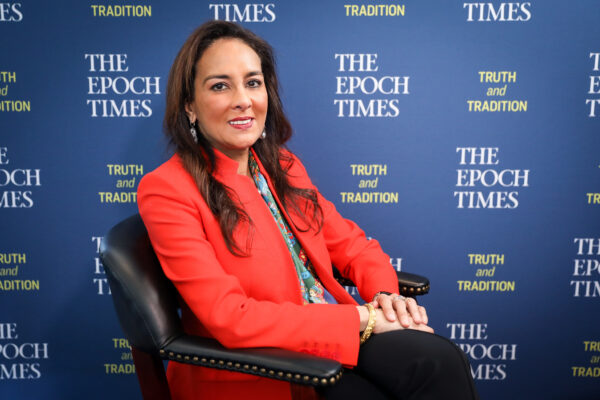 McDaniel's Reelection Bid
Following reports that around 100 RNC members signed a letter supporting McDaniel's reelection bid, the GOP chair confirmed her bid in a statement obtained by The Hill.
"I'm humbled to have earned the support of over 100 members and officers at this time for my reelection bid," McDaniel told The Hill.
"I look forward to continue working hard on behalf of the grassroots, in every state and territory, to grow our Party and invest in the critical infrastructure needed to keep the House, take back the Senate, and retire [President] Joe Biden in 2024."
Besides Dhillon, McDaniel faces other challengers for the RNC's top post.
New York Rep. Lee Zeldin (R-N.Y.), who lost his gubernatorial race against Democrat Gov. Kathy Hochul in New York, is expected to announce within days that he's throwing his hat in the ring.
MyPillow CEO Mike Lindell said Monday that he's also a candidate for chair of the RNC.
The RNC is scheduled to meet in Dana Point, California, in January 2023, where its 168 members will cast their votes for the next chair.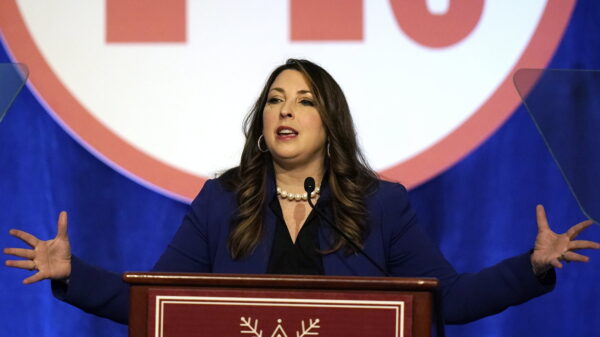 Lindell Says He Won't Take Salary If Elected RNC Chair
Lindell said Monday that he would work pro bono if he wins the race for RNC chair and that he'd put his entire paycheck back into the organization so that the money could "go to doing good."
The MyPillow CEO made the remark during a Monday broadcast on his Frank Speech platform, in which said his fundraising ability is second to none.
"Whatever they're going to raise now, it would be a lot more, say a 5X multiplier," Lindell said, expressing confidence that he could raise many times more money for the RNC than any other candidate gunning the organization's top job.
Lindell then said he wouldn't take a salary if elected to the post.
"If I can do that, if it's a legal thing, I'll take my whole salary and stick it right into the RNC," he said.

Lindell's proposition to forego a paycheck recalls a similar move by former President Donald Trump, who donated his salary as the commander-in-chief to various government agencies. By law, U.S. presidents are required to be compensated for their work but Trump got around that by taking $1 per year from his salary and donating the rest.
Lindell elaborated on his proposition not to draw a salary in an interview with Business Insider.
"I would not take a paycheck from the RNC, I'd put all the money back into it," Lindell told the outlet. "If I'm running it, the money that goes to it will actually go to doing good."
He told Business Insider he's not sure how much the RNC chair makes but assumes it's "quite a bit."
Lindell also said in the broadcast on Frank Speech that he's secured the backing of representatives from six states and that he believes he can fix the RNC's problems in short order.
"It's not going to take years and years to fix. It's going to get fixed right away," Lindell said.
'Retool' and 'Transform'
Zeldin said in a Nov. 17 letter that he was "very seriously considering" running against McDaniel for the GOP chairship.
"Due to the amount of requests I have received from both inside and outside of the 168 about running to be the next Chair of the Republican National Committee, I am very seriously considering your requests and am grateful for your messages," Zeldin said, adding that it was time for the GOP to "retool" and "transform" in order to win the presidency in 2024.
Zeldin lamented Republicans not winning the U.S. Senate, saying it would mean the southern border would remain unsecured against illegal immigration and "deadly drugs" under the administration of Biden.
He also called for the GOP to examine why they were not as successful across the country as they were in New York and signaled that he could create a red wave in 2024 if he were the GOP chair.

Trump's Support for McDaniel Unclear
Trump, who earlier this year praised McDaniel in a video to rally conservatives to support her, on Friday shared a post on his Truth Social account from a user who wrote: "Mike Lindell for RNC? Yes please."
Several months before the midterms, Trump recorded a video for a members-only RNC meeting in Memphis in which he praised McDaniel, saying she was doing "a tremendous job," but noted, "we have to watch the midterms."
Trump expressed hope in the video that GOP would have a "tremendous" midterms, but earlier this month, the Republican forecasts of a "red wave" washed out.
The Epoch Times contacted Trump's office for comment.

Presumed Ascension Rankles Critics
A number of prominent Republican figures have demanded new RNC leadership—including high-profile leaders such as South Dakota Gov. Kristi Noem, Rep. Matt Gaetz (R-Fla.), and Fox News host Tucker Carlson.
Republicans for National Renewal Executive Director Mark Ivanyo and staunch Trump supporter Anthony Sabatini, whose Florida Freedom Action PAC aims to derail Rep. Kevin McCarthy's (R-Calif.) election to House Speaker, are among America First advocates who want McDaniel out.
"We have endorsed Lee Zeldin, but we also welcome Mr. Lindell entering the race," Ivanyo told The Epoch Times in a recent interview. "Even if it's just for the sake of reducing votes for Ronna."
"There's dozens and dozens of good names—Lee Zeldin is a pretty good choice; Lindell is not a bad choice—that we could be having a conversation about but there is not a discussion about that, nor questioning of it," Sabatini told The Epoch Times.

A former Florida lawmaker who lost his 2022 Congressional bid in the August primaries, Sabatini is an attorney and a Fellow at the Claremont Institute, a conservative think-tank.
Sabatini also called on America First supporters to demand a complete overhaul of RNC and GOP leadership.
"All the leadership should be wiped out," he said. "They should all be deported from the United States."
Caden Pearson ard John Haughey contributed to this report.