Top Republican lawmakers are calling on the Biden administration to take forceful measures against the Chinese regime, after Beijing slapped sanctions on former Trump administration officials, including former Secretary of State Mike Pompeo.
The sanctions were announced on Jan. 20, the same day that President Joe Biden was sworn into office. A Chinese foreign ministry spokesperson accused the U.S. officials of carrying out "a series of crazy moves" that "seriously interfered with China's internal affairs" and "seriously disrupted China-U.S. relations."
So far, Emily Horne, the spokesperson for Biden's National Security Council, has said that the sanctions are "unproductive and cynical."
Sen. Jim Risch (R-Idaho), outgoing chair of the Senate Foreign Relations Committee, took to Twitter to say that the ruling Chinese Communist Party (CCP) was "testing the Biden Admin's resolve to continue a tougher, competitive approach towards China."
"Together, Republicans & Democrats must show Beijing we will not be deterred from defending U.S. interests," he said.
Rep. Michael McCaul (R-Texas), the leading Republican on the House Foreign Affairs Committee, said via Twitter that the sanctions were "a brazen & baseless attempt to silence & intimidate officials that hold the #CCP accountable for genocide & its takeover of Hong Kong."
"The Biden admin must immediately make it clear that coercion will not be tolerated," he added.
On Jan. 19, Pompeo declared that the CCP's persecution against Uyghurs and other majority-Muslim ethnic minorities constitutes genocide and are "crimes against humanity."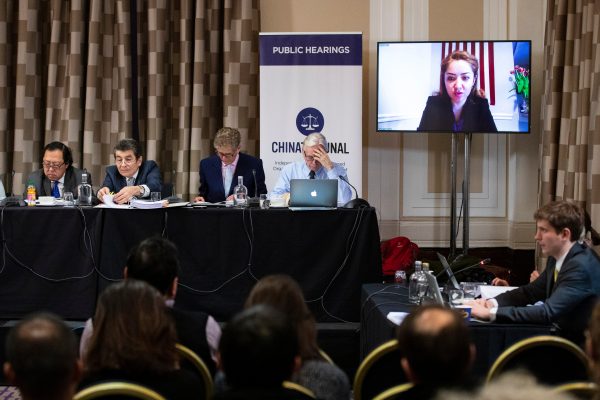 Last year, the Trump administration took a number of actions to address the CCP's human rights abuses, including sanctioning six Chinese officials and a Chinese entity over their actions in Xinjiang, and one Chinese official for his involvement in the persecution against the spiritual group Falun Gong. The administration also introduced visa restrictions for Chinese officials believed to have engaged in human rights abuses.
Also last year, the administration sanctioned 25 Hong Kong and Chinese officials, among them Hong Kong leader Carrie Lam, for their involvement in implementing Beijing's draconian national security law, which punishes vaguely-defined crimes such as subversion and secession with a maximum penalty of life imprisonment.
At least four pro-democracy activists in Hong Kong have since been charged for violating the new law, including Jimmy Lai, founder of the local newspaper Apple Daily, and former student activist Tony Chung.
Sen. Tom Cotton (R-Ark.), in an interview with Fox News, said the Chinese sanctions were not "geared so much against those [U.S.] officials, but a shot across the bow of Joe Biden's national security team."
Cotton called for a response from the Biden administration and Congress, saying that the United States could not allow Beijing to continue its campaign of intimidation.
Beijing stated that a total of 28 U.S. officials were sanctioned but has so far only named 10 of them, including former White House trade adviser Peter Navarro; former Secretary of Health and Human Services Alex Azar; and Keith Krach, former undersecretary of state for economic growth, energy, and the environment.
"These sanctions are a badge I wear with honor," Krach told Fox in an interview.
"We should not bend the knee to the China bully. When you confront a bully, they back down. And they really, really back down if you have your friends by your side," he added.
When asked about the names of the other 18 U.S. officials in a daily briefing on Jan. 21, China's foreign ministry spokesperson Hua Chunying refused to share the information. Instead, she said: "Those who are guilty know it only too well."
China's state mouthpiece the Global Times in an article published on Thursday said the sanctions were "a warning to the [U.S.] officials who want to be the next Pompeo."
Over the last four years, Pompeo has often been the target of criticism by China's state-run media over his remarks and policies related to the CCP. For instance, Global Times called Pompeo a "doomsday clown" after his genocide designation.
Under Pompeo, the United States lead the launch of an initiative called the "Clean Network" aimed at ensuring that communications networks, cloud-based systems, and mobile apps are free from the CCP's interference, such as by excluding Chinese tech giant Huawei from nations' 5G networks.
Beijing slammed the initiative, calling it a "dirty network."
On Jan. 15, Krach announced Eswatini as the latest country to join the initiative, which now includes 60 countries and regions.