The National Republican Congressional Committee (NRCC) recently launched a series of ads targeting Democratic representatives who won their congressional seats by thin margins in 2020.
"Prices are going up. Paychecks are going down," says the narrator in an NRCC digital ad running in Iowa. "Now Biden, Pelosi, and Cindy Axne are going to make things worse with the biggest tax hike in decades, crushing small businesses and hurting middle-class families. Tell Cindy Axne we can't afford this."
The GOP ad is referring to the many new tax reforms that Democrats want to enact to pay for social programs like free preschool and free community college.
Axne, an Iowa Democrat in her second term, is one of the vulnerable House Democrats targeted in the NRCC effort to help Republicans win back control of the House in 2022. In 2018, Axne defeated the incumbent, David Young (R) by less than 2 points (49.0 to 47.6).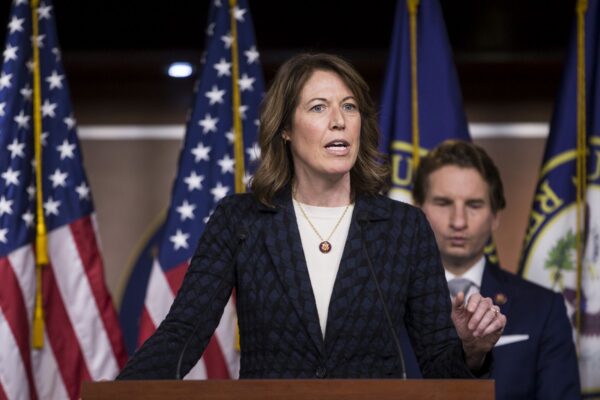 Rep. Tom Emmer (R-Minn.), chairman of the NRCC spoke to KVI News on Sept. 16 about taking back control of the U.S. House of Representatives in 2022.
Emmer told KVI that House Republican leader Kevin McCarthy (R-Calif.) is working with his committee chairs to draw up a plan that will show voters why they should elect Republicans in the midterms and will include issues like the border crisis, inflation, gas prices, and Afghanistan withdrawal.
"There will be a value proposition that one, we've established why you do not want to vote for America's new Socialist Democrat Party, but two, we're going to give them a value proposition as to why Republicans are the answer," said Emmer about the Democrats' government subsidies and Biden's overall economic agenda.
Meanwhile, Democratic National Campaign Committee (DNCC) Chair Jaime Harrison said Democrats are getting help to the American people via government subsidies.
"While Republicans continue to play games and block efforts to improve the lives of working people, Democrats are delivering for you," Harrison said in a statement.
"We're going to help lift almost 90,000 kids out of poverty, think about that, 90,000 kids out of poverty. And all of this, my friends, in less than eight months. And we're only just getting started. That's what you get when you vote for Democrats," Harrison said during an early Sept. press conference.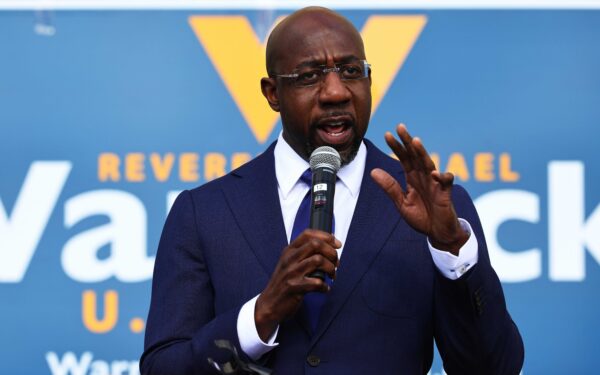 Harrison and the DNCC ads feature the Biden administration's child tax credit, which families have been receiving this year. Democrats have launched a series of these ads in Georgia and other battleground states.
The ads, funded by a series of national Democratic groups, tout the expanded child tax credit, which provides monthly payments of up to $300 for each dependent child. It's part of the $1.9 trillion stimulus measure that Democrats passed in March without a single Republican vote, and Democrats are highlighting the GOP's opposition to this legislation.
"Thanks to Democrats, help is here," proclaims the ad in Georgia, which is designed to bolster voter turnout for U.S. Sen. Raphael Warnock (D-Ga.) and U.S. Reps. Carolyn Bourdeaux (D-Ga.) and Lucy McBath (D-Ga) in competitive reelection campaigns next year.
Emmer said that out of the close to five dozen districts that the GOP campaign committee is targeting, about half of those are districts where President Trump won in 2020.
"There are 435 seats as your listeners know. We've targeted 57 at this point—that doesn't mean that a seat, outside of that top 57 … will get a charismatic candidate the right issues," said Emmer. "This is fluid all the time, but if you look at these 57 seats and in particular the top 29, those top 29 seats Donald Trump won those seats last fall, or they were decided within the slimmest of margins, less than five points."
Emmer is confident that his party will take back the House in 2022, because Americans do not want the socialist policies that Democrats have been promoting.
"We will take back the majority in November of 22 and we're going do it because one, we're going to have the right candidates. You've got them all across this country. We've got record numbers of Republican candidates filed already across the country," said Emmer. "Over 600 approaching 700 campaigns have been filed in the close to 380 of the 435 seats."
Republicans currently have 212 members in the U.S. House, Democrats have 220 members and there are three vacancies.
Besides targeting Axne, the NRCC says their ads will also target Reps. Tom O'Halleran (D-Ariz.), Josh Harder (D-Calif.), Stephanie Murphy (D-Fla.), Carolyn Bourdeaux (D-Ga.), Jared Golden (D-Maine), Elissa Slotkin (D-Mich.), Haley Stevens (D-Mich.), Chris Pappas (D-N.H.), Tom Malinowski (D-N.J.), Tom Suozzi (D-N.Y.), Sean Patrick Maloney (D-N.Y.) (who is Democratic Congressional Campaign Committee chair), Antonio Delgado (D-N.Y.), Peter DeFazio (D-Ore.), Matt Cartwright (D-Pa.), Vincente Gonzalez (D-Texas), and Elaine Luria (D-Va.).